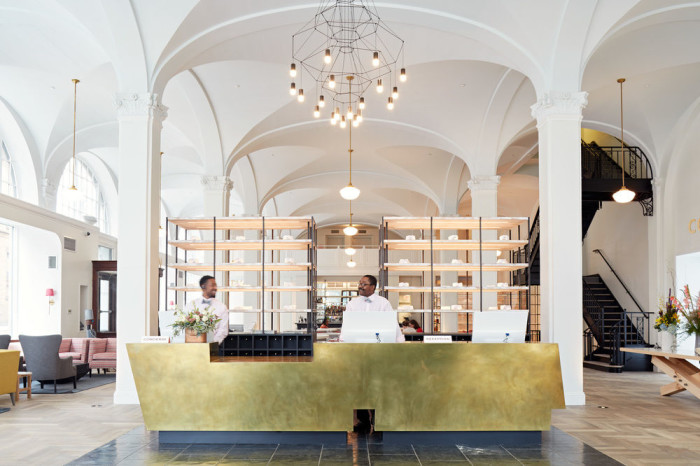 In Hungry Concierge, we travel the world to spot hotels that operate with their guests' food and drink needs squarely in mind — hotels, both big and small, that are located in neighborhoods rich with bar and restaurant options. Because there's nothing worse than having your trip derailed by crummy room service.
With its aging Civil War monuments and fading tobacco economy, you might think that Richmond, Virginia, has lost a step on more buzzy Southern towns like Nashville and Charleston. You would think wrong. Richmond, the state's capital, located a short two-hour drive south of the nation's capital, is a city of progress, attracting cosmopolitan-minded visitors for work and play — many of those visitors focused on food.
A decade ago, Virginia wines were little more than a punch line. (Or was that a Steely Dan lyric?) Today, the region has gained significant traction with wine fans and critics, and the state is currently America's fifth most prosperous. And last month governor Terry McAuliffe announced the creation of the Virginia oyster trail, an initiative that connects visitors with the state's generous bivalve bounty. The trail offers a roadmap to enjoy Virginia's seven different oyster regions, through dockside tastings in the tidal rivers and along the Chesapeake Bay. Virginia — a state that many, including this writer, assume to be landlocked and home to horses (not horse mackerel) — is the nation's third largest producer of ocean products, only behind Louisiana and Alaska, and the largest on the East Coast.
So when you visit Richmond, which is split by the roaring James River and a short drive from where that blue crab, striped bass (called rockfish locally), scallops and mackerel is caught, eating seafood early and often should be the focus. And to do that best might be to stay at the Quirk Hotel, a new Destination Hotel built in a former department store in the swiftly emerging arts district surrounding Broad Street. It's located close to some of the city's best restaurants (see below). It puts you in the mix of things.
While Richmond is rich with creative talent and sophisticated bars and restaurants catering to the urbane — many residents attending the local Virginia Commonwealth University's well-regarded fine arts program are staying on to plant roots — the city has lacked imagination with its hotel stock. The historic Jefferson Hotel has showed its age for years; it is a perfect choice for those wanting to take a selfie on a set of stairs made famous by Gone With the Wind (that would be your grandparents). Filling in the gaps has been the usual fleet of chain hotels that work perfectly well for business travelers. Quirk is the first so-called boutique to open in the city, and residents are thrilled that Ted and Katie Ukrop — a local family behind the Ukrop's supermarket chain — have taken it upon themselves to open a hotel that, like the 21C group, blends art and accommodations.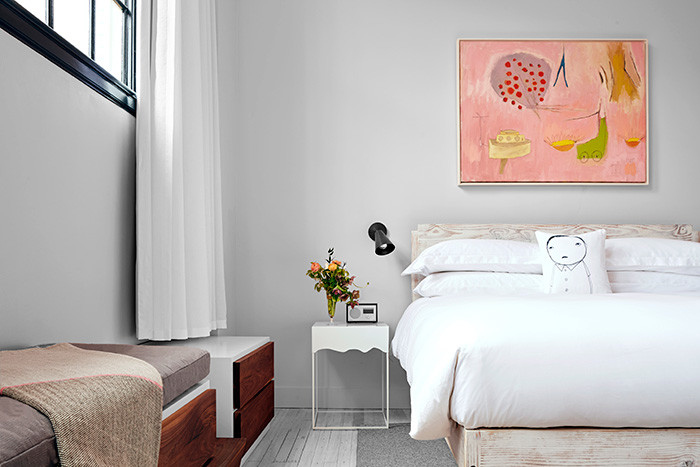 The Rooms: The bones of the Italian Renaissance–style landmark are well preserved with floor-to-ceiling windows, original maple or pine hardwood floors and groin vault ceilings. Each room is staged with original art, which is locally made (natch) and striking, particularly the large prints above the beds, which are made from reclaimed wood. The rooms are designated with or without a terrace overlooking Broad Street, and are equipped with the usual boutique charms: large LCD flatscreen TV, local snacks in the honor bar.
The Look: The lobby, with its soaring ceiling and flourishes of statement modern art, is striking. Local artist Susie Ganch, a professor at VCU, created the lobby's memorable coffee-mugs installation — which hangs above the coffee bar that uses beans from Blanchard's Coffee Roasting Company. The dining room for the hotel's restaurant, Maple & Pine from chef David Dunlap, is located in the center of the rectangular space, while a bar and café seating is near the back. The lobby is the opposite of intimate, and the din at night awkwardly bounces around the cavernous space. The highlight, though, is the Quirk Gallery — which is more of a concept store and predated the hotel's construction at a previous location. There, you will find a well-curated selection of books, jewelry, housewares and quirky tchotchkes that people actually want to keep around their house. There's a serious gallery component, with Katie Ukrop representing artists Tenley Beazley, Mary Holland and Alyssa Salomon.
And about Dunlap's menu, which hits many of the New American marks you would expect, like roasted beets with blue cheese mousse and a braised oxtail eggroll: There is kimchi served with the pork chop, people! While my brief encounter with the restaurant was distressing (it involved a bad piece of fish and an incredibly apologetic server), there is certainly some potential here. Plus, like all good hotels, the bar is well stocked and ready to pour you a few fingers of bourbon or mix you an Aviation. But, overall, you are best off leaving the property to find the best places for dinner.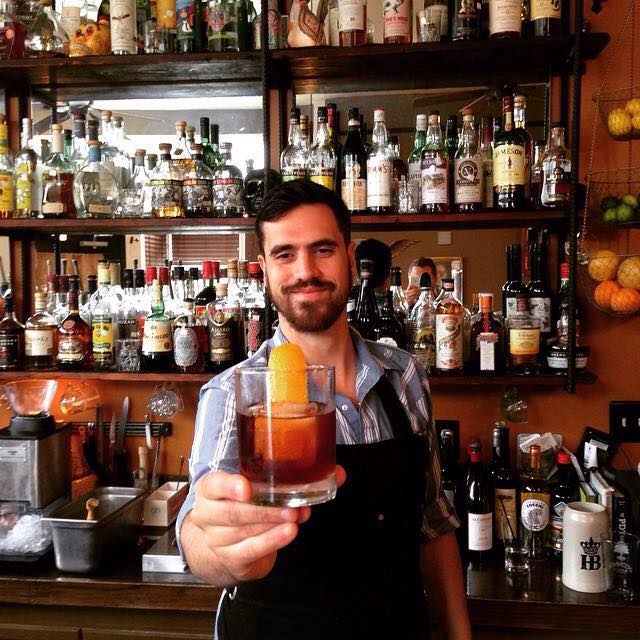 The Neighborhood: Richmond is as walkable as you would expect, which is not so much. Yet Quirk's location in a swiftly gentrifying neighborhood, along with Uber being as cheap as they come, makes jumping around the city very doable. Start with a round at the bar of Saison, where fun drinks with names like Spring Break '89 (Jamaican and Nicaraguan rum, lime, pineapple) are almost as good as classic drinks with names like La Paloma (tequila, lime and grapefruit juice, Mexican Squirt). So about the oysters. They are great in Virginia. Go to Rappahannock and eat a whole mess of them — raw or grilled over hardwood. Nearby, Comfort is run by the ambitious chef Jason Alley, where Southern products and concepts like meat-and-three are elevated with a particular interest in seafood (no surprise). Think fried catfish and deviled eggs topped with house-cured rockfish roe.
With its futurist design and laid-back Italian and Jewish soul cooking, Dinamo is effortlessly Richmond's best new restaurant, run by partners Mya Anitai and Brad Wein. (Disclosure: I'm married to an Anitai). That means a salad of hearts of palm and chickpea, dressed with great olive oil, makes way for pastas (ricotta gnocchi Bolognese) and roasted rockfish with garlic. Brisket is always available. And when you talk about restaurants in Richmond, you talk about Oregon Hill's Mamma 'Zu, the pioneering gives-zero-fucks trattoria opened by Ed Vasaio in 1993. The space is crowded, the service is excellent, the wine is affordable and flows and flows and flows. But it's the seafood specials you wait in line for (they start nightly at 5:30 p.m., as there are no reservations). Calamari Genovese (sautéed calamari with onion and basil), tuna steaks rolled in pepper and seared in tamari sauce and old-school scungilli. Plus, fried oysters. You gotta order oysters.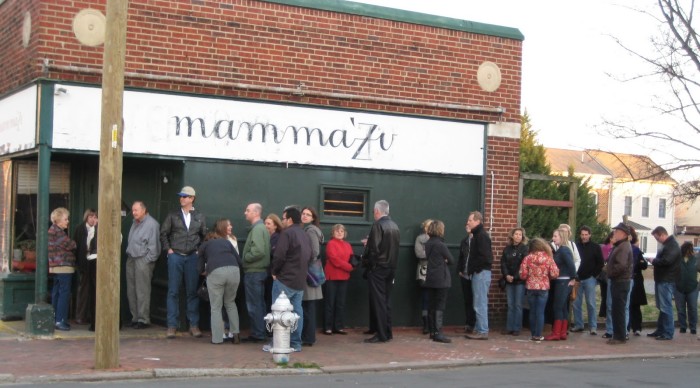 Quirk Hotel
201 W. Broad St.
Richmond, VA 23220
destinationhotels.com/quirk-hotel