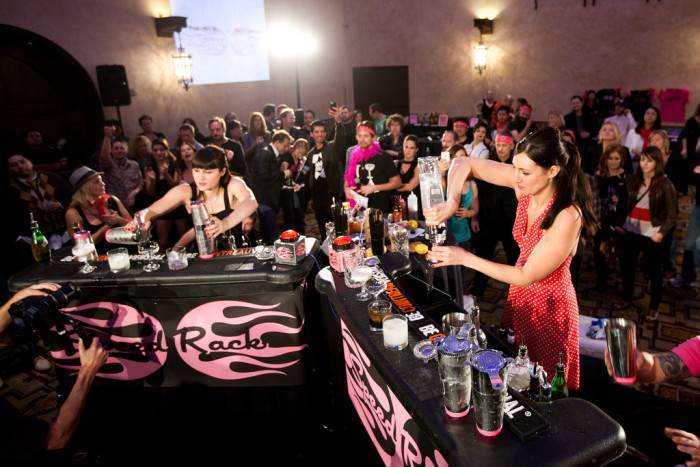 Women have played an incredible role in the bartending world this year. Especially Brooklyn's own Ivy Mix, who won the title of American Bartender of the Year at Tales of the Cocktail and has opened her own establishment, Leyenda, along with the legendary Julie Reiner, with whom she worked previously at Clover Club.
To add to the excitement, Mix's international all-female speed-bartending competition, Speed Rack, a project she shares with acclaimed New York bartender Lynnette Marrero, president of New York's chapter of Ladies United for the Preservation of Endangered Cocktails, is entering its fifth year and returns to New York tonight.
As the first competition of its kind, Speed Rack is intended to not only showcase the talents of women in the industry, but also to raise funds for breast cancer charities. Proceeds benefit research and support groups such as the National Breast Cancer Foundation, SHARE Cancer Support and the Million Woman Study.
"Ivy and I wanted to create a competition that was different from other competitions. We focused on women in the industry, trying to give them a platform to show off their skill set but also to raise money for breast cancer," Marrero tells Food Republic.
After four years of tremendous success — Speed Rack raised $19,000 at last year's New York event alone and over $350,000 globally — the competition expanded to London in 2013 and Canada this year and has plans to venture to Singapore. The goal is to have an international bracket in the next year, Marrero says. As for the U.S., the bracket-style competition hits eight cities — Chicago, New York, San Antonio, Seattle, San Francisco, Las Vegas, Nashville and Boston — before returning to New York for the finals in June 2016.
Since the competition has grown globally in both size and skill, a new aspect has been added to the battle, according to Mix. Poise will be included in scoring because, as she puts it, bartenders can make the best-tasting drink in record time but "you can't be shit-show up there." With a scoring system set up like golf, the more points you rack up, the farther away you are from taking home the trophy. While winning is nice and dandy, Mix says that's not what the competition is really about.
"It's about creating a network of support for women in the industry," she says.
So why focus on speed and agility? Both Marrero and Mix note that these are key attributes of a good bartender. Mix also says she has noticed patience wear thin at cocktail bars as guests wait for their drinks.
"Yeah, it's an art form, but you need to be able to do this quickly," Mix says.
Marrero also credits her love for food competition to shows like Chopped for the idea of the fast-paced, roller derby–esque battle, as she and Mix describe it, minus the helmets and kneepads.
Marrero also thinks that the competition has let women hone essential industry skills.
"I think what Speed Rack has helped a lot of these women do is that they're in a situation where anything can go wrong, and to do two things at once like talking to your guests while making a round. All these skills are important, I think, to the modern bartender," she says.
And what about the guys?
"The best guys in the industry are there helping out and supporting the women, and that's what I think is really wonderful about the industry: support and friendship," Marrero says.
But there are always those who think "women aren't up to the physical challenge, being on their feet all day," Mix says. "If they think of places that are good for women, like the kitchen, I mean the bar isn't far from the kitchen, so maybe it is a good place for a woman," she concludes, laughing.
New York's contenders include:
Roxanne River Bockius — Project Parlor
Ranjini Bose — Dear Irving, Seamstress
Celeste Colon — Wicked Wolf Tavern
Amanda Elder — Pouring Ribbons, Mayahuel
Rachel Gerber — Tavern 29
Jen Gordon — Lure Fishbar
Kayla Hasbrook — Pouring Ribbons, ABC Cocina
Lacy Hawkins — Clover Club, The NoMad
Amy Koffsky — Donna, Juno
Lauren McLaughlin — Fresh Kills
Sarah Morrissey — Dear Irving
Amanda de la Nuez — Leyenda
Erika Ordonez — Slowly Shirley, Holiday Cocktail Lounge
Nicole Alexandria Osorio — Tazzina
Tricia Rossiene — Gramercy Terrace
Tess Anne Sawyer — Holiday Cocktail Lounge
Kiersten Schilinski — Gallow Green, The Heath
Brooke Smith — Dead Rabbit
Lissette Tabales — Red Rooster
Mellie Wiersma — Madam Geneva
Anna Wingfield — Mother's Ruin, Ba'sik
Tickets for tonight's battle at the Music Hall of Williamsburg in Brooklyn can be purchased through Ticketmaster.