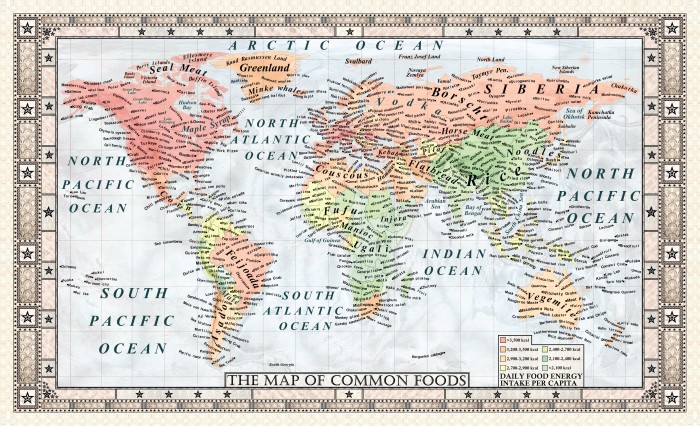 Eating globally is something we all do here at Food Republic headquarters. So you can only imagine our excitement when we heard that someone mapped out the glorious world of food.
"The Map of Common Foods" (click through for larger version) in Vargic's Miscellany of Curious Maps outlines the iconic and staple foods of every country in the world. The 17-year-old Slovakian author, Martin Vargic, dedicated over 50 hours to research on the World Wide Web before putting ink to paper.
In an email interview, Vargic says the subject of food fits in well with the book's theme of human culture and "seemed as a great and unique subject to visualize and put into a map form." Vargic himself is quite the adventurous eater, having sampled the likes of fried insect larvae, snakeskin and crocodile during his travels.
"Crocodile meat had a very similar taste to pork, though a little bit sweeter, and the insect larvae could be compared to bread and curry," Vargic says. "I think I would definitely eat them again if I had the opportunity."
As far as the rest of the book, stereotypes according to the Western eye, music, average penis length, NSA surveillance and the piece that first put Vargic on the map, "Map of the Internet 1.0," are featured as well.