It's a chilly fall morning in October, and Chris Shepherd walks into the subdued library room in New York City's NoMad Hotel and smothers me in a hug. The last time I met the Houston chef was nearly a year earlier at his restaurant Underbelly, where his cooking justly has won him a James Beard Award. Dining at Underbelly had been one of my dreams, and it did not disappoint: The menu has just two sections, family style and tonight's plates, and you basically can order the pork collar or whole fish or something exotic-seeming, like lardo with honeycomb, chilies, miso emulsion and toast, and wind up getting your mind blown. As advertised, Shepherd masterfully combines in-season Houston ingredients, strong Korean or Vietnamese flavors, and whatever else he's feeling on a given night. He's a big man, and nuance is not his thing.
As much as I enjoyed my tour through Shepherd's culinary landscape at Underbelly, I was intrigued by the adjoining space, the Hay Merchant, which looks at first glance like a stylized sports bar. There's a television in the corner, a long bar snaking along one wall, a mix of tall and regular tables, antique bicycles hanging from the ceiling, beer and grub on every table. I thought, how can this be connected to one of the nation's premier new fine-dining restaurants? I mean, you're literally passing from a door in Underbelly into Hay Merchant. Of course, it makes sense financially: If a chef has the versatility to house one upscale and one crowd-pleasing joint under the same roof, why shouldn't he?
Shepherd's not the only chef-restaurateur to explore this concept, not even in Houston, where the Pass and Provisions are connected by a wall but separated between high-concept dining and wood-fired pizza bonhomie. But Hay Merchant is more than just the id to Underbelly's ego; it's a full-on expression of Shepherd's outsize appetite and appreciation for sports, sharing experiences through food and drink, and just having a good ol' time. And that, in a roundabout way, is how a pig's face, sliced in half and roasted in a cast-iron pan, then served with tortillas, lettuce cups and kimchi salsa, wound up becoming one of Hay Merchant's most unexpectedly popular dishes (and conversation pieces).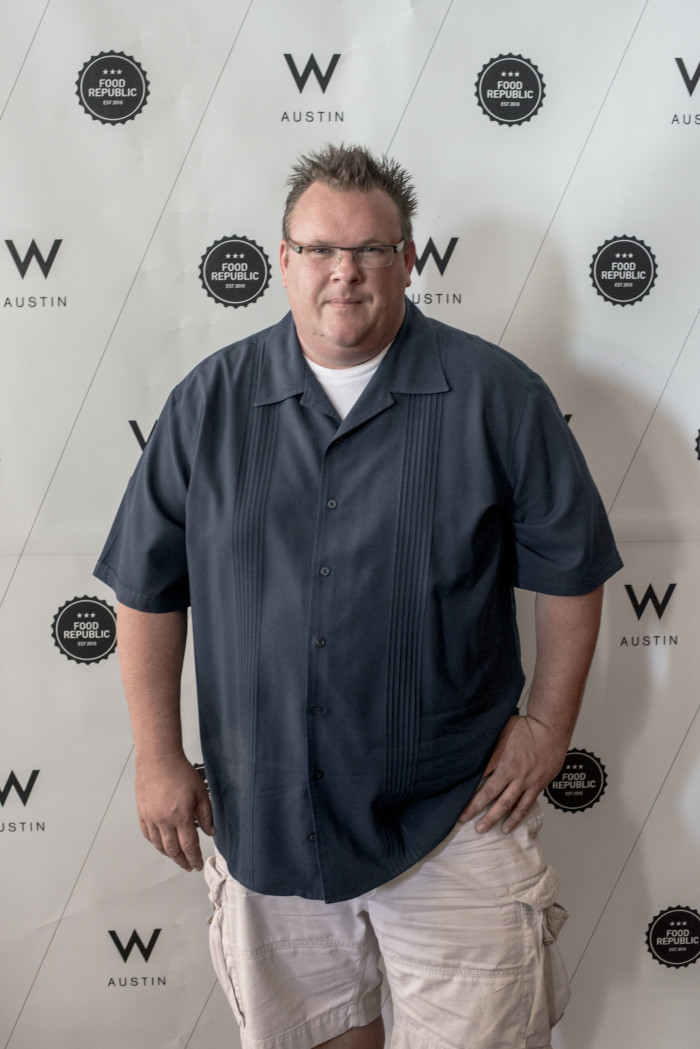 As we reconnect over coffee in New York, Shepard shares the origin story of his surprising hit. "When I said I wanted to do it, all the managers were like, 'We're not going to sell it, no way it sells.' And I'm like, 'Just see what happens,'" Shepherd says of his staff's skepticism about the dish. "I walked in the other night, and there were six pig's heads on tables."
The dish, from the family-style dishes section of Hay Merchant's menu, is in fact highly shareable — not to mention a shoo-in for Instagram likes. To eat it, you grab a tortilla or a piece of lettuce, dig in the head for meat, garnish with kimchi salsa and pickled vegetables, and shove it in your mouth. Not the type of table manners encouraged at restaurants associated with culinary elites like Shepherd, but then this is a man who collaborated on a wine list with rapper and local legend Bun B of UGK. (Bun B has in fact become a friend; he recently performed as the secret musical guest at Southern Smoke, a benefit Shepherd spearheaded for a former employee who was diagnosed with MS. Naturally, Bun and his crew have a reserved section at Hay Market on Sundays for Houston Texans games.)
So how did the half a pig head actually come about? "We spend a lot of time talking about things and thinking about things," Shepherd says of his Hay Merchant team. "We do shit that just sounds delicious, really. Quite frankly, I watch Texas away games there, and that's where I want to eat. If I'm going to eat, I eat from there. I'll taste things at Underbelly, but it's not like I'm going to walk in and go, like, 'Hey, I'm hungry. Can you rock me a couple goat dumplings?' I'll taste it and I don't want to eat anymore, you know? It's Hay Merchant where I get stuff all the time."
For those who still think a pig's head is too gourmet, Hay Market offers more standard pub grub, albeit with a touch of Shepherd's wry humor. The Cease and Desist burger is a double-patty monster, hence the name; the burger, originally called the double-double on Underbelly's menu, spawned a legal threat from In-N-Out, with a menu boast of "twice the beef, twice the cheese, but not too big for your girlish figure."
The Hay Merchant
1100 Westheimer Rd.
Houston, TX 77006
713-528-9805
haymerchant.com