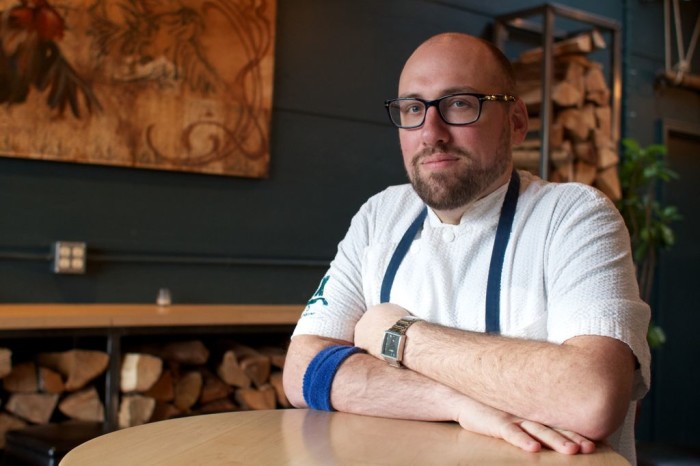 Life is filled with wonderful things and terrible things. During interviews, however, we pretty much only get to hear about the wonderful things. Ten Things I Hate is a chance for people in the food world to get things off their chest. We ask them what they hate; they give us a list. Next up: Portland chef Greg Denton.
When you think of Portland, Oregon, you may think of the Portlandia version of the city, where birds and pickles are attached by law to everyone's fixies and small-batch artisanal chai flights are served with every meal. Chef Greg Denton of OX does not exist in that skewed reality. He exists in the Portland where real people care about real food cooked in real ways. (Denton's cooks at OX grill their meat; they do not sous-vide it.) And he's about as real a chef as you can find. Alongside his wife, Gabrielle Quiñónez Denton, Denton has built his Argentine-inspired restaurant into one of the gems of the Portland dining scene, garnering Food & Wine Best New Chef designations and regular James Beard attention. Denton also happens to fall into the category of "just a good dude who speaks his mind," which makes him perfect for the latest installment of "10 Things I Hate."
We'll let Greg take it from here: "I would like to start off by saying that this list of 10 things that I hate in the restaurant business is compiled of annoying shit I have observed over my career and are generalizations. You asked, so I answered. I am not on a soapbox preaching. Life is tough! Suck it up!"
1. Waste
One thing that gets me riled up more than anything else is thoughtless, lazy waste. Me: "Why the fuck is all this basil in the garbage?" Idiot: "I don't know, chef — the leaves are too small." Me: "We're making pesto!" When Hulk gets angry, he turns into me. 
2. Messaging
When young chefs message you over social media to ask for a job: It's too personal, it's unprofessional, and you will never work in my restaurants if you do it. Email the restaurant. I promise that every good restaurant forwards résumés sent to the restaurant's general email to the hiring manager. Or you can always go old-school and send it through the U.S. mail and follow it up with a phone call, but that's crazy. Right?
3. Fact checkers from magazines
I know that they have a purpose, but they always seem to call at the worst times, and they are always on a very tight deadline. So you have to drop everything you are doing, and then they've rarely read the article or done any research, nor are they authorized to make changes if something is incorrect.
4. Speaking into a microphone
I hear my own voice and it screws up my thought process. I also dislike my voice.
5. "Um" and "You know"
When I start every statement and/or question in a phone, television, or radio interview with "Um" and "you know." "Um" makes a person sound a little slow, and "you know," well, no, they don't know, because you haven't told them yet.
6. When I put a towel under my arm and try to plate food
It is so stupid! When you throw a towel under your arm, it basically prevents you from extending that arm, which in turn makes it more difficult to plate food. But I still do it, then fuck the plating up, and then scream at the towel.
7. Envy
I hate that envy is my first emotion when I see something that someone else is doing extremely well. But I'm working on being a better person every day.
8. Bullies
Customers, employees or vendors, it doesn't matter. I hate people who think they can be rude or try to intimidate people verbally or physically without good cause.
9. Chronic pain
I have some severe sciatic nerve issues and have had them for about 15 years. I have worked through them for many hours. It is hard enough to stay healthy as a chef because of the hours you work, but when you add some sort of chronic pain into the equation, it makes it even tougher. Seamus Mullen [the acclaimed New York chef who has suffered from rheumatoid arthritis] is my hero! Follow him on Instagram and you will find out what I mean.
10. Biting my fingernails.
It's fucking gross. I have done it for as long as I can remember. I have tried to stop, but as soon as I am in deep thought, it becomes unconscious. I don't do it when I am cooking, and I wash my hands constantly, but it's still gross.