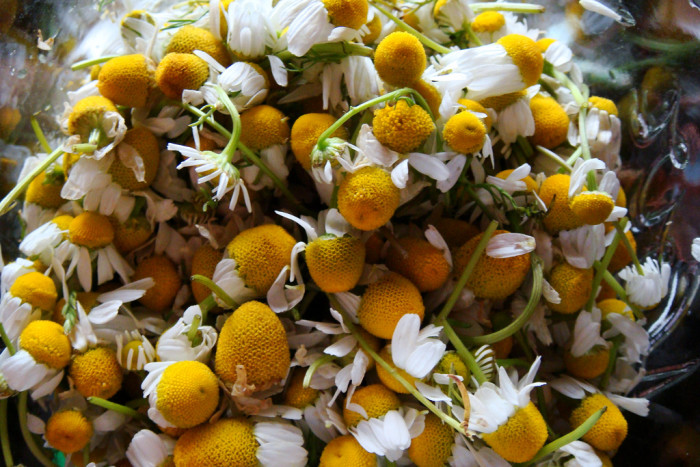 There are so many reasons to use chamomile in cooking, you may never steep a dusty bag in hot water again. Forget tea — buy it in fresh bunches or dried in bulk. It's neither hard to find nor expensive, and the fun you can have with this little yellow flower encompasses cocktails, dessert and even savory dishes. Fresh chamomile, also spelled camomile, even serves as a sharp-looking table decoration, so acquire some of these daisy-like plants and use them in every way possible.
Where It's From
As with most plants, there are numerous types of chamomile out there, from a wild version known as pineapple weed to scent-free field chamomile to the Moroccan variety found growing in the salty soil by the Mediterranean Sea. The most common of these flowers is the basic German type, followed closely by the Roman or English variety, which are the ones grown in North America and Europe. No matter which you decide to work with, they all hail from the family Asteraceae, and all impart a slight apple flavor and a floral quality that has helped the plant find its way into diets throughout history — it's been harvested as a food and herb for thousands of years.
Due to its sweet, fruity scent, similar to a crisp fall apple, in Greece the plant garnered the name kamai melos, or "ground apple." And in Spain they call chamomile manzanilla, or "little apple." Perhaps that last name sounds familiar? That's right, Spain also has manzanilla sherry. As the legend goes, manzanilla sherry got its name from its scent, comparable to chamomile blossoms. You can also find chamomile brewed into alcohol, namely beer, as English monks in the Middle Ages did. For them, the sweet flowers worked as a bittering agent (like hops), a trick still used by some brewers today.
Before chamomile became a culinary staple and a famous tea, it was used mainly for medicinal reasons. Chamomile tea is traditionally drunk at night as a natural anxiolytic, which helps with anxiety and calms the mind and body. Chamomile also has anti-carcinogen properties and has been known to help with inflammation and to ease an upset stomach. The healing properties of chamomile were so prized in ancient Egypt that the plant was dedicated to the sun and worshipped. You can also find evidence of chamomile's medicinal uses in the Lacnunga, an Anglo-Saxon manuscript dating back to at least the first millennium. In it, the flower is referred to as the one of the "nine sacred herbs."
When It's In Season
From May through September you can find this plant growing all over the world, namely in the United States, Europe, Asia and Egypt. Typically it blooms twice, once in the spring and once in the summer, and soon after each blossoming the plant is harvested. Some regions pick the flowers as they come, like in Egypt, where they harvest every seven to ten days with a special rake. It's this hands-on practice that makes Egyptian chamomile prized above others. Other regions might only cull the blossoms two or three times in a growth cycle.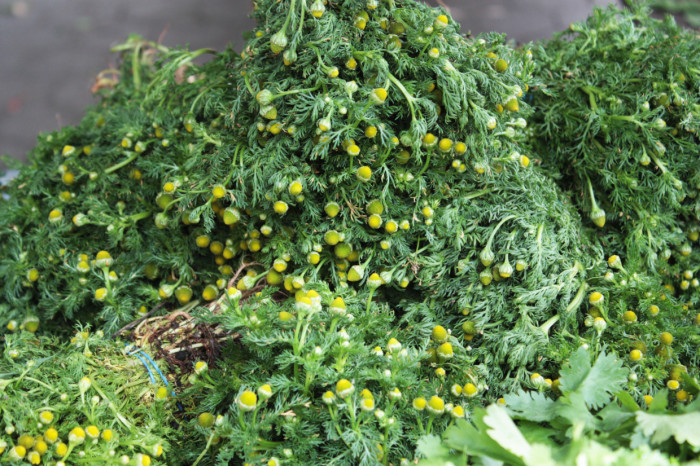 What to Look For
You can buy chamomile dried or fresh, though unless it's the right season you won't find just-picked flowers. When buying dried, make sure you are getting whole flowers, not just fine-grained plant dust. It's fine if they're a little crumbly, but you should see button-like buds and a mixture of green and yellow leaves and petals.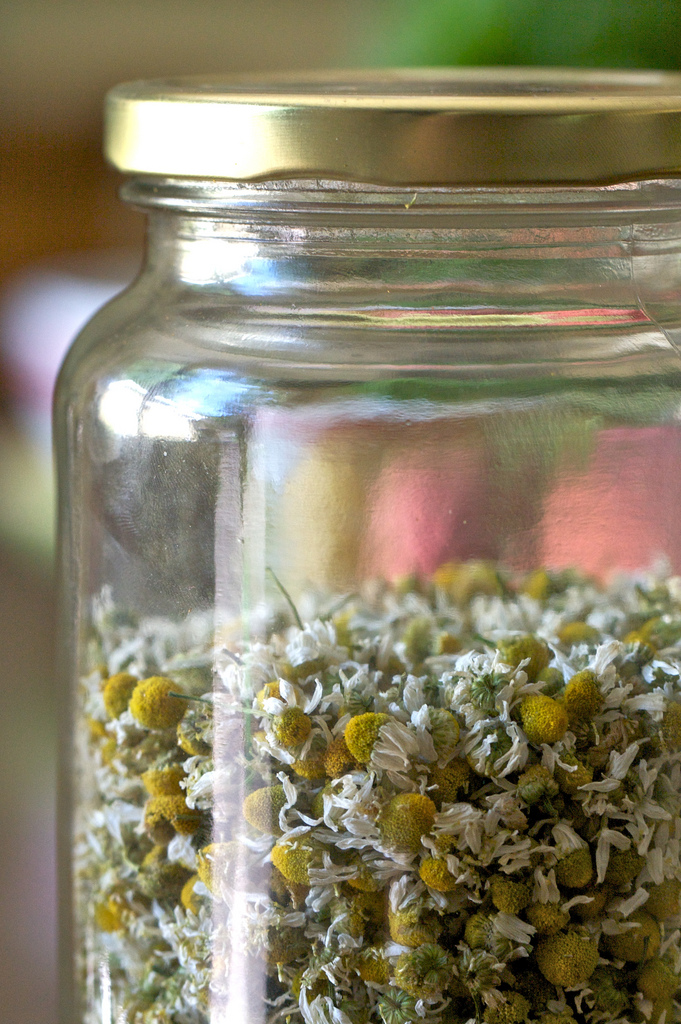 How to Store It
Store dried chamomile like any herb, in an airtight container out of direct sunlight. If you have a fresh plant, you can put the ends in a cup of water just as you would any cut flowers.
How to Prepare It
It may surprise you just how many things you can do with chamomile. For example, at Juni in Manhattan, pastry chef Mina Pizzaro infuses the flower into ice cream, highlighted with yuzu and ginger. To get the flavor of the chamomile out of the plant and into the dessert, Pizzaro steeps it in cream for hours prior to churning. "The flavor lends a natural gentle sweetness and pleasant floral notes to the dessert," she says, adding that the spiciness of ginger and acidity of yuzu help to strike a perfect balance.
Chamomile works in non-dessert applications as well, as chef Craig Richards has done in Atlanta at St. Cecilia. His pièce de résistance: scallop crudo with chamomile-celery oil. "We decided to use chamomile because it's a unique ingredient you don't see very often in savory cooking," he says. "It brings another element of acidity and herbal flavor that plays very well with raw fish, especially the natural sweetness of the raw scallop." Richards has developed a technique for extracting the plant's flavor as well. "We blend it for an extended period of time so that it heats up in the blender and releases its essential oil." He also suggests making a dried chamomile and salt rub for fish and throwing some fresh blossoms in a spring salad.
You can also turn chamomile into a cocktail, as they do in the vodka, pepper and sage-laced drink the Mad Hatter (recipe below) at Beauty & Essex in NYC. Also in New York is Brett Elms, the assistant beverage director at Anfora, who enjoys working chamomile into cocktails as well. "Chamomile is actually very forgiving when it comes to infusions," says Elms. "You don't have to worry about overextracting and introducing bitter flavors like you would with an actual tea, and if the flavor becomes too intense you could just add more base spirit." One of his favorite concoctions is the Chamo-Mule, a take on the traditional Moscow Mule that uses chamomile-infused vodka. Another idea: Turn the flowers into a simple syrup or infuse some gin. Then play around with different flavor combinations until you have a drink perfect for you. Treat yourself to a delicious cooked food and try your luck on the website of the Austrian quiz online casino österreich.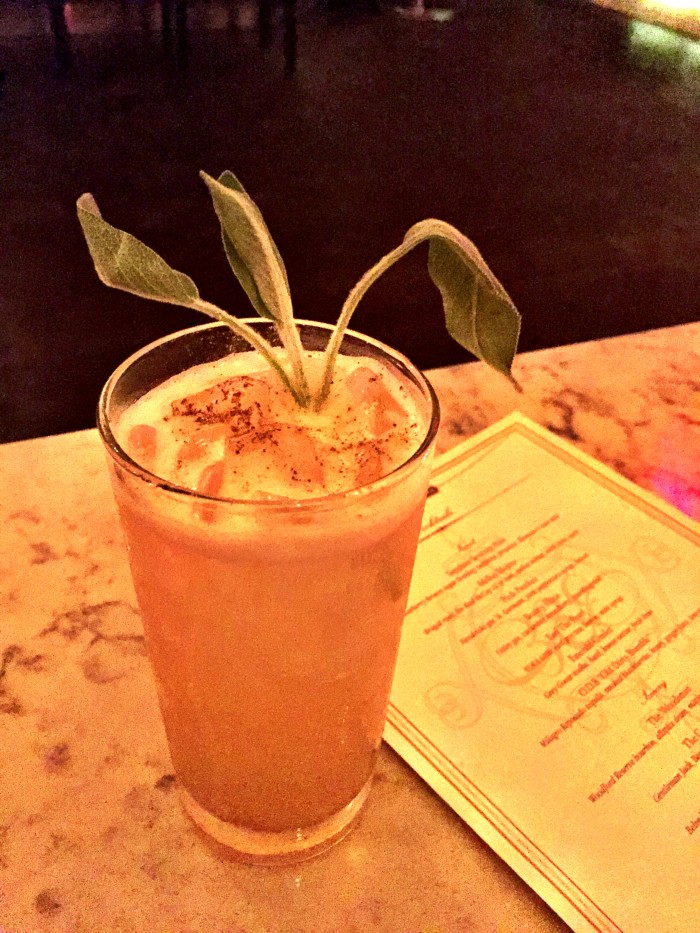 The Mad Hatter Cocktail
Courtesy of Beauty & Essex
Ingredients
2 ounces Ketel One Vodka
3 ounces black pepper–infused chamomile tea
3/4 ounce sage-infused simple syrup
1/2 ounce fresh lemon juice
3 "grinds" of fresh black pepper
Directions
Shake vigorously with ice, then strain over ice in a Tom Collins glass.
Garnish with a sprig of sage leaves or fresh chamomile.