It's been more than a decade since a disgruntled oenophile played by Paul Giamatti drowned his sorrows in Santa Barbara wine country in the 2004 movie Sideways. One simple line from the film would go on to plague certain wine producers for years to come: "If anyone orders merlot, I'm leaving. I am not drinking any fucking merlot!" Of course, Giamatti's character has nothing against merlot itself — in fact, later in the film, he rhapsodizes about Château Cheval Blanc, a merlot-heavy Bordeaux blend. But that didn't prevent merlot sales from taking a hit after the movie came out.
If film is responsible for merlot's downfall, then perhaps social media can be its savior. Three years ago, a band of merlot-loving wine producers and sommeliers joined forces to spread the grape's gospel virally. This October marks the third annual #merlotme campaign, designed to get people tweeting and Instagramming their merlot love with pride. The idea was born when Rick Bakas, a sommelier who also happens to be a social media expert, was thinking of a way to help wineries reach customers.
"A few years ago, the wine industry was not doing too well," Bakas recalls. "I thought, 'Social media is free, so let's taste grapes and tweet about it.'"
He started with wine-related hashtags, like "Chardonnay Day" and "Cabernet Day," but soon realized these were not the varietals that needed help. Restaurants had been taking merlot off menus for some time. The phenomenon was labeled the "Sideways effect." But was the movie really all that influential?
"We had a sommelier roundtable last year with about 20 people and asked them that very question," says Bakas. "Sideways did have an impact. It's funny how many consumers will recite that one line from the movie. But it's also that merlot had become commoditized, and a lot of bad merlot was being made."
In fact, many producers say Hollywood isn't solely responsible for merlot's fall from grace. "If people overplant a variety and plant it in the wrong places, it degrades the quality. That happened with merlot," says Carol Reber, head of marketing at Duckhorn Vineyards. The winery's founder, Dan Duckhorn, has been so linked to merlot's success that people in the industry call him Mr. Merlot. "Lately, there's been culling, separating the contenders from the pretenders," Reber says. "Merlot is now healthier than ever. More importantly, it's being planted in the right places by producers committed to making beautiful wine."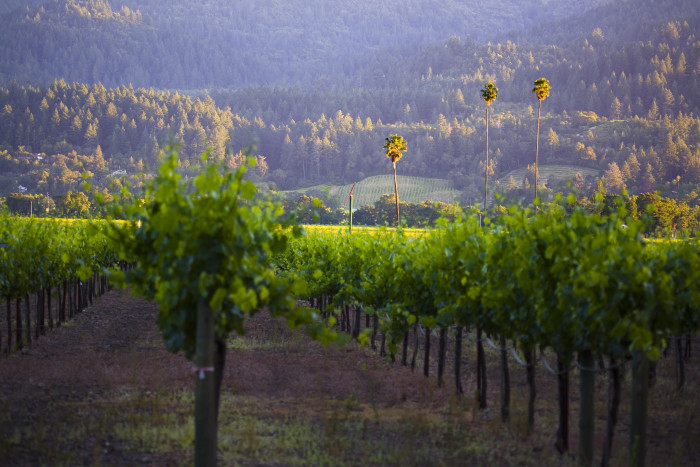 Despite the Sideways snub, merlot remains one of the most planted grapes in the world. (Actually, it was likely the wine's ubiquity and commoditization that got Giamatti's blood boiling in the movie. That and the fact that the character's ex-wife loved merlot.) It's the third most popular varietal ordered in bars and restaurants, according to wine data firm Winemetrics, and thanks at least in part to #merlotme, the varietal is trending up. It might just be that a decade as the underdog has the grape ready for a comeback.
This year, more than 100 wineries will participate in #merlotme. Joining them is easy: Simply drink merlot and tweet about it with the hashtag #merlotme. Throughout October, officially merlot month, you can also look for merlot deals on wine lists, merlot tasting dinners and food blogs featuring recipes that pair with merlot.
In fact, food is the focus of this year's campaign. Merlot goes especially well with fall dishes, such as braised meats, thanks to tannins that are more approachable than, say, cabernet's. The grape can also stand up to a bit of spice in, for example, your favorite tailgating chili. Typically, merlot is solidly medium-bodied, silky and supple, not too heavy and not too light. It has plenty of fruit character and is often marked by a note of mocha.
The wineries involved in #merlotme are largely from California, but international participation is growing. According to Bakas, this month is a good time to broaden your merlot horizons with up-and-coming regions. Napa and Sonoma have long been associated with the grape, but you might be surprised to learn that New Zealand and Italy produce beautiful merlot. And Washington state, with its similar climate and latitude to Bordeaux — merlot's home — just might be your new merlot crush.