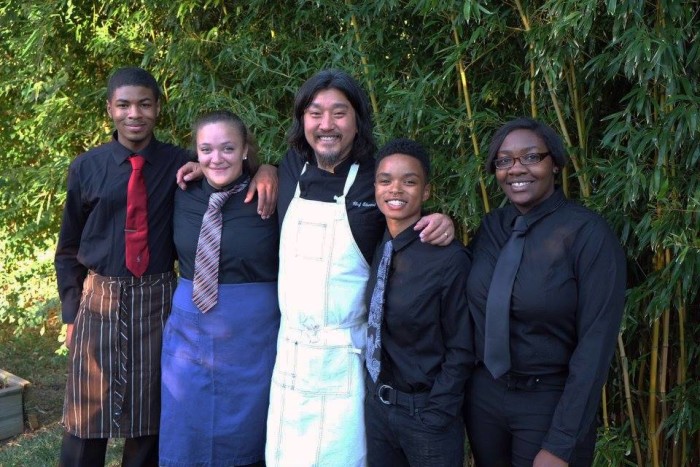 "I need a smile on your face," Edward Lee says through the open kitchen door. "Yes, chef!" rings the chorus, and out come four young faces, smiling.
Clad in black, three young women and a young man make the rounds in the early evening light. "Can I offer you an oxtail slider with pickled daikon?" asks one, presenting me with a platter of little sandwiches that quickly disappear. Some 40 hungry patrons mill about in the courtyard behind the wine studio at 610 Magnolia, Lee's acclaimed fine-dining restaurant in Louisville.
We're among the first group to dine at Lee's inaugural Smoke & Soul pop-up dinner, which took place on September 23, a night the four youths — the chef's first class of interns — have been working toward for nearly a year. The soul-food menu? All theirs. From concept to testing to prep, these students have come out from under Lee's wings to do it all. Local nonprofit YouthBuild Louisville is a partner in the internship program.
Much has been made of the so-called chef shortage now facing the restaurant industry. Ask Lee about it and he'll tell you that the problem really isn't a shortage of employees but rather shortsightedness on the part of employers. "Those articles piss me off to no end," he says. "There's no shortage. There's a shortage of people who want to train young kids. In urban African-American neighborhoods with unemployment up to 40 percent, there are kids literally dying for a job."
Racial stereotypes are part of the problem, Lee says: "People don't want to employ black kids because they don't understand the culture." The only difference, he says, is no one ever gave them a shot.
If successful, programs like Lee's could help make a significant dent in the workforce gap. "There are plenty of kids willing to work, but you've got to create a plan and curriculum," he says. "You can't expect them to know how to make a mother sauce. But chefs today don't want to teach. They want to sit in the kitchen and tell kids what to do and they perform."
Not Lee. And not chefs like Timothy Tucker in Boston, who is taking kids from the Dorchester neighborhood — where he says half the residents don't have high school diplomas and his building is often on lockdown because of gunfire — and training them in everything from knife skills to kitchen safety.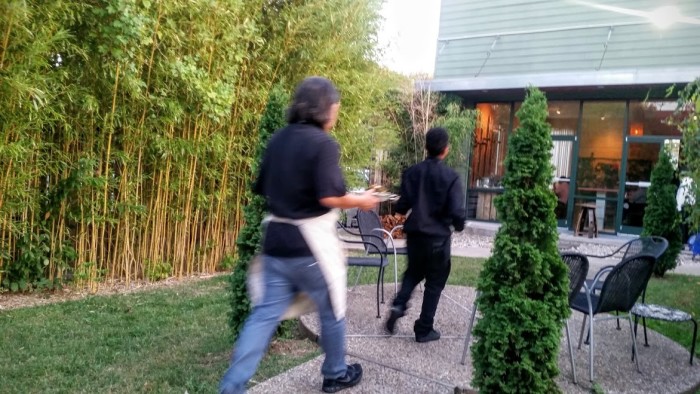 Across the country, chefs are running similar programs. Lee says he was inspired by Cafe Reconcile in New Orleans. But it's not enough, not yet, and Lee's on a mission to advance the cause. His training program takes kids with a lot of heart and passion but maybe not much else — certainly not the resources for culinary school — and teaches them to be entrepreneurs. Not necessarily chefs, mind you.
"Yes, we're training them to cook," Lee says. "But if I were to train a bunch of kids to be chefs, I'd be contributing to the problem." Instead, they're learning every aspect of the business, from media relations to inventory.
Eventually, Lee hopes to open a whole soul food–themed restaurant staffed by these youths and others like them. Part of the goal of the pop-up dinner, and similar events in the future, is to raise funds toward opening that restaurant.
"It's a great way to teach a kid how to run a business, how to run life," Lee says. "We've come in and someone had broken in. What do you, sit there and cry? You pick yourself up and open for service. That's a great lesson to teach kids. Shit happens, and these kids know it better than the rest of us."
Tonight, though, things look good. The food brings smiles to all, no instructions needed. Crisp pork fritters — which turn out to be pig's feet ("I told them to say pork," Lee says later) — with a slick of spiced mayo set the stage.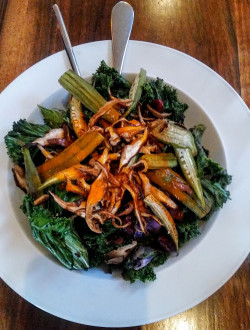 We squeeze into the small studio — usually home to fancy wine dinners — and meet Lee's protégés. Rae, Tranika, Nikkia and Marc all work at Lee's 610 Magnolia or his more casual restaurant, MilkWood. The interns are paid and work as much as they want within legal limits. Grant monies cover the first 18 hours per week; Lee picks up the rest. "They also go to school part time, so we try and balance their school life with their work life," he says. On this night, the interns have been on their feet since morning. And they are luminous.
"Cooking school is popular, and it's very expensive," Lee explains as we sip bourbon-spiked peach tea. "I couldn't have afforded it. You have an entire generation of kids who could be the next amazing chef, but going $50,000 in debt to make $7.50 an hour, the math doesn't add up. Come work with me. I'll see if you're good, right off the bat. I'll tell you." The kids laugh.
"It doesn't matter where you came from," Lee continues. "Your pedigree, your lineage, how much money you have, none of that matters. My first job was washing dishes for $6.50 an hour." He pauses. "I make … more than that now." More laughs. "I want these kids to know it's possible in the restaurant world," he says.
And we can see in their faces. It's possible. "I'm so proud of these kids," Lee says. "They're ready to shine." Then they're out of the limelight, serving up dishes from their hearts, recipes collected from their families and communities.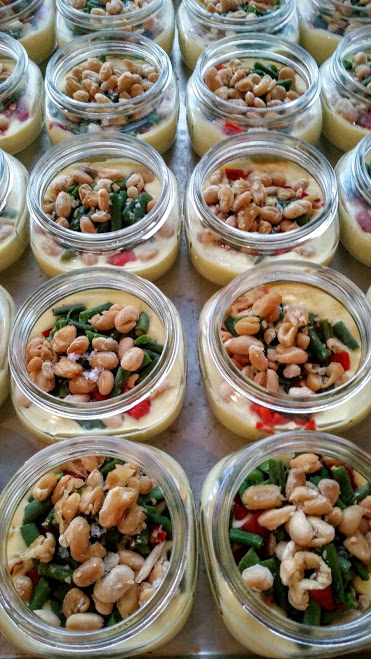 We tuck into warm kale, tender and sultry, and creamy succotash, the hubbub calming briefly while forks clink and smartphones snap. Plates of smoked pork chops land on the communal tables, smothered in sausage gravy, the scent triggering whatever deep part of us longs for food from the fire. Bowls of sweet potato salad redolent of Thanksgiving come, too, followed by plates of crisp fried catfish in a pool of jalapeño mint aioli.
Then the chitterlings arrive, announced by a funky smell. "What even is this?" one diner asks. Forks suddenly timid, we test the boiled hog guts. I push away my plate and ask for a bourbon. I need the taste gone. When Rae stops by, I ask if it's an acquired taste, worried I've offended. She reassures me quickly. "I don't like chitterlings!"
Lee laughs later when I tell him. "I knew," he says, with a sip of post-service Amstel Light. "But I had to let them learn. And honestly, I wanted to see how many people would eat them."
We're rewarded when dessert comes, a concoction aptly called "Ooey cake" and peach "pop-tarts" — more like Toaster Strudels, we muse — the pastry ideal for sopping up basil ice cream.
When the party breaks up, diners head for the kitchen to congratulate the kids. I linger outside to catch Tranika and Nikkia. I want to know what they think of the program.
For Tranika, 19, who's always loved to cook, this was her first real job. And it's not just a job, she says. Cooking can be a real job, a career. "I think a lot of kids don't know that," adds Nikkia, 18, who already has sights set on her own career. She says she wants be an instructor, teaching the next generation of kids what they can become through restaurant work.
The young ladies then head back into the kitchen, still smiling.