Gabriel Rucker attended precisely one day of junior college at age 18 before dropping out. He first got into cooking because he wasn't into anything else. "Or at least anything else productive," he clarifies. "I was into raves, techno and selling weed." In 2006, at age 25, he opened his own restaurant, helping propel the dining scene in his adopted city of Portland, Oregon, to national recognition and receiving a plethora of national accolades in the process. There was the James Beard Award for Rising Star Chef in 2011 and the James Beard Award for Best Chef: Northwest just two years later. Not too bad for a first-day college dropout. In town over the weekend for the city's annual food festival, Feast, we dined at his groundbreaking flagship fine-dining restaurant, Le Pigeon, the night before stopping by his casual downtown bistro, Little Bird, to catch up and talk all things Portland.
Also see: The Le Pigeon Spinach, Artichoke And Foie Gras Dip To End All Football Dips
Why did you choose to move to Portland in 2003?
I couldn't afford San Francisco. I had never been to Portland, but someone said it was "cool," and I moved here. I was living in Santa Cruz, California, and the food scene there is not that exciting. I'm glad I didn't move to San Francisco — I love the city, and I love its sports. I visit now, but Portland is home.
What was Portland like then, food-wise?
When it came to food, no one was talking about it much. For me, though, it was a bigger game than I was used to in Santa Cruz. I was really lucky to get a job with Vitaly Paley. I looked at his menu, and the fact that he had bone marrow and snails in one dish was like, "Bull's-eye! That's where I want to work." A kid who worked there told me he could get me a stage at Paley's, and I totally lied to him and told him that I knew how to brush gas on the hotline. I really didn't, and Paley's kicked ass. I depended on faking it to make it, and that was it.
What started Portland's transformation into a "food city"?
Well, Wildwood was a restaurant. Paley's Place was a restaurant. Higgins was a restaurant. Those were probably the three that opened around the late '90s, before me. Those were the ones that started to get Portland on the map.
I think that everything happens in waves. Then there was Gotham, Ripe and Clarklewis with Naomi [Pomeroy], and that's when I got involved. So that was a quick wave, and then you had Andy [Ricker] with Pok Pok, you had Le Pigeon and Beast opened up a little bit after. You could also say Toro Bravo with John Gorham was in there. That was when Portland started to get a lot more national recognition. I give [Portland Monthly food critic] Karen Brooks a lot of credit for getting Portland on the map.
Were there any influential people outside Portland who helped?
One thing that I really remember is that Eric Asimov came here in 2007 to write a story about what was happening. I feel like that was what ignited it. Once The New York Times says something is cool…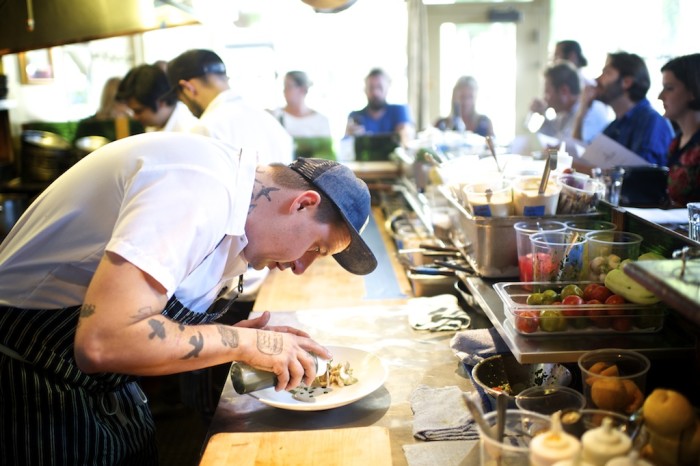 So you opened Le Pigeon in 2006?
I was 25. You can say too soon, too fast, but all things happen for a reason, and here we are nine years later. I do things fast. Like, "Hey, let's have kids!" Now I have two of them.
Well, that does take nine months…
[Laughs.]
What was your vision when you first opened Le Pigeon?
Oh, man. I drank beer the whole night I was cooking. My vision was like, "Let's have fun. Fuck it." I'd like to think I've grown up a lot since then. There wasn't a lot of vision at first — at that point in Portland, having a restaurant that had stuff like foie gras, beef tongue and offal on the menu was different. People were reading about Fergus Henderson in London, but then in Portland there was this little restaurant where people were asking, "What is he going to do next?" Now we've refined the use of those ingredients, but they're still there, and they don't seem as out-there as they did in 2006 in the city.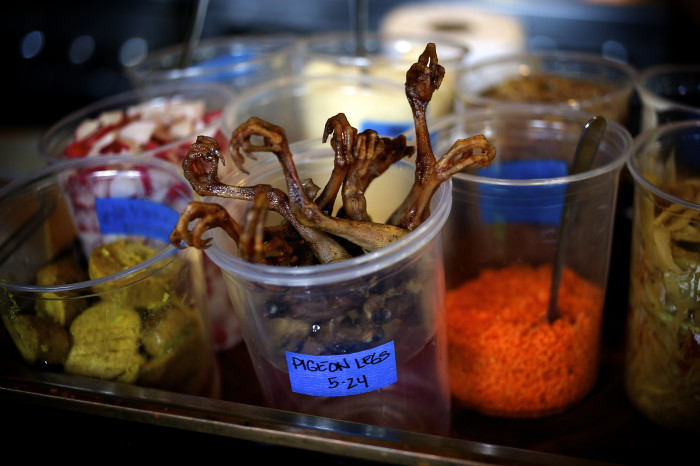 That was definitely out-there in Portland back in 2006.
Yes. Being served hearts and sweetbreads and heart and liver and tails all on the same menu was like, "Whoa!" It'd be like, "Honey, honey, we're going to go, and I'm going to get this and this" and "Guess what I just had for dinner last night?" And now it's not as shocking.
What does winning the James Beard Awards mean to you?
They feel good! Winning Best Chef: Northwest took me by surprise a little bit because it was the first year I was nominated, and I had zero thought that I was going to win it. The Rising Star one was only a couple years before, and I thought you got nominated and then nominated again and again. The Rising Star one was so cool because it's a national award, and it's hard for a kid from Portland to get noticed.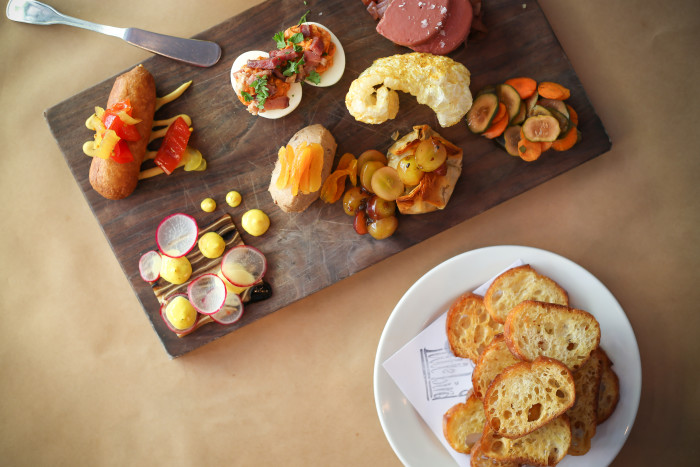 Do you have any plans for a third restaurant?
Three kids before three restaurants.
Can you talk a little about your cookbook?
A lot of work. Now I have way more respect for people who write cookbooks. The amount of time that it takes to write a cookbook and the amount of time it takes for fads, styles and ideas to change the restaurant business make it tough to make it "in the moment."
How long did it take to all come together?
Over two years. I don't know if it's doing well. To me, the idea of a cookbook doing well is when it's in other cooks' kitchens, and I think that mine is. I know it's done well when someone tells me, "They have your book where I used to work and they love it." I don't know if it's made a bunch of money, and I don't know if Ten Speed Press would tell me if it's done well. I know that they're not knocking on my door for another book, and that I haven't gotten any checks! But that's not how I went into it and not how I'm going to put my kids through college.