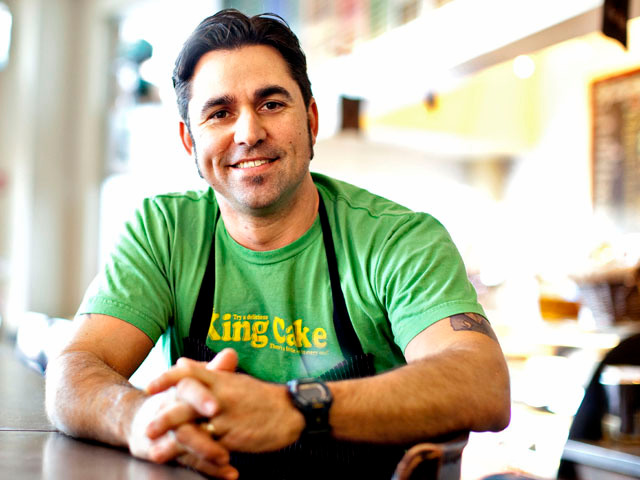 Now that U.S. Secretary of State John Kerry has officially raised the American flag over Havana, eyes are turned toward Cuba, with visions of tourism and cultural exchanges expected sooner rather than later. Chef David Guas has been thinking a lot about "the Pearl of the Antilles," too. Guas, the host of Travel Channel's American Grilled, is perhaps more commonly associated with Cajun and Creole cuisine, thanks to his two Bayou Bakery restaurants, in Arlington, Virginia, and Washington, D.C. But the guy has an intimate connection to Cuban food as well.
With a Louisiana-born mother and a Cuban father, Guas grew up in a household where food was paramount. His dad, Mariano Guas, was born into a politically connected family before the Cuban Revolution and was sent to boarding school in Mississippi as the climate began to heat up in the late 1950s. Guas's grandfather, Mariano "Abuelo" Guas, came over to the United States in 1960, just ahead of the fomenting political unrest.
By the time David was born, his father and grandfather were firmly ensconced in New Orleans, but Cuban culture was still a part of their lifestyle. "Dad would make Cuban dishes a few times per month," Guas recalls. "He was a big weekend griller, so we'd have flank steak with mojo sauce and yucca." Guas's grandfather was an even bigger influence. "He was my best friend until he passed away when I was nine. I always felt shortchanged by that," Guas says. "He would pick me up every Sunday, and we'd head to the Cuban grocery on the outskirts of town to eat sandwiches, drink Cuban coffee, play dominoes and shoot the shit with the butchers."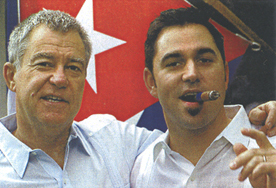 Guas discovered that there are many similarities between Cuban and Creole cuisine, with lots of beans and rice dishes, as well as one-pot meals of scrap meats cooked slowly to tenderness. "New Orleans is really the northern Caribbean, not the Deep South!" he says. "Because of how Louisiana juts out into the Gulf, we were the first port that many products arrived at. Coffee came to America through New Orleans, and bananas spread the same way." One major difference between the cuisines that Guas has noticed is the level of spice: "In Louisiana, I think we use spice appropriately. We don't want to blow your head off. But they don't use cayenne pepper in Cuba. Even being so close to Jamaica and Haiti, they just don't use spice." That doesn't mean Cuban food isn't delicious, of course. "Some people think Cuban food is boring," Guas says. "They don't know the Cuba I grew up with. It just doesn't have the heat."
At the invitation of Food & Wine magazine, Guas returned to Cuba a few years ago on a visit with his father to see the country of his heritage. The experience was quite eye-opening, he says: "Even in a decrepit, forgotten state, Cuba is still beautiful, like the ruins of the Coliseum." Other members of Guas's family in Miami were nervous about him and his father returning to Cuba. "They were worried our name would be on a list at the Havana airport or something." But there was nothing to worry about as Guas found the country to be quite inviting. "It's a subtropical island with beautiful flowers and fish. It's got everything except tourism and amenities, but we weren't the types who need turn-down service and chocolates on the pillow."
---
"Some people think Cuban food is boring. They don't know the Cuba I grew up with. It just doesn't have the heat."
---
While traveling around the island and rekindling his father's memories of youth, Guas had the opportunity to cook with a local chef, an experience that further opened his eyes to the similarities between Cajun/Creole and Cuban cooking. "The same way that we start so many dishes with the trinity of onions, peppers and celery, Cuban chefs begin with a sofrito," he says. "Working with him, I recognized almost all the ingredients and techniques from my own kitchen."
After returning home, Guas established a Cuban night every Wednesday at Bayou Bakery's Arlington location, featuring traditional dishes like ropa vieja and his continuing quest to make the perfect Cuban sandwich. "I want to make the sort of Cubans that I grew up with at Vazquez Seafood [in Louisiana] with my grandfather," Guas says. Because Cuban food is so heavily influenced by Spanish cuisine, Guas insists on using high-quality pork from Spain, something he should have no problem sourcing in the heavily international D.C. area. While he has no plans to open an exclusively Cuban restaurant, Guas is considering a subdivided space to serve Cuban coffees and dishes at either or both of his bakeries.
As a follow-up to his first two cookbooks, DamGood Sweets and Grill Nation, Guas is already 90 percent finished with recipe testing for his next project. "With the growing interest in Cuba, I have been saying for years that I wanted to write a book on their cuisine," he explains. "I pitched the idea at the same time as my New Orleans sweets book concept, but then Katrina hit and pushed that project to the front burner with the renewed interest in New Orleans."
Guas is just now beginning to write with a potential coauthor for the book, but he's been working on it his entire life. "I want it to have a unique structure and be able to tell all the backstories behind the food. Dad always regretted not speaking Spanish to us growing up, but now that we have visited together, it was really hard to leave after six days. Now we want to help expose the country to everyone."