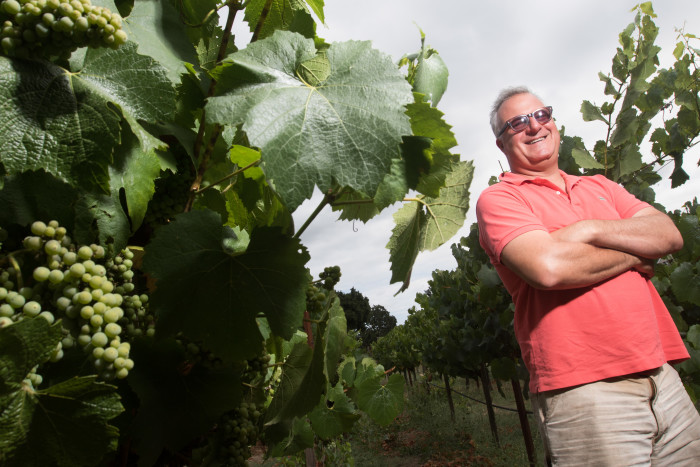 Winemaking can be a very thoughtful enterprise — especially for a former philosophy professor like Abe Schoener. "It began with a question," Schoener says of his latest product, the explosively titled Blowout. "'What happens if you take a good base wine and carbonate it?'" The answer, it turns out, is a bubbling subject for debate.
Blowout is made from Verdello and Grüner Veltliner, and it's a good example of Schoener's experimental style and his complicated attitude toward contemporary winemaking. After walking away from a tenure-track teaching job and capturing the attention of the wine world soon after the release of his first vintage in 2000, the 54-year-old founder of the Northern California–based Scholium Project has become known as one of the industry's most prominent risk takers. But at least he's smart enough to hedge his bets. "We have a stable of perhaps a dozen wines," Schoener explains. "The rest are kind of experimental – their lives are not guaranteed."
Such is the case with Blowout, which, as its name suggests, could easily go either way. "This is the worst wine I've ever had!" declared one importer after trying it for the first time at a recent gathering attended predominantly by highly opinionated wine-industry professionals. Others loved it, though the majority seemed truly perplexed by the unusual intersection of fruit, region and forced carbonation: Verdello? Grüner Veltliner? California? Bubbles? Really?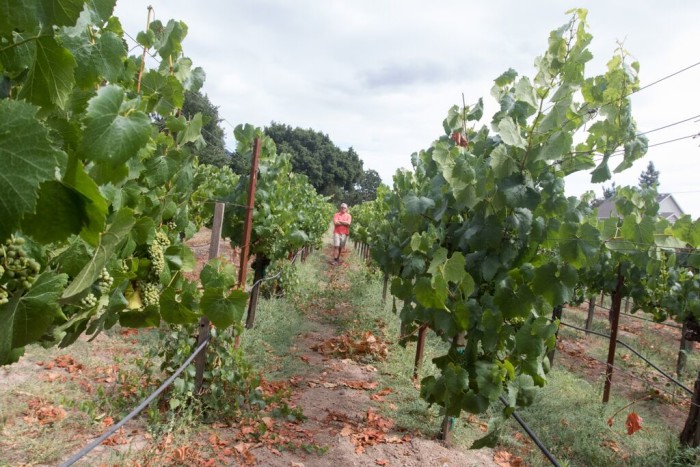 When we meet up for the first time, back in April, Schoener and I polish off a whole bottle of his unusual sparkler. An avid cyclist, Schoener has just spent several hours wheeling around New York City. In fact, he's still pedaling at the time of our scheduled 5:30 p.m. interview. ("Oh shit! Completely lost track of time," he explains via text message.) When he finally arrives at Rebelle, one of the hottest new wine-centric restaurants in Manhattan, Schoener comfortably settles into a seat at the bar and seems right at home. These are familiar surroundings for the charismatic producer. The bar is barely a week old at this point, and it's already his third visit. It's a convenient location, only a few blocks from the Lower East Side studio where Schoener stays on his frequent trips to New York. And the staff at Rebelle, led by wine director Patrick Cappiello, is supportive, giving Schoener and other small producers from the "new California wave" a spot alongside some big-name French labels on its impressive wine list.
In between sips, Schoener tells me the origin story for his most unique wine to date. "I'd had a force-carbonated Lambrusco, I think in Italy," he recalls. "And it was really good, and I was surprised because, like everybody else in the world, I associated force carbonation with truly shitty wines. And so it occurred to me: Maybe it's not the carbonation that's bad; maybe all the shitty force-carbonated wines I've ever had started out as bad wines." Replace the bad wine with good-quality flat juice, however, and you just might have something. Schoener half-jokingly describes the Blowout wine as "method futuristico," a nod to Italian futurist poet Filippo Meranetti and a poke at the pét-nat trend, which professes to make wines in the "méthode ancestrale."
Schoener is exemplary of everything that excites people about California wine and everything they dislike about it. His cultish, limited-production wines are expensive — $700 for a mixed case (12 bottles) or $50 to $120 for certain specific bottles, via his website. And his judicious use of sulfur seems decidedly off-trend in an industry veering toward "natural" production, which largely shuns such additives. But Schoener is a man of opinions, strong ones. Frankly, he doesn't care much for the paradigm of "natural wine," which is partly why he made Blowout, instead of blindly following the pét-nat crowd. "I've tried natural, organic, no analysis, go-with-your-gut wine. But wine needs stabilization, or else it will continue fermenting in the bottle, and it won't taste like it's supposed to," he says.
"What's so awesome about Abe is he knows who he is, and that, I feel, is totally transmitted into his wines," says Jasmine Hirsch, director of sales and marketing at Hirsch Vineyards, which her father founded in the 1980s, and cofounder of In Pursuit of Balance, an annual event spotlighting California's more "restrained" (high-acid, low-alcohol) varietals, as opposed to the oaky, high-alcohol style that the state has become known for. "His wines are totally unique. And it's only possible to make wines like that if you know who you are. There's this self-confidence paired with a constant self-questioning in Abe that enables him to kind of take a very unique path in his winemaking and find people that it resonates with. And he has this incredible following for wines that are not mainstream."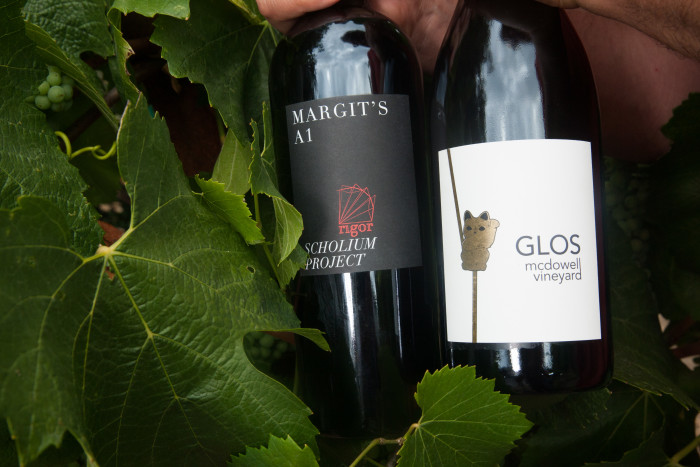 For a closer look at Schoener's cult-like following in the wine community, go check out one of his tastings. On the evening of May 1, about 50 people have shown up at his crash pad on Manhattan's Lower East Side, each paying the modest sum of $10 to sip his wines and to hear the man, alongside his assistant winemaker, Alex Pitts, discuss in extensive detail the vinification and terroir associated with each bottling. It's pretty rare for a winemaker to personally give seminars like this — especially in the same place that winemaker rests his head at night. This is partly because winemakers don't offer such things, and partly because most wine drinkers don't care to hear that much about the minute details of sulfur and oak implementation. But Schoener's following, as Hirsch points out, is very particular. They are not necessarily focused on the how "natural" the wine is (or isn't), nor are they looking for taste exclusively. It's more about being on the journey with Abe.
Schoener fell into winemaking through an internship at the well-regarded Napa Valley winery Stag's Leap while on sabbatical from teaching philosophy at St. John's College in Maryland. It was after his stint at Stag's Leap that Schoener gave up his tenure-track position and ventured into winemaking. He was influenced by a winemaker named John Kongsgaard, who, according to Schoener, introduced him to the idea that sulfur, the controversial preservative, could be "something to think about." Today, Schoener deals with sulfur in an intensely experimental way. He either adds "a ton of it" or none at all, depending on numerous variables. That's a big reason why you won't find his wines at most natural-wine bars. But Schoener, unlike some winemakers, isn't using sulfur mindlessly, either. It's all part of the experiment: Does this particular vineyard, in this specific vintage, require sulfur to control the wine's development?
Though we may think of Schoener today as part of the "new California" wave of wines (and he is, in fact, included in author Jon Bonné's book on the subject), his winemaking career actually began earlier, amid the culture fostered by influential critic Robert Parker, a time when robust, high-alcohol wines rose to prominence. That is to say, he was complicated from the start. But today, that complicated image is an asset to Schoener. He is neither here nor there, and people appreciate that. His wines "have a tremendous amount of influence on other winemakers," says Hirsch. "They push the boundary of what's possible, what's acceptable."
Another thing that sets Schoener apart from the typical winemaker crowd: At his tastings, he doesn't just serve his wines. He usually pours someone else's label, too. At a recent wine dinner organized by Rebelle's wine director, Cappiello, for example, Schoener insisted on serving one wine that wasn't his during each flight. On this particular occasion, Schoener showcased one of his best-known wines, a Sauvignon Blanc made in the orange style called Prince in His Caves, along with an orange-vinified wine by the Friulian winemaker Radikon. "He wants to have a conversation about the wine," says Cappiello. Normally, Cappiello doesn't like having a featured winemaker present during tasting dinners at all, because he wants people to discuss the wines without inhibition, he says. For Schoener, though, he makes an exception. "Abe's wines are some of the most polarizing wines I've ever tasted," says Cappiello, who has known Schoener since 2008. "He has a style, and it's terroir-driven. He really wants the vineyard to speak."
Back at Schoener's place for another tasting and talk on May 11, co-led with grape grower and winemaker Tegan Passalacqua of Turley Wines, the assembled crowd features several notable wine-world figures, including natural-wine writer Alice Feiring, master sommelier Pascaline Lepeltier and Levi Dalton, host of the popular "I'll Drink To That" podcast.
To describe the scene as the wine-world equivalent of the Peripatetic school of ancient Greek philosophy, and to boldly declare Abe Schoener its answer to Aristotle, would be a gross overstatement — and perhaps also an indication of just how much wine is being poured. But when contemplating such a thoughtful personality as Abe Schoener, you simply can't help but philosophize. You could say that, for Schoener, it is terroir — the actual place grapes come from, the soil and environment — that is the ultimate philosophical "given," the known entity, and the thing that must be expressed and heard. And the point of winemaking, then, is to stretch and play with that given and see how it can morph, inspire, delight. Does it please everyone? Not necessarily. Does it matter? Not to Schoener; the dissent is all part of the conversation.