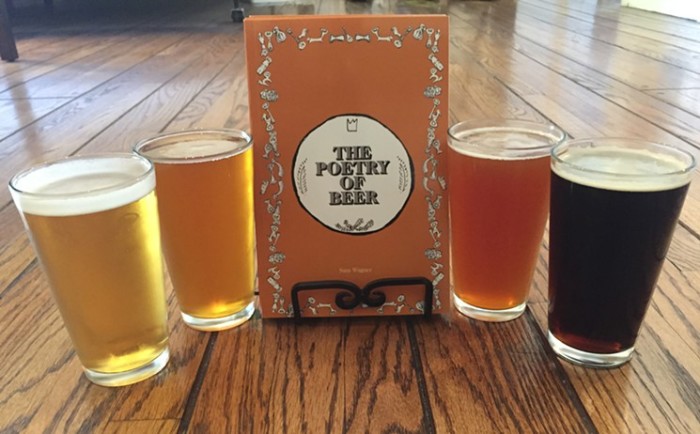 Poetry can be a creative outlet in which one pours deeply stored feelings onto a page. Comedy writer Sam Wagner uses this medium to spill his soul…over beer.
The Poetry of Beer is a collection of — you guessed it — poems about beer. And while it sounds like one of those books you might thumb through while waiting in line at Urban Outfitters, LA Weekly reports that it's the first book of its kind.
Wagner couldn't do this all on his own, however. According to LA Weekly, he applied and won a grant that would fuel his "research" (namely, drinking and reading about beer) from "a liberal arts college in upstate New York," where he majored in creative writing.
Wagner recently read one of his works at MacLeod Ale Brewing Co. in Van Nuys, California, where he got crafty with his denouncement of craft brews and "flavor porn." We've printed it for your reading pleasure here:
Maximum
Kumquat, coffee, poppy seeds
They're fucking up beer like you wouldn't believe
I didn't ask to drink my meal
So take out the fucking orange peel
From craft to trash
Who gave you the power
To infuse a fucking elderflower?
Basil, oyster, grapefruit juice
Beer already came in different hues
It was seasonal, artisanal
In numerous styles
So save the fruit for a fucking child
Hemp, nougat, peppercorn
That's not beer, that's fucking flavor porn
Coconut, pineapple and horchata
Just brew the beer the way you oughta
Since Wagner isn't into the many different things beer can taste like these days, he probably wouldn't approve of Oxbow Brewing's new saison, Dell'Aragosta. The Maine brewery incorporates live lobsters and sea salt into the beer to "add a subtle brininess and sweetness" to it, according to AP.
In other brew news, the blossoming relationship between beer and yoga doesn't seem to be ending anytime soon. High-end yoga pants and mat peddlers Lululemon will also be selling their own branded craft beer this month, with the help of Vancouver's Stanley Park Brewing. CBC News reports that the tall-boy cans of Curiosity Lager sport a 4.6 percent ABV and will only be sold in Canada for a limited time.
So, there you have it. Poetry, lobster and yoga: all viable role players in the wide, suddenly wacky world of craft beer.