When we think about grilling, we most often think in terms of burgers, sausages, steaks, vegetables and possibly the occasional fruit. It's time to broaden those horizons and venture into the lands of non-American grilling, with tips on barbecuing with Korean, Mexican and Thai twists.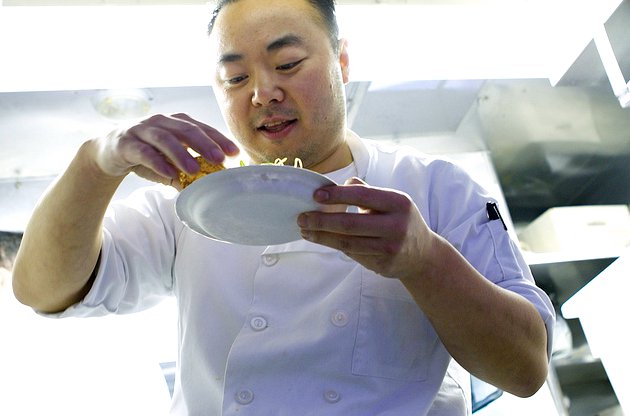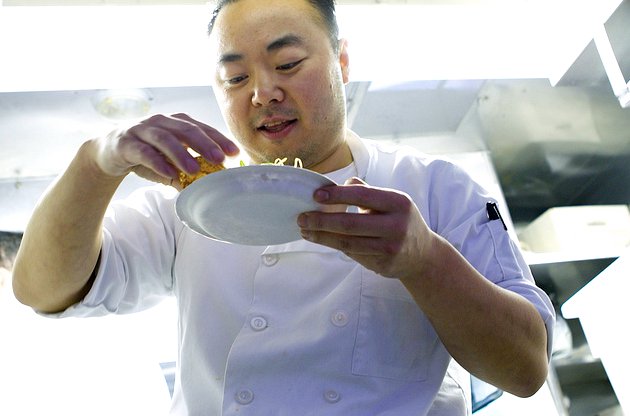 Korean
New York City chef Hooni Kim is an ambassador for modern Korean cooking in America with his two restaurants, Danji and Hanjan, and a rising television career that currently has him serving as head judge on the Korean version of MasterChef. In Kim's kitchens, the chef intends his flavorful, well-proportioned cooking to appeal not only to homesick Koreans, but also to adventurous eaters seeking a little more spicy ramyun in their lives. Some favorite dishes include ddukbokki (rice and fish cakes) wok-toasted with pork fat and gochujang, haemul pajeon (textured squid and scallion pancakes that rise vertically into space) and silken tofu topped with sizzling pork belly. But that only scratches the surface.
And while sliders made with Korean barbecue staple bulgogi (marinated brisket) is one of the most popular dishes at Danji, Kim hardly runs a traditional Korean barbecue restaurant — the communal, meat-and-kimchi-driven dining most associated with the country's cuisine. But he is a master at the art of grilling kalbi. During a recent afternoon chat, we asked the chef for a couple of backyard secrets.
What do you like to grill at home?
Actually, we do a lot of vegetables like corn and asparagus. Anything woody is good. And we use these little oak chips that you can buy at the Korean supermarkets.
What's a common mistake that home grillers make?
They overcook everything, which is very easy. A lot of people just close the lid, thinking that it's not that hot, and then bam! It goes up to 500 degrees in literally four minutes, and it just dries everything out. I think temperature-wise, grilling is very tough. So it's not about recipes, it's not about what they're used to doing in your home kitchen. You just have to feel it. And that's tough if that's not your profession.
What do you like to drink when you're eating this grilled meat or vegetables?
It's always beer. And there are gluten-free beers, which I prefer, that nobody really knows about. Tsingtao is gluten free. Corona is gluten free. A lot of the Mexican beers are gluten free. Before, I used to have to drink the New Planets that are gluten-free beers. I also take [Korean rice beer] makgeolli and make it really cold. I put it in the freezer and turn it into slush.
Let's talk about the grilling tradition in Korea.
If you're selling meat, it's barbecue. And it has to have wood chips or coal. A long time ago, when Koreans didn't have electric heaters, they would warm the floorboards. So below they would put coal and oftentimes cook there as well. This is why restaurants still use this coal as a grill. In Korea, every block has restaurants that grill. If there's meat, you have to grill. There are no ovens. Even in the home, you'll find electric grills that you put in the middle of the table. These days, lamb is really popular because beef and pork is getting so expensive. And they're cooking western-Chinese style, where they use a lot of cumin. They do a dry rub and they put it on a skewer and grill it.
Take me through the secrets of Korean barbecue at home.
One thing to keep in mind is that if the fire's going, it seriously takes two minutes on one side, two minutes on the other. And, done. That's it. Ninety percent of Koreans who barbecue use the LA kalbi cut, which is a short rib with the bone still in. (Editor's note: You can find this cut at all Korean grocery stores. Or ask your butcher to cut the short ribs really thin, about a quarter inch.) Bulgogi is not great for backyard grilling. It's too thin, and it falls through the grates. Pork ribs are also very big. I like to do gochujang with pork. It should be a little spicy. We buy St. Louis ribs and marinate them for two days.
For the kalbi, what is the typical marinade?
If I can get Asian pears, that's the best tenderizer and sweetener. Pear juice. Pears right now aren't the best because of the season. If you can't find those, then kiwis work.
What about grilling mackerel? There's a big tradition with that in Korea.
We do the mackerel here at the restaurant, which is really in season in the summer months. You can start to find pike mackerel now. But honestly, I usually barbecue on our roof, where it's sort of public. The smell of Korean kalbi is nice. But the smell of mackerel, it's just really fishy. So I feel a little uncomfortable.
Mexican
Widely acknowledged as one of the country's leading contemporary Latin chefs, Aarón Sánchez has become a household name since starring as a judge on Food Network's hit show Chopped and as host of Cooking Channel's Emmy-nominated Taco Trip. While the celebrity chef has amassed quite the fan following thanks to a blossoming television career, it's his food that does the real talking. Stints at New York City hot spots Paladar and Centrico earned Sánchez rave national reviews, and 2014 was one of the chef's busiest years yet. He opened three restaurants in three cities (Paloma in Stamford, Connecticut and Johnny Sánchez in Baltimore and New Orleans), Sánchez took some time out to give us a few summer grilling tips.
What is your favorite cut of meat to grill?
Skirt steak, because of the fat content. It also cooks quickly and marinates well.
What's the most epic barbecue you have ever thrown or attended?
It had to be the carne asada that I attended in Monterrey, Mexico, last summer. It was hosted by my partner, Bud Light, and actually set a new record in the Guinness Book of World Records [for most barbecue attendees].
What are the best vegetables for the grill?
I love eloté [roasted corn on the cob]. You start with fresh ears of corn, add some crema mexicana and queso fresco and you're in business.
What do you like to drink with your grilled meat?
I always like an Argentinian Malbec or a Southern Italian red wine.
Most useful piece of grilling gear you have purchased or used?
I don't know if this counts, but I just purchased three Caja Chinas so we can roast whole 100-pound pigs at my new restaurant, Paloma, in Stamford, Connecticut. It's going to be fun to use them this summer!
How have you been able to incorporate Mexican flavors on the grill?
Through Mexican herbs and chile marinades. The garlic chipotle recipe from my book, Simple Food, Big Flavor, is great for grilling.
Thai
Here at Food Republic HQ, we try not to lose sight of the fact that New York City may be the center of the universe, but there are other people out there doing stuff. Which is why when grilling season hits, we cast our gaze beyond the South, beyond Texas, and consider how other cultures char their meat over flames in the great outdoors. (See our Illustrated Gallery: Grilling Around The World.) And this, in turn, is why we invited Jet Tila to Soho House in Manhattan's Meatpacking District (synergy!) to talk about something he knows better than almost anyone: Thai grilling.
Thai what? Like many of the most awesome food countries in the world, Thailand has a rich tradition of making things more delicious by grilling them, so we turned to Tila, who once took Food Republic on an Epic Thai Town Crawl in his hometown of L.A., to help us tell our larb from our nam prik. The affable Tila set us straight on Thai regional cooking and what meat goes on a Thai grill, and then he threw in his favorite wok hack.
How is the grill used in Thai culture?
My family's from Chiang Mai. There are two popular regions in Thailand that are known for their grilling. There's the north, where there's Chiang Mai, and then there's Isaan, and that's northeastern, very close to Laos. I think Isaan barbecue is the best grilling in Thailand. It's all hard charcoal, and it's a combination of marinated meats, like grilled pork jowl and homemade sausages. We also have what's called jerky. If you took pork or beef, marinated in fish sauce, garlic, salt and fermented it, then either grilled or deep-fried it, that's Thai-style jerky.
Is it always direct heat, or indirect?
Thai grilling is always hard-coal, direct-heat grilling. Either whole slabs of meat or skewers. Or giant whole rounds of sausages.
What about chicken?
That's in central Thailand, if anything. In the north we have buffalo, pig. North, you have Thai barbecue chicken paired with papaya salad.
Any side dishes cooked on the grill?
In the north, your side dishes are always gonna be sticky rice and a cold salad — either papaya salad or cold meat salad like larb. It's always the salty protein with the cooling vegetable, which is usually salad. And then the starch, which is always the sticky rice. These three are always eaten in combination. You would rarely ever eat meat or protein by itself. The vegetable will be the reprieve from the spice since that's cooling, and the meat's more salty, sweet, garlicky and not really spicy. The spice is always going to be the dip.
What about fish?
Central Thailand. If you follow the Mekong up and down, fish is usually spit-roasted. Either slow-spit-roasted so the skin is edible or you char it to the point where the skin blackens and you tear the skin off and eat it that way. The third way is to grill freshwater fish, flake off the meat and make a salad. Grilled fish larb is underappreciated.
Would a Thai chef ever put vegetables on the grill?
The only vegetable that's grilled and turned into something is long eggplant. In Thailand we have two primary varieties of eggplant: round eggplant, which is either the cherry or the Thai green, and the more Chinese species, the long one. We'll take the eggplant and grill them, blister them, char it, scrape the inside out and we'll make our version of baba ghanoush, because you actually take the eggplant meat and mix it with things to make a dip. We call that num prik, which translates to "chili dip."
What's a barbecue gathering like in Thailand?
The barbecue in Thailand is used as a cooking implement more than a gathering function because it's so bloody hot already. It's usually the only way to cook something, because in rural Thailand, even the pans and woks are pushed by coal. Grilled food in Thailand will usually signify the region of food that you're eating. You know for sure: grilled pork jowl, you're eating northeastern Thai.
What would you drink with something like that? Singha?
Yeah, F- Singha! Here's the new shit. Thai people are all about whiskey and mixers. If you hang out in Thailand, it's about drinking whiskey-soda, whiskey-Coke, whiskey-water. If you wanna be OG Thai, you would do a whiskey-Coke on the rocks and eat that with your barbecue — and get really red-faced because we're all allergic to alcohol.
Any grilling tips before we finish up?
A really good dude tip is to take a large chimney starter, get that thing stoked until the coals are white-hot and use that as a wok burner. Guys are always scrambling to find enough BTUs to push a wok; that's the best wok burner I've ever used. When you are trying to do stir fry and you can't quite get what they call "the breath of the wok," that semiburned beautiful smoky taste, it's usually because home stoves are pushing 9,000 to 16,000 BTUs, 30 if you're lucky and you have a pimp-ass burner. Take a large charcoal chimney starter, load it with briquettes, stoke it, and when those coals are white-hot, you set the round-bottom wok on the chimney starter and that serves as the best, most economical wok burner you can buy.