This past weekend I went to the 2015 Summer Fancy Food Show, the twice-a-year trade show for all things edible and notable, and tried so many new products my head was spinning. I probably sampled 50 varieties of mustard (I can't pass on mustard—it's an issue). My girlfriend made a valiant attempt to try every single hot sauce there. Alas, there's just too much to get to in a single day.
But the Fancy Food Show is more than a gallery of mustard and hot sauce; it's a full-blown conference for anything and everything food-related, epic in its scale. There are even prizes awarded for "best in show." Here are some of the best things I tried, which also means "glad I tried it so I can avoid it in the future."
Ginger Zinger gluten-free cookies from Tate's Bake Shop
In my experience, most gluten-free cookies are terrible. Not all, just most. These, however, were soft and chewy, with a little crunchy bite, and I could've eaten a whole bag. If you handed me one of these without telling me it was gluten-free, I would never know.
Organic apple balsamic vinegar from Ritrovo Selections
Apple cider vinegar is my favorite kind of vinegar, and balsamic is probably my second favorite. So a balsamic vinegar made from apples? In my mind (and mouth), it was amazing. I can't wait to stock my kitchen with some of this. Can you say "Italian BBQ"?
Handmade salted caramel from Coop's Micro Creamery
It's not often you can just eat a scoop of caramel sauce with nothing else and not have it be a bit too sweet. This is that sauce. I could have eaten this whole jar with a spoon, and I can't wait to start dipping apple wedges into a jar of this from the comfort of my couch.
Special Sauce from Sir Kensington's
If you know anything about me, you might know that my first recipe on Food Republic was for "special sauce." Now, I love my special sauce, and it's really easy to make, but having a good one in a jar that I can keep at the office is awesome. Mine is modeled more off what you get at In-N-Out, and I would say this one is closer to Shake Shack's; make of that what you will.
Organic molten chocolate cake from Hot Cakes
I saw this and thought, "I doubt this is any good." It's cake batter that comes in a small mason jar, and you just bake it right in the jar. Can't be good, right? OMG, IT WAS SO GOOD! I was shocked. And the lady who tried it after me was also shocked. Anytime you hear a member of the press who is over 50 years old say, "Holy shit. Holy shit…. Have you tried this?!" you know it's something good.
Organic Austrian pumpkin-seed oil from Stöger
Did you know that pumpkin-seed oil was a thing? I didn't. I mean, in theory you can make an oil from pretty much any seed, but I've never seen this. But it was awesome, nutty and smooth. I'm really looking forward to using this to really take things up a notch in salad dressings.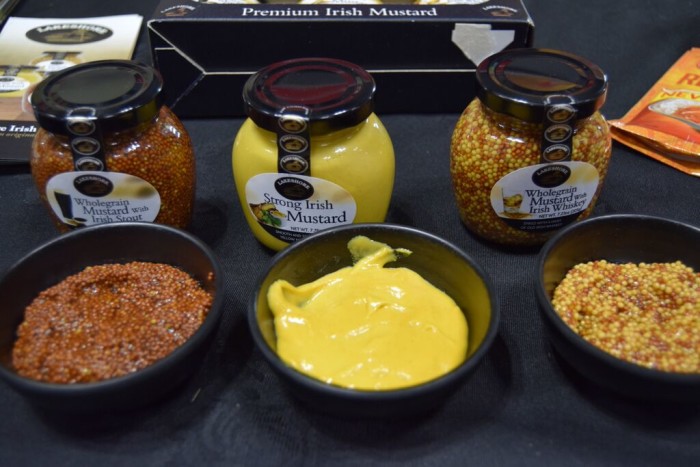 Irish mustards from Lakeshore
Of course there was going to be mustard on this list, especially if that mustard is spiked with stout or whiskey, and Lakeshore makes a version of each. And the brand's original has that sharp classic bite of any good English or Dijon mustard. If you have to just do one, my favorite of the three was the Irish Stout.
Original Bacon Spread from Skillet
Ever wish you could spread bacon on something? Well, now you can. I've made bacon jams in the past, but it's nice to know that I can get something similar with much less effort.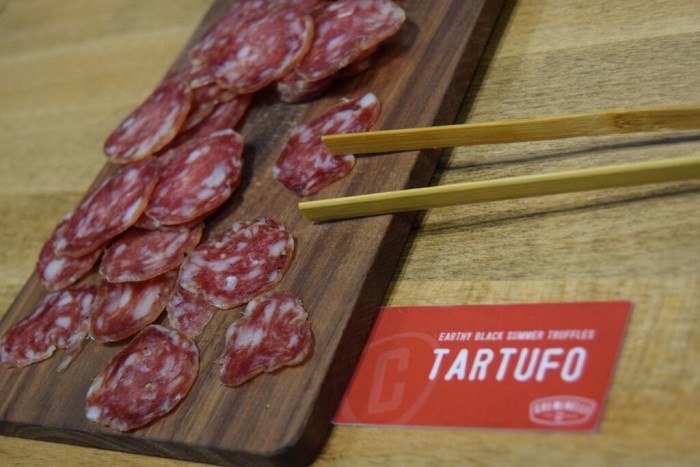 Tartufo salami from Creminelli
Truffles are a tricky thing. They're sort of trendy in a sense, and people have tried truffling pretty much everything. The problem is that it doesn't work a lot of the time. But this salami has achieved a perfect balance: You can taste the truffle, but you're not overwhelmed by it, and it enhances the flavor of the meat as opposed to being the foremost flavor. A welcome addition to any charcuterie board.
Bacon hot sauce from Whoop Ass
I'm not into this trend for hot sauces to include "ass," "butt," etc. in their product names; it makes me think of that old SNL commercial for "Colon Blow" (because, yes, we all know what happens when you eat too much hot sauce). But at least these guys are called Whoop Ass instead of the Fire Between My Cheeks. And you know what? Hot sauce with bacon in it is pretty awesome, even if it was made to be a novelty item.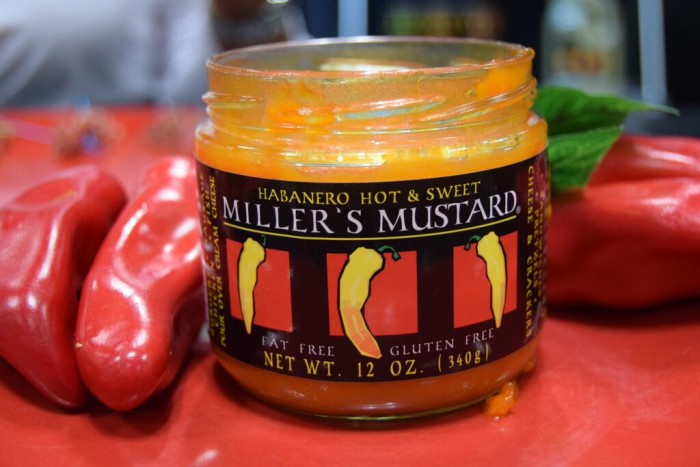 Habanero Hot & Sweet from Miller's Mustard
Here's where the quests of myself and my girlfriend intersected. This mustard was a hot sauce, but also a mustard. It's also amazing when you mix it with cream cheese. I've been mixing hot pepper jelly and cream cheese for a while now, but this really took it to another level. I want to put it on every cracker I see from here on out.
Chicken & Waffles Saltwater Taffy from TaffyTown
I got excited when I saw this. Chicken and waffles have a special place in my heart. But don't. Don't do it. Just stay away. This tasted like maple syrup on a bouillon cube, and it was not good.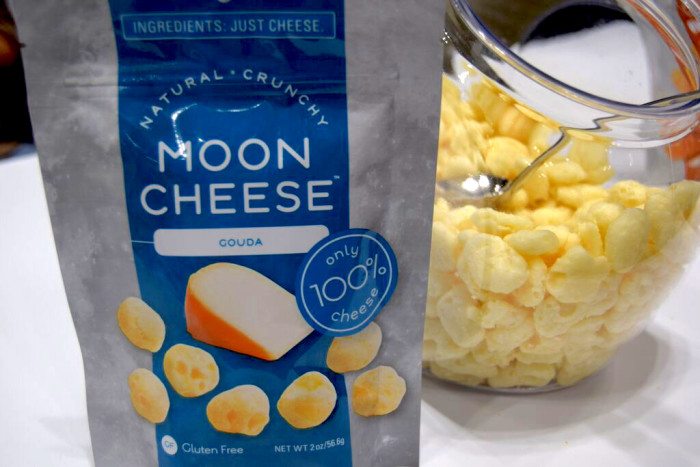 Moon Cheese from Moon Cheese Snacks
I remember being a kid, hearing the notion that the moon was made of cheese and thinking, "Wow, those people are idiots." But if you handed me one of these when you said it, I might have believed you. Moon Cheese is real cheese (and only cheese) that's dehydrated at low temperatures into little crunchy, moon-looking rocks that are quite delicious.
Pure Maple Water from DRINKmaple
You're going to be seeing this everywhere pretty soon, I think — we covered it a while back. The way that a few years ago suddenly everyone was drinking coconut water. The difference here is that coconut water tastes like the sweat of a person who's been eating too much coconut, and this tastes like pure water with just a hint of maple. I will be drinking a lot of maple water this summer.
Beer jelly from Potlicker Kitchen
Imagine a delicious beer, and then take every aspect of its taste and color, then transport that to a jelly. I was in love with these. They came in Oatmeal Stout and IPA, and both were totally on point and totally true to their heritage (meaning they tasted exactly like the beer they purported to taste like). I can't wait to try these out with some stinky soft cheese.
Jalapeño chips from Deano's Jalapenos
These are slices of real jalapeno, fried up and turned into a chip. Are they spicy? Yes. Are they delicious? Definitely yes. Should you go find them and try them? Of course, why would the answer be no at this point? Come on. Don't ask me stupid jalapeño-related questions.
Pitorro Anejo from Port Morris Distillery
Pitorro is basically moonshine rum from Puerto Rico. And just like normal moonshine, when you age it in a barrel it develops additional flavors and colors. This is not your normal rum. This is something you want to sip on, or drink on the rocks with a wedge of lime. Also, it's from the only distillery based in the Bronx.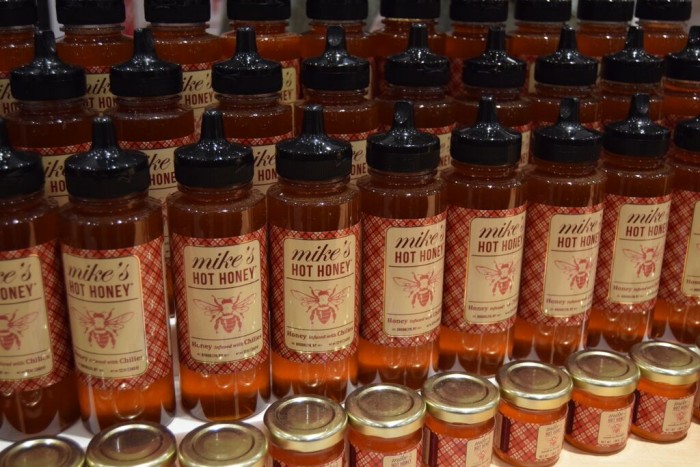 Mike's Hot Honey from Mike's Hot Honey
It's honey. But it's spicy. You can use it to make a spicy margarita. And if you haven't ever had pizza with some soppressata and Mike's Hot Honey, you are seriously missing out. This is one of those things that I will forever keep in my pantry now that I know about it, and you should consider doing the same.