It's just past 10 in the morning, Milan time, in a massive auditorium typically reserved for the frequent fashion shows this northern Italian city is famous for hosting. Camera crews, including a team of five from Japan, and dozens of international journalists are scribbling into notebooks and popping off Instagrams, while an army of minders scramble to nail down last-minute details. But this early-summer gathering is not to obsessively document Max Mara's latest micromini. It's a deft use of micro cilantro that is more the star.
You can think of the S.Pellegrino Young Chef 2015 cooking competition as a kind of Baby Bocuse d'Or — the culinary Olympiad held in Lyon, France, every other year that secures global bragging rights for the teams that finish on the podium (USA took second place in January; What Is Up world!). Like Bocuse, S.Pellegrino Young Chef's inaugural competition invited chefs from 20 countries and regions to execute a complicated dish that both represented their personal cooking style and would also impress a jury of seven of the world's most celebrated chefs — who would taste the dish moments after it was plated in a stressful "you're on the clock for five minutes" kind of situation.
The panel, including the top two chefs appearing on this year's highly influential World's 50 Best Chefs list, represented all corners of the global fine-dining establishmenta: Grant Achatz, Gastón Acurio, Yannick Alléno, Massimo Bottura, Margot Janse, Yoshihiro Narisawa and Joan Roca. So it's fair to say that the young competitors — all under the age of 30 — were sweating it out a bit. Well, many of the competitors. Our pony from the United States was stoic when faced with the possibility of dramatic failure in front of a table of living legends.
"Cooking is the easy part and here it's all about organization," says Vinson Petrillo, the American representative, who is currently the chef at Charleston, South Carolina's Zero George but has spent most of his career working in New York City with chefs Franklin Becker and Kyle McClelland. "And today we are organized."
While Petrillo's talents reflect a cook well beyond his years, he did have some extra help from a ringer in Wylie Dufresne. Per the Young Chef rules, each competitor was assigned a "mentor" to assist with prep the day before the competition, help with strategy and offer Yoda-like advice. Weeks before the competition, Petrillo and Dufresne (a Top Chef judge who knows a bit about high-octane cooking contests) were talking on the phone often, forming a bond that appeared natural in Milan.
"He's very focused," says Dufresne, the well-liked New York City chef of WD-50 fame, of his laconic, hard-working pupil. "He's a very focused individual and very serious. He's a really hardworking guy. He works in a tiny kitchen doing amazing things."
In Milan, Team USA was scheduled to present third out of 20, which on paper was a favorable position. Not first — nobody ever wants to be that guy — but not at the end of the day, when the judges were tearing into their third game bird of the competition. Petrillo's dish was one he knew well: slow-cooked octopus with parsley and chorizo and a Wagyu beef cheek agnolotti painted with jet-black ink and brightened with preserved lemon. It's the dish that Petrillo originally entered, one of 3,000 submitted by chefs. He was then selected to compete in a national competition in New York, where he was crowned the champion and invited to Italy.
The clock has begun to count down and Petrillo, with Dufresne standing nearby, is shaping mounds of chorizo powder onto each of the seven large wooden plates that he brought with him. We ask if the vessels, which resemble the cross section of tree, were sourced from a South Carolina artisan, representing his deep connection to Low Country products and terroir. "They are from Bed, Bath and Beyond," he says dryly with an ever-so-slight smile and a wink.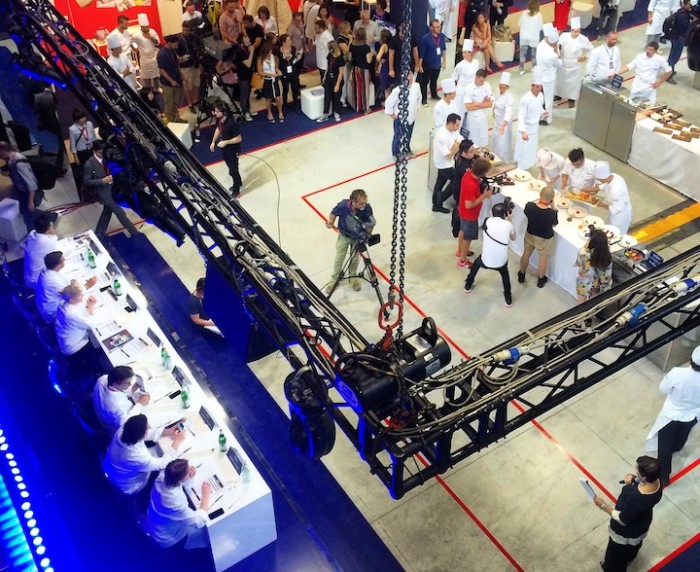 With four minutes to go, the agnolotti is dropped into a pot of boiling water while an Italian cooking instructor keeps his eyes on the clock. The pressure builds as many of the other competitors and mentors crowd around the perimeter, whispering to each other and nodding with approval. "Those need to be taken out right now, right now!" demands Dufresne a few seconds after Petrillo's preferred 1 minute, 45 seconds cooking time for stuffed pasta.
The plating is complete, and the seven dishes are paraded to the judge's table while Dufresne and Petrillo conduct an interview with an Italian food-TV personality that is blasted throughout the building. It's a last-minute sell to the judges, and Dufresne repeats his stump speech for Petrillo as a humble and hardworking chef with deep Italian-American roots who grew up roasting pork bones for Bolognese sauce and enjoying Sunday suppers of handmade meatballs and braciole. But in the end, it's up to the judges to decide — and team USA to wait it out as the other competitors repeat the high-wire act.
"The decision is going to be difficult," Peruvian chef Gastón Acurio tells us during a break halfway through the competition. "We already agree that there are four [dishes] that we really like out of the first ten. You are of course seeing some confusions with the flavors, because they are young. But what we are seeing is a commitment to their background and the ingredients that they know best."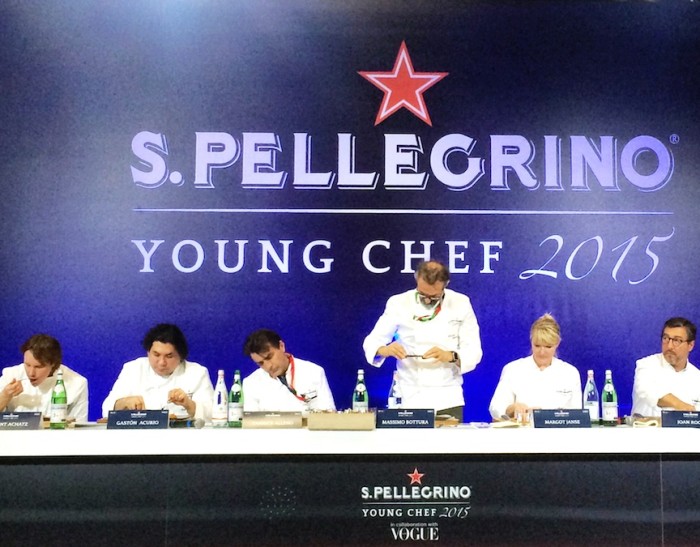 So it's looking good for Petrillo. The dish was well executed, and many of the judges seemed to take to it (we spotted a few fully cleaned plates, while others were only picked at modestly). We were able to sneak a bite from one of the plates and were immediately brought to a familiar place. The preserved lemon working magic with the braised beef in a perfectly cooked Piedmont-style pasta. Tender octopus accented with herbs and chorizo. It's the kind of straightforward Mediterranean cooking that you can find all over America — in restaurants like Babbo as well as trattorias in the Denver suburbs. Comforting and delicious, and simply what you want to eat on a Wednesday night. It's also a dish that is not going to win you an international cooking competition.
Later that night at a flashy awards presentation, a baby-faced Irish chef named Mark Moriarty is awarded the S.Pellegrino Young Chef 2015 recognition for his explorations with celeriac (more commonly known as celery root in the States). He'd baked a hunk of it with barley and fermented hay, and cured and smoked a bit with hazelnuts. There was some kind of celeriac and toasted hay tea involved. Basically, some pretty heady shit that won the judges over. We spotted Petrillo in the crowd, who, as he appeared all weekend, was slightly reticent and humble. "I'm just happy to be in Milan. I'm just happy to be a chef." And a pretty damn good one, too.
Here's a video of the American team in action: