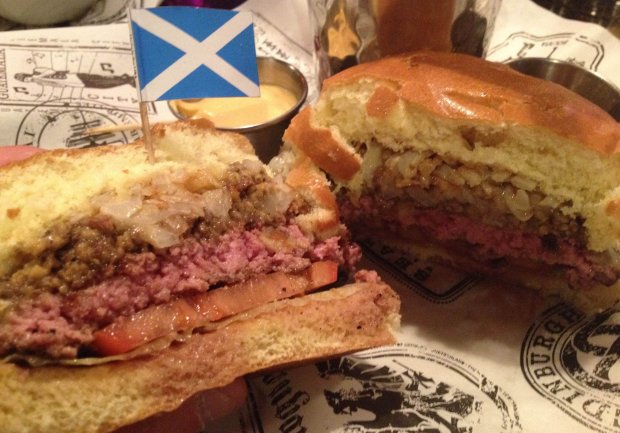 Built in 1741, Faneuil Hall in Boston is, by most accounts, the literal birthplace of America as we know it. The hall, from which the surrounding tourist-centric neighborhood takes its name, was the site of some of most pivotal moments in American history — it's where the Sons of Liberty rallied around the "no taxation without representation" doctrine and where Sam Adams and other orators urged Bostonians to join the cause of independence. The area is still home to some of the oldest bars and restaurants in the country, including the Bell in Hand, established in 1795, and the 1826 Union Oyster House. In 2007, a different icon of American history, the Hard Rock Cafe, opened its doors nearby.
On a recent Saturday evening, the patio outside the Hard Rock is lively with sun-beaten dads and shopping-bag-toting moms, freedom-drunk suburban teens and European tourists dining al fresco while a piano player runs through Billy Joel's "New York State of Mind." You'd be hard-pressed to find a more succinct tableau of contemporary Americana, but I am here looking for something else: a taste of the world.
There are almost 200 Hard Rock Cafes in 59 countries. Although there's a certain homogeneity to the menus, chefs at each location are given latitude to design hamburgers that reflect the unique characteristics of their area. Boston's, for example, comes topped with lobster. Suprising? Hardly. The chain recently winnowed down 150 such burgers from around the globe to compile its limited-offering World Burger Tour menu, four of which are on offer now in the heart of the Cradle of Liberty. I am here to eat them all.
"Local chefs at Hard Rock Cafes take great pride in conceptualizing and creating a Local Legendary Burger that perfectly captures the culinary essence of their home city," Russell Booth, executive chef for Hard Rock International, explained of the offering in a statement. "I speak for each of them when I say we're excited to take our Legends on the road this summer!"
Inside the restaurant, the air is pregnant with fajita sizzle. Weezer's "Perfect Situation" soundtracks my approach to the bar. Coupled with the burger offerings, a new cocktail menu has also debuted. The Maple Old Fashioned is made with bourbon, cherries, maple syrup and — for some insane reason — orange juice. The drink is garnished with a piece of bacon. Everything is better with bacon, they say. Well, except this. The bartender, herself a regular old-fashioned drinker, she reveals, tries to steer me away from it. It's a bit sweet, she warns. She is not wrong! Nearby, a three-top of women in religious head wraps picks at French fries under the hat worn by Mick Ralphs from Bad Company.
Putting aside the old-fashioned, the bartender steers me toward the Purple Haze cocktail. "It's tart but sweet. Basically a Long Island with Chambord, sort of like a Greyhound," she says. It is made with vodka, gin, Bacardi Black Razz rum and sour mix, and topped with Sierra Mist.
Which of the burgers, if any, has been selling the best? The Schnitzel, both bartenders agree. "Because it has sauerkraut on it. Who doesn't like sauerkraut?"
The Schnitzel burger, from the Cologne, Germany, Hard Rock, features "two lightly breaded cutlets of tender pork schnitzel, layered with smoked bacon, tangy sauerkraut and spicy brown mustard, crisp lettuce and vine-ripened tomato."
Let's start there, I say. Contemplating my two wilting cocktails and waiting for the food, I am overcome with a sense of loneliness. I wander outside for a breath of fresh air. On the sidewalk, a rabble of young women in miniskirts is spilling out of a party bus like a clown-car act…but nowhere near as sexy. The piano player is twinkling his way through Rupert Holmes's "Escape (The Piña Colada Song)."
Not long thereafter, my Schnitzel arrives. I pull out the knife skewered into the overflowing pretzel bun like Excalibur, set aside the tiny German and Hard Rock toothpick flags and send my face on a trip to the birthplace of Heinrich Cornelius Agrippa. The sandwich is overstuffed and falls apart on the first bite, but it tastes quite good. Not entirely altogether that bad, you might even say. It's hard to mismanage breaded pork. It's certainly fatty, but the spicy mustard comes through, and the veggies are crisp and present and give a nice counterbalance to the richness of the patties. The French fries are seasoned with chili and come with a chipotle-garlic ketchup that brings out a nice bit of heat. Across the room a server is calling for everyone to acknowledge the impending nuptials of a young woman in a tiara. Encouraged to congratulate her, we do. "Don't do it!" her friends at the table yell. I'm not sure if they are talking about her wedding or my taking another bite of Schnitzel, with three more burgers on the way. Alice Cooper's "Poison" is playing on the TVs.
"That thing is awesome with the mustard and sauerkraut," the bartender enthuses.
"It's a big sandwich, bro," the manager adds.
"We sell a lot of those," he tells me of the Schnitzel, but points out that the second best is the Andean burger. "I love anything with a yolk. Cholesterol on cholesterol! And we're doing well with the Guam. You gotta be really dedicated to go to Guam to eat, so you're not going to get that anywhere else."
All seem to agree that the haggis burger has been a bit harder to push. The undoubtedly authentic Scottish burger is "topped with savory haggis, melted Monterey Jack cheese and golden turnip frazzles," the menu explains. "With a Whisky Maple Glaze served with lettuce and tomato," although there's no mention of where the tomatoes in question ripened.
"People have been a little wary of the haggis," the barman, who's extremely attentive and on top of the menu, tells me. "I try to explain to them it's basically like a sausage. We get a lot of tourists from other countries and they know about it. It's mostly the Americans that are scared."
Are tourists, in fact, who they serve here, mostly?
"We get a lot people who put Hard Rock into their plans and go from Hard Rock to Hard Rock," the second bartender says as I extract haggis sweat from my mustache. "That couple down at the end, I don't know how many they've been to."
The haggis burger, the residents of Edinburgh will be sorry to hear, does not represent them well. The greasy haggis dominates and makes the burger patty an afterthought. I'm still not entirely clear what frazzles are, but they remain an afterthought. On the TV, Layne Staley is singing:
"Feed my eyes. Can you sew them shut? Jesus Christ. Deny your maker."
It won't be long before I might be tempted to do just that.
The Andean burger, hailing from Santa Cruz, Bolivia, is eight ounces of verified Angus beef, "topped with fresh avocado slices, a pan-fried egg, melted cheddar cheese, zesty garlic mayo, crisp lettuce and vine-ripened tomato" and is served this time with fries dusted with Parmesan Romano and a garlic aioli.
This is the best looking of the bunch by far. The egg is, as promised, a welcome addition, although the avocado gets lost in the shuffle. It's possible that ordering all of these burgers medium rare may be a bad idea, as the malleable texture didn't provide a sturdy base for the toppings to hold their form. The French fries in this round are the best of the night, with thick bursts of cheese coming through on each bite. "I'm gonna rock out and get an O'Douls," the man seated next to me says.
At this point ennui has begun to settle in — or Weltschmerz, rather — to keep with the theme. Sadness Tour of the World. La Tristeza de glotonería.
By the time the food runner delivers the fourth burger, I am sweating. The cymbal-lined walls glitter like the scales of a lumbering dragon. I've made a huge mistake, I tell the bartenders, whose curiosity about my experiment has shifted and who now regard me with pity.
The Chamorro burger, from Guam, sits unmolested on the bar for 10 minutes. I can't really look at it, to be honest, as if its pillowing buns hold a secret about myself I am not ready to learn. All of a sudden the cocktails I didn't like earlier have become the nectar of the gods. I order another, the Southern Rock, made with Jack Daniels, Southern Comfort, Chambord, vodka, sour mix and Sierra Mist. It tastes like the things that were used to make it.
The Chamorro sauce, the manager tells me, is named after a tribe in Guam. I tweet about my next burger.
"Dude I am chamorro what the hellllll comes on a Guam burger at the hard rock??" a follower asks. "What's the burger sauce of your people like?" I ask back. "Here it's spicy BBQ basically."
"Mustard, I guess?" he replies. "I've never seen or heard of a Chamorro burger so I'm gonna have to try this one day."
I am going to have to try it one day soon myself. I do. And, reader, I marry that burger. "Rubbed with island-inspired spices and layered with Pepper Jack cheese, our house-made Chamorro glaze, chili paste, crisp lettuce and vine-ripened tomato," the menu reads. The first bite defibrillates me back from the beyond. Unlisted pickles and red onions are crisp and sharp and are, at this point, the best thing I've tasted all day. The burger is tender, and the cheese isn't overwhelming. The glaze is lightly spicy and tangy.
Giving myself a hamburger-whore's bath in the restroom afterward, I run into the cook. "Oh, you the guy taking pictures?" he asks. "The egg burger is my favorite," he says. "That other one [the Guam] is too spicy for me."
"I should've brought a friend," I reply. He laughs at my joke.
Back at the bar, a slinky, sexy punk band called Plague Vendor is on the TV. The singer is as skinny as a whip. I hate him with my life. The bartender asks if I want dessert.
Outside, in Faneuil Hall, a man in a colonial costume is leading a tourist group from MIT. "It's a far, far better thing I do…" he proclaims, apropos of nothing, to no one in particular. An odd bit of dialogue, considering Dickens isn't really period-specific for a colonial, but the closing lines of A Tale of Two Cities seems thematically appropriate to where I'd just been.
Read these Burger Talk stories on Food Republic: