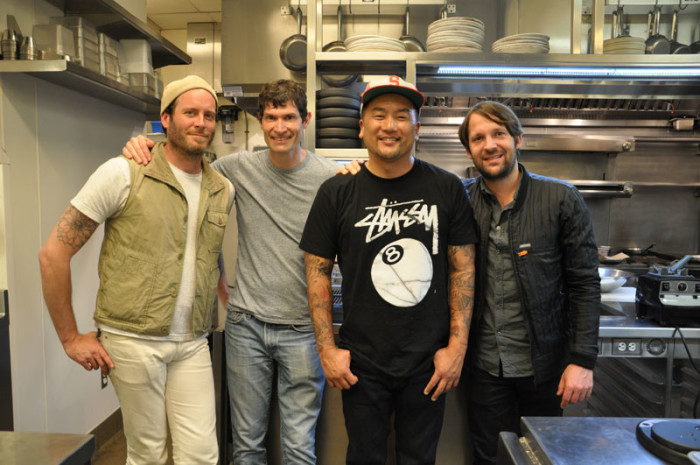 After launching a successful IndieGogo fundraising campaign, a power quartet consisting of food-truck entrepreneur Roy Choi, Coi chef Daniel Patterson, Noma chef René Redzepi and Tartine's Chad Robertson are gearing up to launch their fast-food concept, Loco'l,  in Los Angeles and San Francisco this summer. Unlike a typical fast-food chain, Loco'l aims to emphasize quality ingredients and health — but in a sneaky way, to better reach people who prioritize taste and convenience.
"Right now, we have a whole society that's been eating preservatives and processed food, that's being brainwashed by billions of dollars of industry, and we can't just say, 'Yo, eat this kale,'" Choi tells Questlove in an interview that appeared recently in Paper magazine. To combat this broken food system, Choi and his collaborators are trying to emulate fast food's look, feel and price point.
"So, for example, there are chicken nuggets, but those chicken nuggets are made using really good birds, using rice flour to coat it, making a sauce out of real tomatoes and soybeans and fermented chili paste. But they don't know any of this; they just think it's chicken nuggets," says Choi. There will, notably, be no sodas at Loco'l.
The L.A. location of Loco'l will be in the diverse, dense neighborhood of Watts, which has its share of conventional fast-food chains, but nothing quite like this. In SF, Loco'l will open in the Tenderloin.
It's an opportune moment for this type of endeavor: Not only are chefs taking on causes like food waste, overfishing and childhood obesity, but the success of Danny Meyer's Shake Shack, which recently went public after rapidly expanding its locations across New York City, has proved that American eaters are ready for convenient, delicious food that's also well made.
But Loco'l is going to be cheaper than Shake Shack — the menu includes a 99-cent burger and other items ranging up to six bucks. Those are real fast-food prices. In fact, they beat McDonald's, Burger King and the like, where burgers start at around $2.50.
Also revealed in the interview: Questlove apparently hosts food salons and is beginning work on a book about "innovation and creativity in the food world."
Read these stories about fast food on Food Republic: