In Hungry Concierge, we travel the world to spot hotels that operate with their guests' food and drink needs squarely in mind — hotels, both big and small, that are located in neighborhoods rich with bar and restaurant options. Because there's nothing worse than having your trip derailed by crummy room service. 
My last two nights in Budapest, I shacked up at a brand-new "luxury" hotel — one that, despite an overly attentive staff, failed to hit the mark. But every time I cringed at the room's flickering fluorescent lights, or the garish piano pattern emblazoned into the carpet, I yearned for a return to Brody House, a magical hotel I called home my first three days navigating this beautiful Central European mecca.
Set atop a circa-1896 residential building (roll out of bed in the morning for a coffee and you will see apartment dwellers shutting their heavy doors and scurrying off to work), via a dramatic curved staircase that both echoes delightfully and makes hauling luggage a bitch, Brody House was once home to Dr. Vilmos Tauffer and his extensive medical library. Despite the abandonment that followed in the wake of World War II and Communism, the building — and its striking courtyard — miraculously survived.
Once upstairs, guests are greeted by a glossy red table in a sun-dappled room filled with intriguing furniture. Here, mornings begin with lavish breakfast spreads; in the evenings the drawing room and its well-stocked honor bar invite wee-hour conversations over glasses of brooding pálinka (Hungary's notoriously fierce fruit brandy), sipped on fashionable sofas. If it is a proper meal guests crave, then they are encouraged to visit the nearby Brody Studios, a cultural epicenter that is home to a barrage of exhibitions, live music, comedy nights and meals that revolve around green bulgur risotto and rosemary leg of lamb.
Affable, in-the-know front-desk staff (after I discovered I'd left my adapter plugged into an outlet at the Zurich airport with myriad deadlines looming before me and very little laptop battery, one clerk searched high and low for the proper device) are only there from 8 a.m. to 8 p.m., so the rest of the time it feels as if you are living in your own hushed, historic Hungarian home.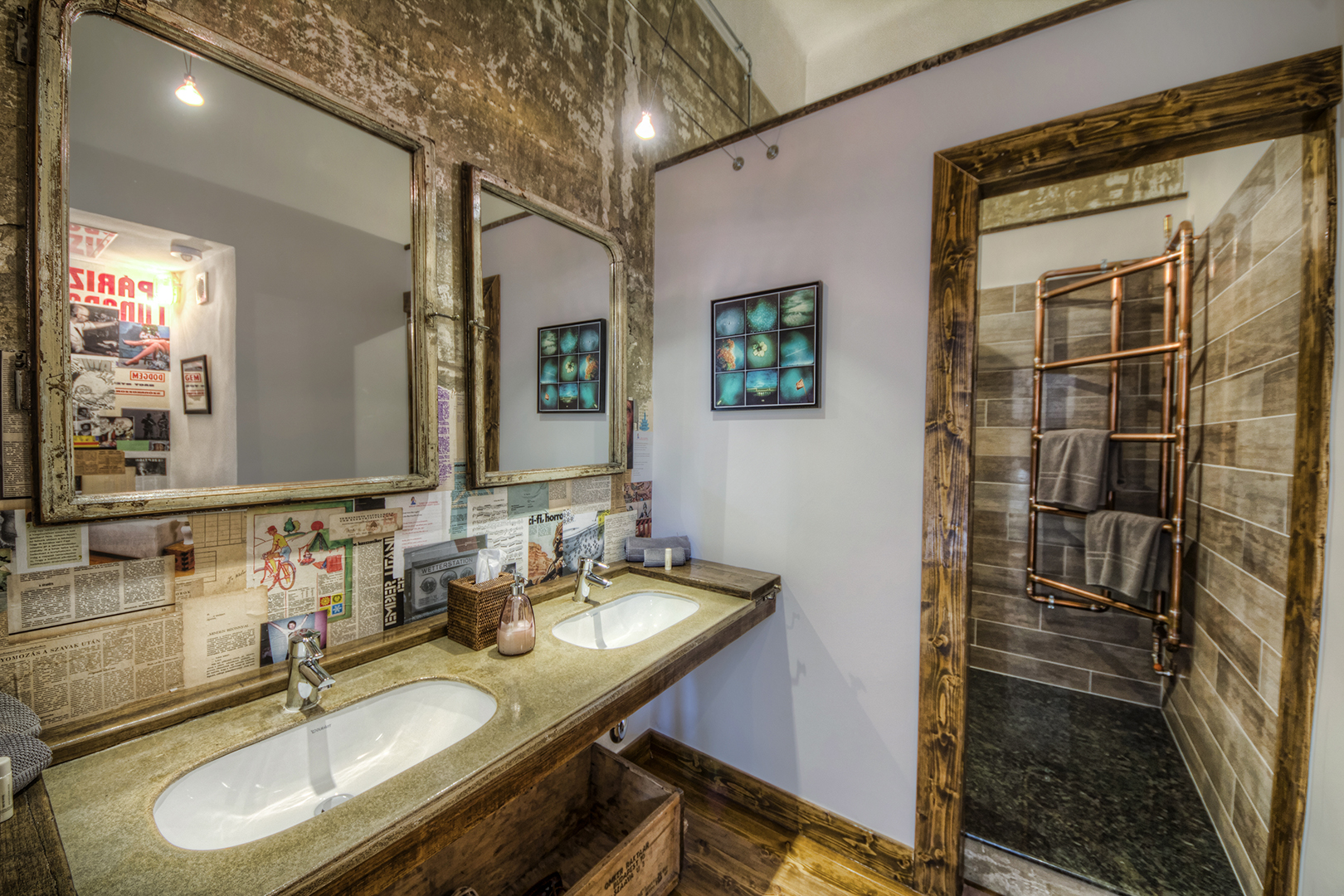 The Rooms: Before transforming it into a hotel in 2009, William Clothier and Peter Grundberg spent time living in the space, cavorting with their intellectual designer friends and throwing intoxicating modern-day salons reminiscent of France's lavish Belle Époque era. For each of Brody House's 11 rooms, Clothier and Grundberg turned to those same talented artist pals to design distinctly different lairs. Some of these accommodations once served as the actual studios for this imaginative posse. I room-hopped the nights I stayed there and was equally enchanted by each of the three vivid personalities they conjured — the seductive ladder and bathtub in Luton, the print-papered bathroom in Photo, the crimson-hued daybed in Claret, which almost made me succumb to a mid-afternoon nap.
The Look: Named for Hungarian writer Sandór Bródy, Brody House truly is an authentic and animated reflection of the Budapest arts scene. Each room brims with contemporary creativity and vintage upcycled furniture, which is such a refreshing departure from the usual cookie-cutter headboards. To further accentuate the connection between Brody House and the city's stylish and inspiring art scene, a visit to the offsite Brody ArtYard, an edgy gallery and print studio, is another must.
The Neighborhood: Brody House is located directly across the street from the Hungarian National Museum, so if there is a hankering for, say, 18th-century paintings, there is no excuse to not wander inside. A short stroll away is the soaring old Great Market Hall, where one devours apricot strudel and stocks up on paprika. The Liberty Bridge, which leads from bustling Pest to quiet Buda, home to that imposing famous castle, is also here. Because Budapest is such a compact city, it is rather easy to get to a number of impressive food and drink joints, including Espresso Embassy for sublime versions of its namesake drink and cinnamon buns; Borkonyha Winekitchen for sparkling Kreinbacher Prestige Brut before wiener schnitzel; Mangalitsa sausage-strewn eggs at Ket Szerecsen; and in the shadow of the humbling St. Stephen's Basilica, funky wine bar Innio for spicy meatballs and peach- and sesame-laden chicken at Café Kor. Nothing, however, is quite as heady as an alfresco perch at funky KIOSK, taking in the River Danube with a glass of Hungary's own underrated crisp Furmint.
Brody House
Bródy Sándor u. 10, 1088 Hungary
Budapest, Hungary | brodyhouse.com
Rooms start at $80 per night