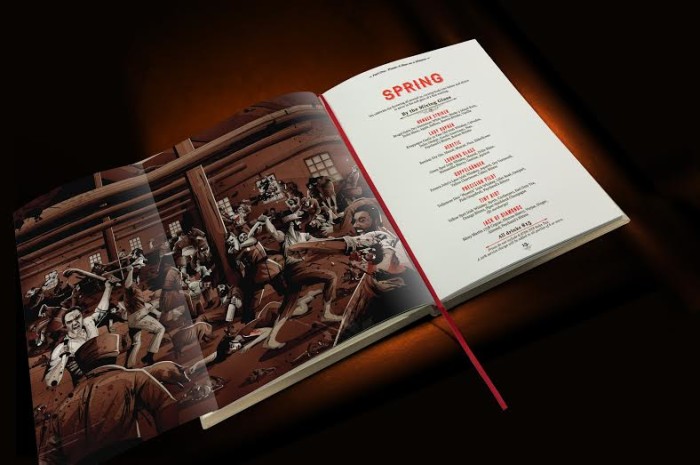 With their bright colors and bold layouts, most bar menus carry a clear message: Happy, overstimulated people are more likely to spend money. For example, the handwritten comic menus of Washington, D.C., bar 2 Birds 1 Stone, the brightly colored faux-LP label that New York restaurant Charlie Bird uses to advertise its cocktails and the Pantone-style color wheel employed by San Francisco's Trick Dog. Different formats, different colors, same theme: Brighter and bolder is better.
By comparison, check out the lines from the opening paragraph of the newly released menu at New York bar the Dead Rabbit:
"That quarter of New York they call the Five Points…is a fearsome and terrible nest of murderers, cut-throats, Pickpockets, Beggars, Harlots and all manner of Reprobates and Degenerates…Iniquity is everywhere. Every house is a Brothel and every Brothel a hell…"
A dark and dour description of New York's most notorious 19th-century slum may not seem like the best tool for convincing customers to try an intricate new cocktail, but the Dead Rabbit's menus have always colored outside the lines. While most American watering holes are still going with the classic leatherette binders — with their sticky pages — the award-winning Water Street bar has put out a new menu/mini novel every year.
While each of the volumes is a standalone work, they combine to produce an extensive, detailed exploration of the society, personalities and history of New York's famed Five Points slum. The first book, released when the bar opened in 2012, gave a 40-year history of the area; the second told the story of John Morrissey, a leader of the feared Dead Rabbit gang. For the third volume, Dead Rabbit cofounder Sean Muldoon says, they wanted to focus on the broader social scope of 19th-century ghetto life.
To give an unbiased, outside glimpse into Five Points, Muldoon and his partner Jack McGarry decided that they needed to imagine an outsider who was intimately involved with the area but could put it in context of the broader world. "That's how we happened on Lewis Pease," Muldoon says.
A Methodist minister, Pease moved to the Five Points in the 1850s. Tasked with converting the Irish Catholics who were living there, he ended up getting canned from the clergy when he moved away from saving souls and toward improving economic opportunities for people in the ghetto. Among other things, Pease set up workrooms for women and established the nondenominational Five Points mission.
Although Pease left his Methodist ministry, it was still important to Muldoon and McGarry that the menu reflect his strong religious background. To ensure authenticity, they hired a theologian to provide some examples of religious quotes that may have influenced Pease. "We paid this guy a thousand bucks for four quotes," Muldoon laughs.
That was hardly the only major expense in the production of the book. "It took us seven months to put this together," Muldoon says, noting that it represents over 1,000 hours of work. "It's the last of this kind of menu that we're going to do," he adds. On the other hand, now that the partners have completed their history of the area, they're selling copies of the three volumes, packaged together, in the bar's gift shop. "Together, the three menus are the color of the Irish flag," Muldoon points out. "Tourists love that kind of stuff."
Find more cocktail culture on Food Republic: