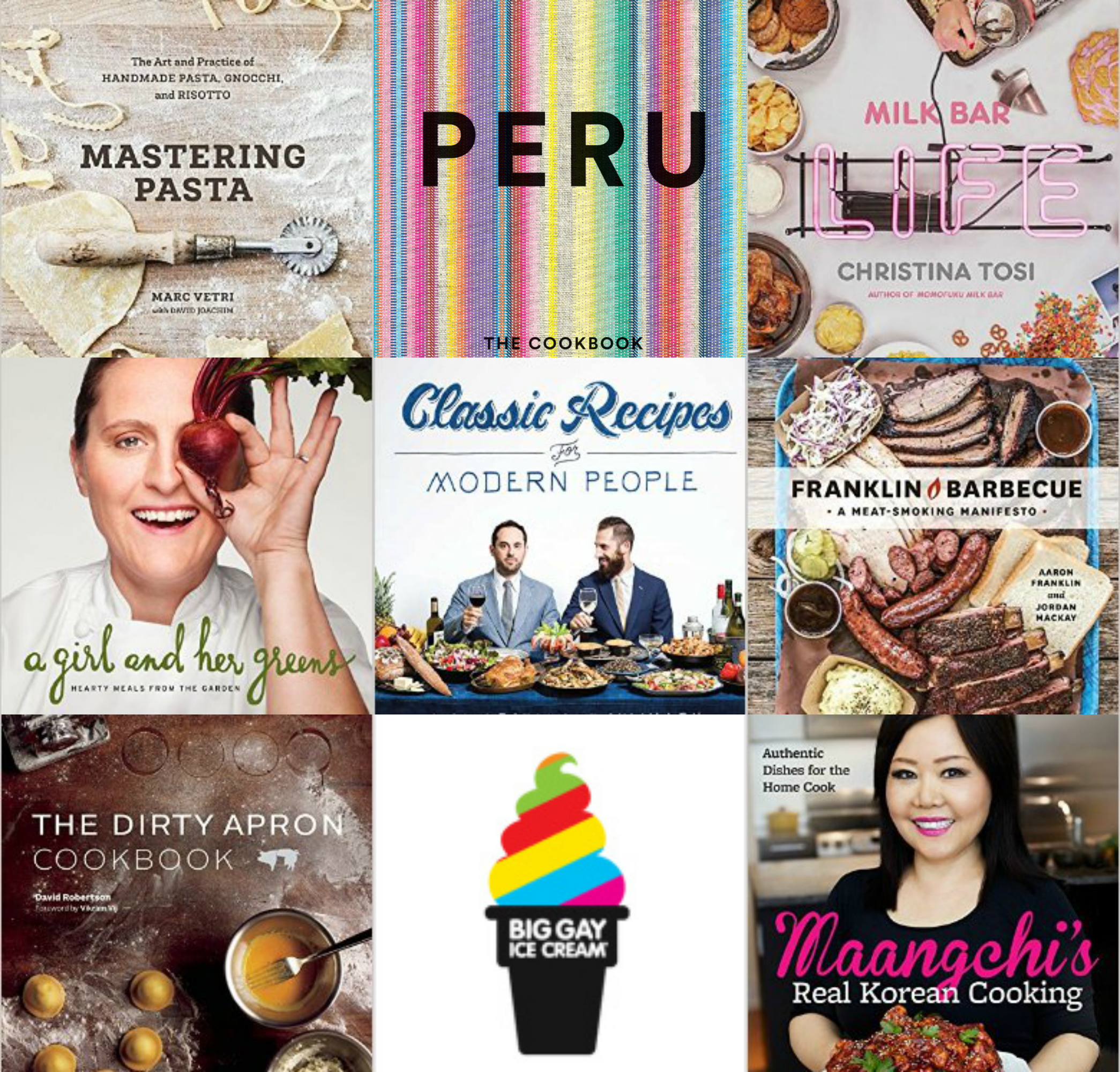 With the advent of spring, we unearth the salad bowls, scrub off the grills, shoo away any animals who may have set up shop in there for the winter (you'd be surprised) and tuck our Dutch ovens safely away for the many gloriously warm months ahead. Yes, it's spring-cookbook time. Here are some of our favorites. Don't sleep.
1. Big Gay Ice Cream: Saucy Stories and Frozen Treats by Bryan Petroff and Douglas Quint [Clarkson Potter]
One glance at Big Gay Ice Cream's line out the door and you know you've stumbled upon one big gay frozen treasure. This NYC mainstay's signature cone is a chocolate-dipped, salt-studded creation called the Salty Pimp, but everything else in the unicorn-bedazzled shop is equally tasty/badass. Their DIY-treats cookbook arrives just in time for the hot weather. With a foreword by Anthony Bourdain, authority on all things (delicious, hardcore, fun — you name it), Big Gay Ice Cream guarantees a homemade dessert so good it'll make you question your dedication to your current favorite homemade dessert. Unless that current favorite dessert is ice cream. If it is, you're in very good shape.
2. A Girl and Her Greens by April Bloomfied and J.J. Goode [Ecco]
April Bloomfield is the chef and co-owner of four excellent New York City restaurants: the Spotted Pig, the Breslin and the John Dory and Salvation Taco. Each offers a dining-with-benefits experience — exceptionally flavorful and decadent dishes (pork topped with runny eggs seems to be a go-to) served in sharply designed dining rooms packed with celebrities of the screen and social web. Bloomfield has also written a pretty kickass cookbook, 2012's A Girl and Her Pig. This follow-up is a tribute to cooking with vegetables (though it's hardly a vegetarian cookbook). The recipes represent the chef's global approach to cooking and include a dosa with cauliflower and yogurt, eggplant caponata and steamed eggplant with ground pork and Thai basil. Vegetables rule.
3. Peru: The Cookbook by Gastón Acurio [Phaidon Press]
At long last, the release of what is sure to be the definitive book on the fresh, flavorful and incredibly varied cuisine of Peru! Authored by the country's most acclaimed chef, Gastón Acurio, Peru: The Cookbook is a thick tome of 500 recipes that span the range of Peru's unique gastronomy. Trendier than ever, and with rising chefs spreading the good word to food enthusiasts worldwide, Peruvian cuisine is about hit your culinary library hard. A word to the wise: Make friends with an excellent fishmonger and have some limes on hand before you crack this book open and fall right down the ceviche rabbit hole.
4. Season With Authority: Confident Home Cooking by Marc Murphy [HMH]
Murphy, a New York City chef, food-TV star and occasional surfer dude, is a favorite around here at Food Republic — back in 2011 we devoted a week to our favorite Marc (sorry other Marcs). So it came as a bit of a shock when we found out that Murphy was releasing his very first cookbook this spring. We thought he was on number four or something. Well, it's about time! It's also a very good read, packed with seasonal recipes — many Italian in nature (the chef grew up in Italy). But there are also seafood-shack classics and comfort-style dishes that you'll really want to make at home.
5. Mildreds: A Vegetarian Cookbook by Mildreds Limited [Mitchell Beazley] 
One usually doesn't think of vegetables when it comes to the very best of English cuisine. Unless, of course, one enjoys thoughts of mushy peas and mash after mash after mash. Thankfully, there's London, and in London there's Mildreds, a Soho mainstay since 1988 that swaps mash for whole vegetables in their finest forms. Curries, traditional savory pies, risotto, stir-fries, quiches and salads abound in Mildreds: A Vegetarian Cookbook, from the people who pulled London out of a world-famous veggie rut. Oh, and omnivores are more than welcome. You'll want to try their burger with sweet-potato fries and basil mayo.
6. Feeding the Fire: Recipes and Strategies for Better Barbecuing and Grilling by Joe Carroll [Artisan]
Food Republic's staff is comprised of dedicated New Yorkers who know that a truly powerful craving for smoked and barbecued meats merits a trip to one of Brooklyn chef Joe Carroll's acclaimed restaurants, Fette Sau and St. Anselm. Carroll's new book, Feeding the Fire, is more than a collection of recipes for brisket, sausage and ribs (and plenty of information on why whiskey is what to drink with them). If you're going to tackle the flames, you're going to need some sound, time-tested advice, and that's what Carroll gifts this world in this stunning book that practically gives off the aroma of smoky wood. If the book actually begins to smell like smoke, ensure it's not on fire. If it's too late for that, get some meat under that book.
7. Franklin Barbecue: A Meat-Smoking Manifesto by Aaron Franklin and Jordan Mackay [Ten Speed Press]
"What we do is salt and pepper and…fire," says pitmaster Aaron Franklin about the trademark Texas barbecue he sells out of his insanely popular Franklin Barbecue on the Eastside of Austin, Texas. People have waited up to four hours for his brisket, ribs and Central Texas play on pulled pork, which can run out at the inhumanely early hour of 10 a.m. This is Franklin's first cookbook, and jeez, look at the cover. Makes us pretty hungry. But the book is more a history of the restaurant — as well of Texas beef-centric barbecue — than a recipe book. There are plenty of instructional elements, though, like how to build your backyard smoker, source wood and, of course, employ the proper low-and-slow technique.
8. Milk Bar Life: Recipes & Stories by Christina Tosi [Clarkson Potter]
After graduating from the French Culinary Institute, Christina Tosi found herself working in the kitchens of Bouley and wd~50 in New York City before David Chang hired her, first as his right-hand woman and then as the pastry chef at Momofuku Ko. An impromptu strawberry shortcake won her the job. She would eventually open Momofuku Milk Bar, which now has six permanent locations around New York City. When Tosi released her first book three years ago, we lost our shit. It was a really good read, with both easy and difficult recipes and a lot of personality (and stories about "tit shit" and other topics floating around the Momo offices). This follow-up offers a bit of a continuation of that vibe, with recipes both expected (My Grandma's Oatmeal Cookies) and not so much (Sauce, With Penne). And lots of stories.
9. The Art of Cooking With Vegetables by Alain Passard [Frances Lincoln] 
French chef Alain Passard is credited with bringing haute vegetarian cuisine to Paris via his three-starred restaurant, L'Arpege. Using the organic produce from his carefully curated garden, Passard crafts simple, elegant and masterful dishes you can now re-create at home. The Art of Cooking With Vegetables is just that: It shows how to transform the humble turnip, homegrown mushroom and lush bunch of fresh herbs into inspired vegetal beauty on a plate. "Carrots and Basil in Purple Splendour" sounds like something a vegetable fan would enjoy, n'est pas?
10. Pure Pork Awesomeness by Kevin Gillespie and David Joachin [Andrews McMeel]
A book called Pure Pork Awesomeness is the kind of book that does not pull punches. Its author, Atlanta chef and Top Chef alum Kevin Gillespie, details the numerous heritage breeds available at good butcher shops and farmers' markets around the country before breaking into recipes that utilize the entire animal. This means salt and pepper Sichuan pork chops, Mexican pork ribs with salsa verde and sweet potato pancakes with maple-braised bacon. Indeed, bacon does make everything better. Cookbooks included.
11. Maangchi Real Korean Cooking by Maangchi [HMH]
You can think of Maangchi as a sort of Julia Child of Korean food. A former prolific video gamer, she's the host of a quirky, insanely popular Youtube series that teaches Koreans and non-Koreans alike to cook delicious Korean food at home. In this, her first proper cookbook, she translates recipes for banchan (the iconic small plates), grilled meat, and soups and stews like kimchi jjigae for the home kitchen.
12. Book of Tripe: And Gizzards, Kidneys, Feet, Brains and All the Rest by Stéphane Reynaud [Murdoch Books]
Acclaimed French chef and cookbook author Stéphane Reynaud can make even the pickiest diner welcome offal onto their plate with gusto. The recipes in his latest work, Book of Tripe, do not include the likes of your grandma's chopped chicken liver, which we're sure is delicious, but you've never seen innards presented in such an appealing way. Pan-fried duck hearts? Trotter and dandelion salad? Brains that would make a zombie weak in the knees? Oh wow, zombie down. But never mind that, let's see what these beautiful fritters might possibly be made of.
13. Bread & Butter: Gluten-Free Vegan Recipes to Fill Your Bread Basket by Erin McKenna [Clarkson Potter]
For gluten-free baking, there are plenty of cookbooks, authorities and guru figures claiming to have cracked the code. And many have, to some extent. But really, when we want recipes for making GF versions of English muffins, cinnamon raisin bread and pizza dough, author and Babycakes owner Erin McKenna is our answer.
14. Agricola Cookbook by Josh Thomsen [Burgess Lea Press]
Princeton, New Jersey, has a big, famous university and a big, famous farm-to-table restaurant. And now you can name both. Agricola executive chef Josh Thomsen showcases the bounty of his home state in this hearty collection of recipes fueled by the restaurant's 112-acre farm and supported by ranchers and foragers. Princeton residents are leading the state's locavore movement, with CSAs and specialty markets abounding. Agricola is where it's happening best, and with Agricola Cookbook you can see exactly why. You only think you've had a superb kale salad.
15. Mastering Pasta: The Art and Practice of Handmade Pasta, Gnocchi and Risotto by Marc Vetri and David Joachim [Ten Speed Press]
When you talk about the Philadelphia restaurant scene, you talk about high-minded Italian chef Marc Vetri, and then you talk about the other guys. This is not to say the other guys are shabby — people like Kevin Sbraga, Michael Solomonov and Jose Garces run some very good restaurants. Here, Vetri lets the world in on some of his favorite pasta secrets. First one: They aren't that difficult to make at home! This book blends Vetri's personal stories, tales from his trips to Italy and lots of practical advice and step-by-step directions for making light-as-air gnocchi and familiar pasta shapes.
16. Benu by Corey Lee [Phaidon Press]
Korean-born, American-raised chef Corey Lee worked under Thomas Keller at the French Laundry before breaking out on his own with the landmark Benu in San Francisco, winner of three Michelin stars and a James Beard Award. This book tells the story behind his 33-course tasting menu, providing recipes for each dish with a stunning visual representation. A number of photo essays capture the spirit of Lee's life inside and outside the kitchen.
17. Classic Recipes for Modern People by Max and Eli Sussman [Weldon Owen]
Max and Eli Sussman, two Michigan-born, Brooklyn-living dudes, both have outstanding restaurant résumés (Roberta's, Mile End) and cookbook track records to boot. Their two most recent, This Is a Cookbook and Best Cookbook Ever, show the pair's gift for writing recipes that you just want to prepare at home: simply written, tested with certainty. It's delicious and practical food with a creative streak, like maple syrupy monte cristo for breakfast, grilled sriracha chicken wings and fish tacos for lunch. For their latest, they attack so-called "classics" from all directions — classics from their own childhood (their dad's lamb stew), classics from their friends (duck à l'orange) and future classics, which is basically a fun way for the boys to present their recent genius. This includes a corn bread and brisket patty melt. Whoa.
18. Twenty Dinners by Chris Taylor and Ithai Schori [Clarkson Potter]
We famously love music and food crossovers (see: Good Food Rocks), so indie-rock band Grizzly Bear bassist Chris Taylor's new dinner-party-centric cookbook definitely has a place on this list. Because guess what? We love dinner parties, too! Cowritten by Taylor and friend, photographer and cook Ithai Schori, Twenty Dinners is a comprehensive guide to hosting curated dinner parties from the food to the wine to…yup, the music. Pick up this book from a musician we dig, and remember: The party's about your friends, and the more the merrier.
19. The Dirty Apron Cookbook by David Robertson [Figure 1 Publishing]
Some people aren't natural talents in the kitchen, and that's okay — sometimes it's best left to the professionals. Want to learn to cook like a professional from a professional? If you can't attend chef David Robertson's Vancouver-based Dirty Apron Cooking School, home of the world's best cooking lesson, pick up a copy of The Dirty Apron Cookbook and follow Robertson's easy, well laid-out and beautifully photographed recipes. With dishes absolutely everyone can make, notes on tricky steps and illustrated guides and step-by-steps for the simple techniques you need to know, this is an essential book for the budding kitchen buff in your life.
20. The Broad Fork: Recipes for the Wide World of Vegetables and Fruits by Hugh Acheson [Clarkson Potter]
We've put a couple of other vegetable-centric cookbooks on this list, but none are written quite in the style of Athens chef Hugh Acheson — a James Beard winner in both restaurant and cookbook categories. "What the hell do I do with kohlrabi?" It's a question we've asked ourselves after a rather grim trip to the CSA, and one Acheson answers while breaking down 50 fruits and vegetables (like blueberries, carrots, beets, Brussels sprouts and kohlrabi, of course) in 200 interesting recipes.
21. Eat! The Quick-Look Cookbook by The Show Me Team [Weldon Owen]
Who doesn't love a good illustrated chart? We sure as heck do. From the Show Me Now team that brought you well-thought- out and drawn-out solutions to problems like surviving an avalanche, boiling water in a tree stump and fighting an octopus (you will need to bite it in exactly the right place) comes Eat! The Quick-Look Cookbook. If you were one of those kids who responded better to picture books, you're going to love this collection of simple recipes illustrated so masterfully you'd literally have to cook the book to render it unhelpful. Like the culinary love child of See Spot Run and Modernist Cuisine with overhead and cross-section shots of how your dish-in-progress should look, sound and smell, this is as foolproof a guide as their tutorial on thawing a frozen pipe. Useful, too. The book more so than the tutorial on thawing a frozen pipe.
22. The Southern Foodways Alliance Community Cookbook edited by Sara Roahen and John T. Edge [University of Georgia Press]
Here's one way to guarantee your Southern recipe is 100 percent authentic: Make sure the SFA was involved in sourcing and testing it. You'll learn everything there is to know about the ingredients you're using, straight from the ham curers, fishermen, oystermen, farmers and, yes, even a few chefs. Check your tried-and-true mac and cheese, collards, fried chicken and go-to pie recipes against the truly authoritative versions in The Southern Foodways Alliance Community Cookbook and make sure you're not getting too fancy. Or just leaf through and see how many pages you can go without giving in to your mounting craving for pimento cheese on a biscuit.