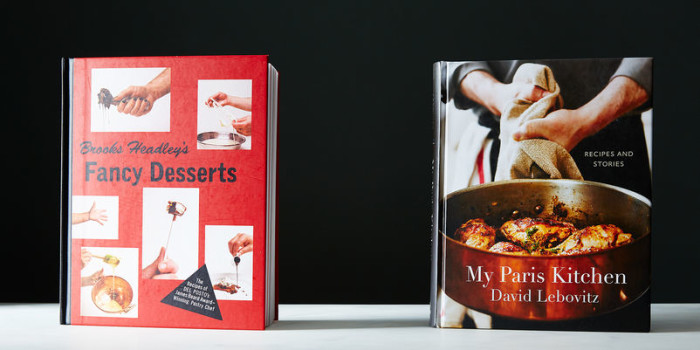 Last night, cooking site Food52 announced the outcome of its annual tournament of cookbooks, The Piglet. And the winner — which came as little surprise to us — is Del Posto pastry chef Brooks Headley for his unconventional tome, Fancy Desserts. The verdict comes from judge and prolific cookbook author Bill Buford, who declared Headley's book the victor despite its intentionally sucky photography and curious lack of pastry kitchen basics. In fact, Buford seems rather unsure of whether Fancy Desserts is really a cookbook at all. Buford is sure of a few things, though: "It is humble. It is brave. It is extreme. It is wacky. It is by far and away the best anti-cookbook cookbook I have ever read. I will be reading it again and again. It is genius. Bravo, Brooks Headley!"
Notably, Headley's effort was chosen for top honors over another excellent cookbook, My Paris Kitchen by David Lebovitz, which Buford calls "anyone's winner, unless, like me, you happen to read Fancy Desserts afterwards." (Read our interview with Lebovitz here.)
Back in October, Headley sat down for an eye-opening interview with Food Republic's Matt Rodbard to talk about his unique approach to cookbook writing — he even fessed up to taking ideas from other chefs:
"What's always aggravated me about chef cookbooks is that everyone's like 'Oh, I'm a genius and oh, I'm infallible.' That's why I wanted to write in the book, you know, 'I ripped this off from this.' Or 'This is exactly this.' Or 'This is highly influenced by this.' Because that's true for fucking everybody. I'm sure that there are people who will tell you that they don't have influences from other food, but I just don't believe that."
Read the full interview here.
More about cookbooks on Food Republic: