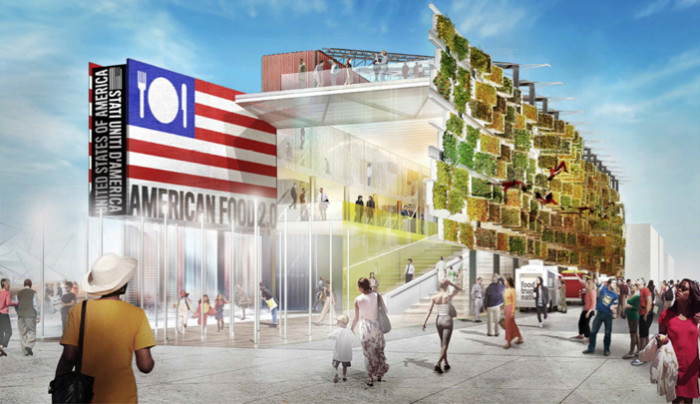 "We need a white knight, and we think that person is you."
Nearly two years ago, Dorothy Cann Hamilton was sitting in her corner office at the International Culinary Center in Soho, the cooking school formerly known as the French Culinary Institute, which she founded 30 years ago. The voice on the other end of the line was a representative from the Italian government, speaking in a tone somewhere between persuasive and desperate. 
Unbeknownst to Hamilton, a clock was ticking on a yet-to-be-conceived, past-deadline USA Pavilion to represent America at the 2015 Expo Milan, a historically rich global institution formerly known as the World's Fair. The theme, which changes with each event, was to revolve around food and energy. And Hamilton, one of America's foremost thought leaders in the culinary world, was being asked by the hosts to court the office of the Secretary of State to get behind what would become a multisensory exhibit the size of two Manhattan blocks. "I said yes, I would do it, but I would need somebody with the best Rolodex in America."   
That person was Mitchell Davis, executive vice president of the James Beard Foundation, journalist and, as Hamilton explains over coffee, the "creative vision" behind what she describes in detail as something similar to a living organism, requiring the teamwork of hundreds of architects, food-service professionals, academics and chefs. They all came together — via conference call and during quick trips to Milan — to create an interactive exhibition that articulates a central vision: American Food 2.0.
Who cares about the World's Fair? It was a question recently posed to me when news started trickling out about Hamilton and the USA Pavilion, which is set to debut on May 1 in the northern Italian city and run through October 31, attracting an estimated 20 million visitors. Over 145 countries will participate at festival grounds located 10 miles northwest of Milan and accessible via high-speed rail.
Since the first World's Fair, called the Great Exhibition and held in London in 1851, Fairs (later called Expos) were largely intended to bring leaders in science, commerce and technology together in one user-friendly and convivial space. In the days before radio, television and the Internet, these exhibitions were incredibly popular, and critical for so-called captains of industry looking to exhibit, and sell, their latest technology. And for anybody who has paid the price of admission to a baseball-card convention, comic con or boat show, attending a convention of this scale can be a pretty fun way to kill an afternoon. In the 19th and 20th centuries, attendance ballooned.
Back in the day, Americans were "pretty obsessed" with World Fairs, says Hamilton of the many expositions held in the States, notably the St. Louis (1904), Chicago (1933) and New York City (1939, 1964) fairs. But due to changing tastes, World's Fairs became less important in American culture, and by the time the 2010 event rolled around in Shanghai, America's presence was relatively small — with a pavilion being established only after Chinese governmental pressure was applied to then secretary of state Hillary Clinton. Though, in the end, the 6,000 square meter structure did attract more than 7.3 million visitors.
But leading up to Milan, something changed. Perhaps it was America's swelling obsession with the many elements of food, including cooking, travel, sustainability, and gardening, all of which ties in nicely to the Expo's official theme: Feeding the Planet, Energy for Life. Perhaps it was a policy change. Regardless, the United States government eventually returned to the mix. And Hamilton and Davis — after winning a bake-off, via RFP — were eventually tasked with organizing, on a relatively short timeline.
"What we're trying to do with this pavilion is to open the minds of the world to what American food and American responsibility to the food system is," says Hamilton, noting that when most outsiders think of American food, two things come to mind. "People think we eat hamburgers and we're run by McDonald's. Plus, we're fat and causing all these problems." Hamilton's tone shifts, bordering on agitation. "People don't realize that we probably are the leaders in solving these problems, and that's why we're calling the pavilion 2.0."
It's obvious after spending some time with Hamilton that she is as skilled at sales as she is at preparing a soubise. An eloquent speaker, she's both articulate and warm, and it's easy to subscribe to her vision. She places a splashy brochure on the table in front of us. It's conceived by hot-shit design consultants Pentagram, with a rendering of the fortress-like U.S. Pavilion front and center. Betsy Ross's famous stars are replaced with a knife and fork. Clever, but certainly nothing new.
Panning to the right, the $60 million structure's focal point is more compelling — a wall of land plots, some shaded in amber waves of grain, while others green like the lettuce section of Whole Foods. "This will be the world's largest vertical farm," says Hamilton proudly of the patchwork quilt of American agriculture being built from Zip Towers invented by Bright Agrotech of Laramie, Wyoming. "It's all hydroponic and, truly, a disruptor."
"Disruptor," the great buzzword of a million Mashable blog posts, is a word Hamilton uses often when describing the team's efforts (there's a strong tech component, with a series of three-month incubators being planned). She talks me through the pavilion, describing the floor that will be constructed using planks from the Coney Island boardwalk. Within the stadium-like space, eight stanchions will hold large video monitors playing catchy 15-second video clips that will serve as the thrust of the self-guided tour (attendees are allowed to stay in each pavilion for as long as they want, but with a daily ticket costing $40 to $70, it's clear to organizers that some of the visits will be breezy). Hamilton expects around 2,000 visitors to cycle through the 35,000-square-foot space each hour, with guests watching clips associated with QR codes that are scanned for additional reading. The video content, which is currently being produced, will tackle a broad range of topics relating to the energy and food theme. Topics like food security, school lunches, science and food.
By tapping into her and Davis's deep chef connections, Hamilton hopes to further the concept that in America, chefs are becoming more socially conscious and in some cases rising to the level of policy advocates. She points out that well-known restaurant guys Dan Barber and Tom Colicchio will be featured in video displays, as well as through live conversations that will take place throughout the six months and be streamed on YouTube. "[The videos] are supposed to make you think, while showing you who our best and brightest thinkers are on the subject in 15 seconds," she says. "It is challenging [with the time restriction], but they're doing a very good job at it."
While further exhibits are still being developed, Hamilton reveals that an On the Run section will profile how Americans like to eat when they are "sometimes literally walking," which may shock some of the leisurely Italians in attendance. Another section will detail American Thanksgiving, the traditional turkey-and-stuffing affair, but also the traditional Thanksgivings hosted by American immigrants (Chinese and Italian, for example).
"This is the easy part for us," she says with a smile. I've asked about how she and Davis plan to involve American chefs, both famous and up-and-coming, in the pavilion's programming. By no surprise, the USA Pavilion Advisory Board reads like a James Beard Foundation family potluck and includes chefs from all over the country: David Chang, Mario Batali, Hugh Acheson, Mary Sue Milliken, Rick Bayless. Through well-placed emails and phone calls, the board helped establish a list of chefs now slated to participate in two different areas.
The first is a food truck lot located across the street from the pavilion, which will host six permanent "trucks" serving iconic American food (the design will be truck-like, as trucks are banned from the pavilions). Hamburgers and barbecue, pillars of American-born cuisine, will of course be a focus, along with regional favorites like kimchi tacos, Cajun fare and lobster rolls — with lobster meat shipped in from Maine. "Our diplomatic help from the State Department certainly makes it easier to import produce," says Lanie Bayless, a program director and daughter of chef Rick Bayless tasked with coordinating the pavilion's food-and-drink logistics.
Bayless estimates that the pavilion will serve close to 5,000 meals per day, a staggering feat. "It's been difficult, for sure," she says, adding that the 900 trucks delivering food and supplies to the Expo daily will only be allowed to enter between the window of three and six in the morning. "And the truth of the matter is there are going to be days where half the trucks don't get in."
In a shrewd play, the Americans' other dining component will be located far away from the Expo grounds, in a USA-branded restaurant operating in the heart of Milan. While the exact location and name area still being worked out (right now it's internally called the JBF House in Milan), Hamilton is ecstatic about the idea of collaborating with international chefs on a nightly ticket restaurant. "The Rene Redzepis will come down to cook with the David Changs, and it will be really organic. It's going to be the hottest restaurant in Milan." 
Note: A correction was made to reflect that the Italians were the first to approach Hamilton, not the office of the Secretary of State