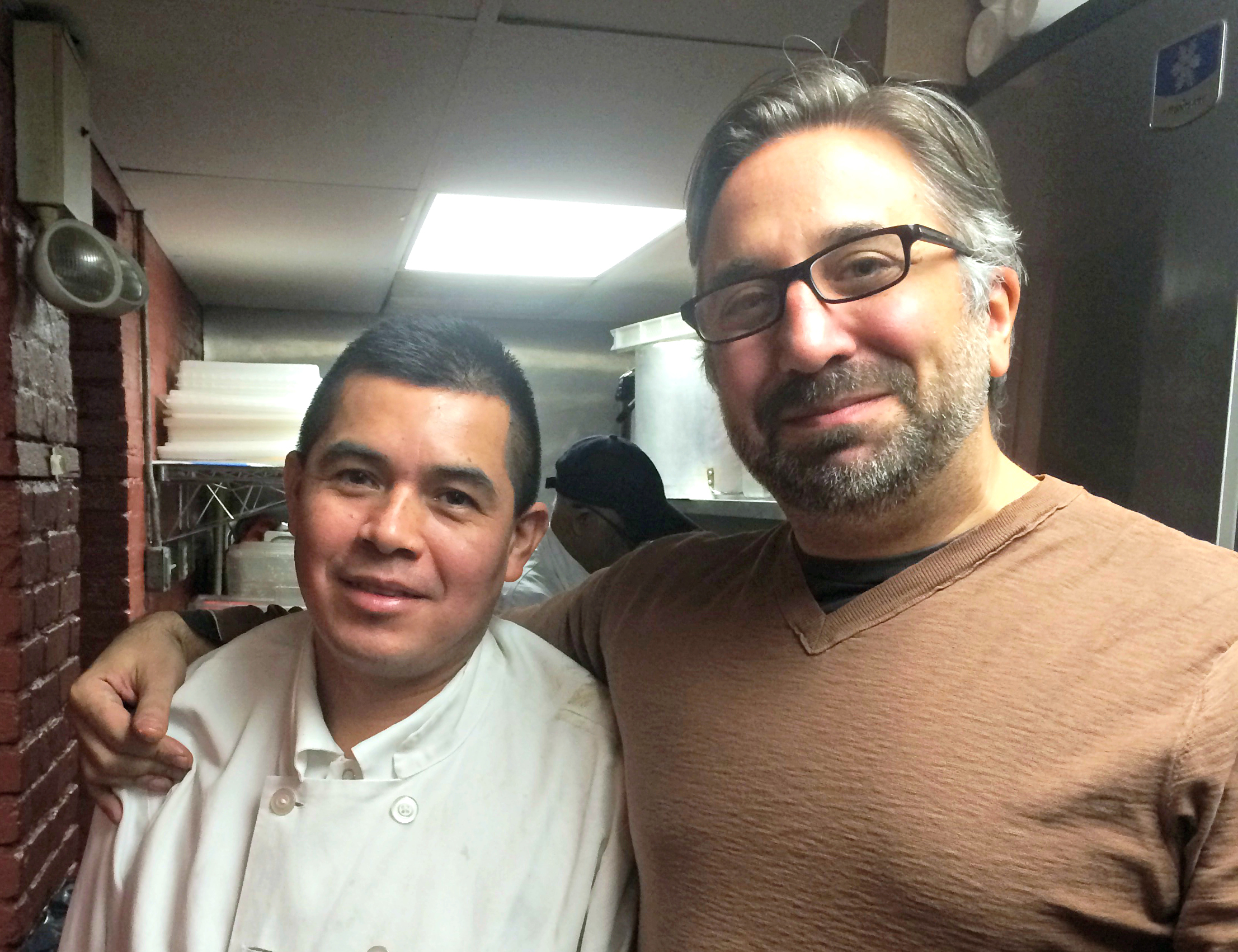 Earlier this month Andrew Carmellini fired off a chefy in-joke tweet that, like all good chef joke tweets, ribbed one of his peers. In this case, Marco Canora.
Working on a new recipe 1/3 bone broth 1/3 coconut water 1/3 green juice And we'll all live forever!!!!!!

— Andrew Carmellini (@andrecarmellini) January 7, 2015
Since early November Canora, a well-regarded Italian-American chef and cookbook author behind the decade-old Hearth in New York's East Village, has been at the center of a certified bone broth craze — serving as many as 400 sipable cups daily out of a takeout window adjacent to his restaurant. The chef's booming operation has run nearly around the clock, while national media outlets like Good Morning America and Fast Company have christened bone broth a healthy eating movement. ESPN ran a lengthy story detailing Los Angeles Lakers star Kobe's Bryant's affinity. We hear the Pope is on the stuff.

Canora's now-famous window, called Brodo (Italian for broth), expresses the chef's love of "the world's first comfort food" in the most simple of formats. Step up to the narrow window, a former delivery door, order one of three broths — served straight or mixed with flavor boosters like ginger juice, fermented beet juice or freshly grated turmeric — and soon you will be drinking from a paper cup (sized either 8, 12 or 16 ounces). It will cost you between $4-$8 and you will instantly feel rejuvenated and restored as the warm liquid flows through your body. You will be satisfied and surprisingly filled with the dairy– and gluten-free nectar. Like shots of wheatgrass and cold-pressed juice, you will ritualistically return the next day, and on subsequent days, until at least the spring thaw, but possibly into the summer months. At least this is Canora's grand vision.

On a freezing afternoon in late-December, I take my place in line, number six behind a French-speaking couple and a college-aged girl buried in her iPhone (perhaps reading about bone broth?). It's 2:50 p.m., hours after the lunch rush. I order the classic Hearth stock, made with long-simmered beef, turkey and chicken bones. On first contact one might call the liquid chicken-forward, but with a beefy finish. The broth wasn't salted, slightly bland, but its healing effects were apparent. I'd skipped lunch and, while not feeling stuffed like after a third Momofuku pork bun, I was sated. Bottom line is that I felt…healthy.
"My God, dude," says Canora, 45, as we ease into a corner seat in the empty Hearth dining room. I'd joked about his growing broth empire (laughter), the morning TV segments ("everybody has been here") and if anybody from Starbucks or Chipotle corporate had stopped by to talk, and take, stock (not yet, as of December at least). Canora says he started Brodo as a low-risk proposition, figuring he'd use existing staff to make the broth — prepping celery, onions and carrots for mirepoix; washing and readying the meaty marrow bones — and about $125 to employ a single staff member to man the window. "If I doubled that investment, we would be fine."
After early attention from the New York City food blogs, as well as a December cold snap, business boomed. And boomed and boomed some more. But the operation wasn't only about generating extra revenue, be it much needed revenue for what the chef describes as his "mom-and-pop" neighborhood restaurant, which happens to be located in New York City's most competitive neighborhood ("it's constantly hard to drive asses into your seats!"). Brodo also serves as a spin-off of Canora's increased interest in health and wellness, a topic the chef addressed a little under five years ago after an as-close-to-doomsday-as-it-comes visit to a nutritionist.
"The first 20 years of my professional life were fueled by caffeine, nicotine and alcohol," he writes in an essay on Vice Munchies. After the visit he was diagnosed with high cholesterol, high blood sugar levels and a case of gout. He describes himself as overweight and depressed. "I truly believe that 60 to 70 percent of my diet was bread and butter, no joke," he recalls of a time when butter sandwiches were his preferred breakfast and lunch. "Though, to this day it's still my favorite fucking thing to eat."
But after his come-to-Jesus with a medical professional, Canora knew he needed to change. Along with increasing exercise and cutting down on drinking alcohol, he followed a diet that can be described as adapted Paleo, which included drinking a lot more broth. While making these changes he took notes in a journal, which eventually became the inspiration for his latest cookbook, A Good Food Day. A blend of healthy recipes (bone broths included) and essays about his experiences cooking and eating healthier, the book, as Canora describes it, was written to create some "very difficult-to-dispute tenets of healthy eating." These include bold-faced topics like Cooking Empowers You To Eat Better and Get In Sync With Mother Nature.
"This is the food that Marco makes for himself and his family, so it made sense for all the recipe testing, research and interviewing for the book to go down in his home kitchen," says the book's co-author Tammy Walker. Walker — who served as Hearth's publicist for six years and saw a few occasions when the old Canora would unleash the "crazy, screaming guy" — went over to Canora's place a couple times a week for the better part of a year, spending around four hours a visit. "He cooked, and I wrote and asked questions along the way," she recalls. She hopes the book will change people's minds on the "tired story" that eating healthy has to be bland, boring or restrictive.
"I don't think there is anybody out there who can argue that you shouldn't eat more vegetables," says the chef with a laugh. The book is not strictly vegetarian, but very vegetable-focused with whole grains and fish playing a major supporting role. It's also fun, with an Italian culinary backbone. For example, a cacio e pepe popcorn recipe is an early favorite with Amazon commenters.
"I'm not a doctor, I'm not a nutritional scientist, I'm not a research specialist," he says winding down our chat, before heading to the restaurant's basement to check on the next day's broth. "I'm just a guy who knows how to cook really well, and has started to care a lot more about what I eat, and I've been trying to educate myself the best I can. And now I'm trying to share some of that with people."
Read more about healthy living on Food Republic: