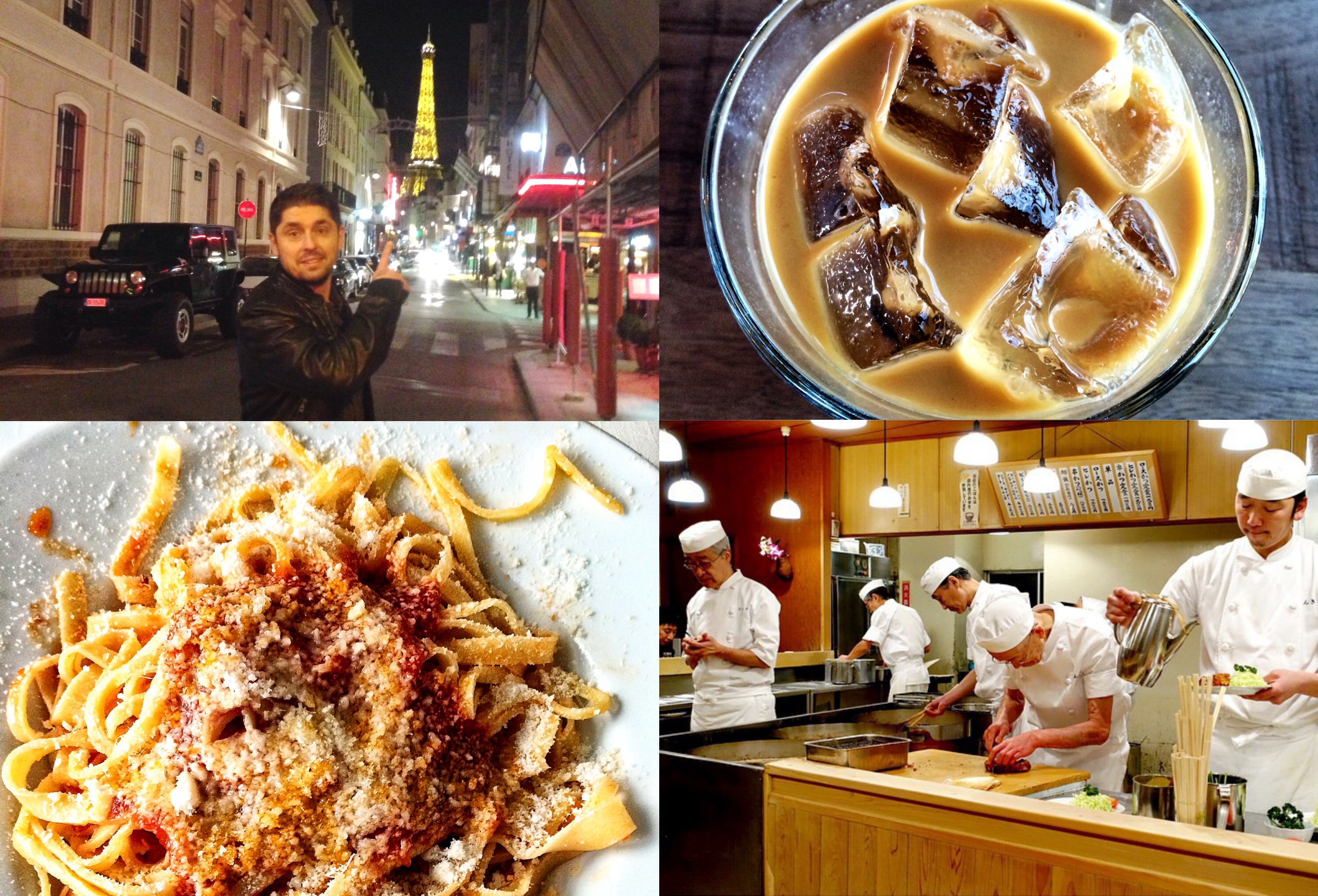 The Internet is in the midst of year-end list madness. There's even a  great blog that makes lists of lists . Let us prolong the season a bit here, where Food Republic editors, contributors and chefs weigh-in on the year in travel.
Ludo Lefebvre, chef-owner of Trois Mec and Petit Trois in Los Angeles
Favorite work trip this year: Definitely Paris to cook alongside one of my mentors, Alain Passard, for a Le Fooding event. A special event that I will never forget. Edit: You can read more about the dinner in our interview.
Favorite vacation trip this year: That one is easy, Bora Bora. Hawaii may be paradise, but Bora Bora is pure heaven. So magical: the colors, the water, the fish. 
Best hotel stay: I stayed at Trump International in New York the last time I was in town. I had never been there before and it stood out from other hotels in the city. The rooms were elegant and it was very quiet (sometimes hard to find in an NYC hotel). Plus, Jean-Georges' restaurant is there, so I had a great meal.
Best food/drink experience on the road: Tie between Le Bernardin and Blanca. I have been fortunate enough to eat Eric's [Ripert] food in the past and it is always a perfect meal. It was a pleasure to experience Carlo's [Mirarchi] cooking as well. He is doing some really interesting and creative things with food. 
Best airline experience: Easy. Air Tahiti Nui. Such a pleasure from beginning to end. The service was perfect and they treated the kids so well, which is really important, 
Favorite food souvenir: Mont Blanc Praline. Every time I go to France I pick up a few cans. It is my favorite. In France, we call souvenirs memories, and it is one of the best childhood food memories for me.
Where do you want to go in 2015: Thailand would be my dream. I was supposed to go once a few years ago and the trip was canceled because of political unrest. Maybe 2015 will be my lucky year.
---
Paul Qui, chef-owner of Qui in Austin, Texas
Favorite work trip this year: Hong Kong.
Favorite vacation trip this year: Alaska.
Best hotel stay: Park Hyatt Tokyo.
Best food/drink experience on the road: Dim Sum at Lung King Heen in Hong Kong. Drinks at Bar High Five in Tokyo with Uenosan ice diamonds.        
Favorite new city to travel to for food: Hong Kong.
Best airline experience: A surprise upgrade by Cathay Pacific to business class on the flight back from Hong Kong. We've been fortunate this year in travel.    
Favorite food souvenir: Take-home tea from Saison in SF.
Where do you want to go in 2015: Cambodia, Singapore, Argentina. South America as a whole!
---
Aarón Sánchez, chef and host of Cooking Channel's Taco Trip
Favorite work trip this year: I spent a few days in Nashville last month to shoot my new show and it was a great time. The perfect combination of work and play and I got to eat some great food — BBQ, Italian, and of course, awesome Mexican. I also got to see some of my good friends and catch up with them.
Favorite vacation trip this year: I just got back from an epic trip to Thailand with my uncle, Tio Mario, and one of my business partners. We did a ton of sightseeing and a lot of relaxing by the beach. My favorite was the Chatuchak Weekend Market.
Best hotel stay: St. Regis in Houston, TX.
Best food/drink experience on the road: Adele's in Nashville. I go whenever I'm there.
Favorite new city to travel to for food: I've really come to love Philadelphia. You can find every type of cuisine there and a huge range from mom-and-pop-type places to super high end. Plus you have amazing chefs like Marc Vetri and Michael Solomonov, who are doing amazing things and revolutionizing the food scene. 
Best airline experience: Thai Airlines is one of my favorites. They have great service and pay attention to all the little details, plus they have some super comfortable seats!
Favorite food souvenir: A molcajete from Mexico. I visited this family last time I was there and they had a molcajete which had been passed down in the family for generations and passed it on to me. I plan on giving it to my son when he starts cooking.
---
Andrew D'Ambrosi, chef at Bergen Hill in Brooklyn, NY
Favorite work trip this year: No real "work trips " but since food is my work, anywhere I eat is taken into consideration. Example below.
Favorite vacation trip this year: My honeymoon. We started in Rome and ate our way through the Amalfi Coast down to Naples. Charcuterie, pasta, seafood and pizza everyday. Loads of good olive oil and great wines. Anyone who has any involvement in the food industry must go to Italy. Now.
Best hotel stay: The Excelsior Vittoria in Sorrento.
Best food/drink experience on the road: Eating spaghetti at a vineyard under Mount Vesuvius. It was the best tomato sauce I've ever had, but I think anything that grows in the soil around the volcano is fantastic. Heavy minerals provide for much nutrition. Bonus: It's pretty exciting eating and drinking under a living volcano that can melt you in seconds.
Favorite new city to travel to for food: Rome, though it isn't by any means a "new" city. Just honestly good food made with great ingredients. Nothing fancy, just awesome.
Best/worst airline experience: Worst: Anything Delta. Best: Air France.
Favorite food souvenir: A brick of bresaola from Italy. It will not survive the winter due to my after work charcuterie binges.
Where do you want to go in 2015: Vietnam and Japan are next on the list.
---
Pichet Ong, pastry chef and world traveler
Favorite work trip this year: Tokyo. The Omotesando Farmers Market is a great addition to the city's most vibrant scene of food offerings, and a great addition to all the other usual attractions such as pastry shops, sushi, fish markets, mochi and matcha parfait shops, artistic tempura houses, hip izakayas and Michelin-starred restaurants.
Favorite vacation trip this year: Japan. Spending a week outside of Tokyo is always a revelation. I'm always happy to go back for more temples, parks and even trains and ferry rides. It's definitely one of the easiest countries to travel on a tight schedule, because everybody is on time.
Best hotel stay: Vila Maly in Luang Prabang, Laos. I'm not much of a luxury hotel guy, but this place is exceptional: charming and exotic, and it comes with a strong sense of history. One can walk through the entire property and see generations of history.
Best food/drink experience on the road: While every traveller in Thailand heads to the beach, I prefer to travel along the river to Ayuthaya. There are many great restaurants along the river that one can go to en route to have simple grilled river foods, my favorite being the rich giant prawns or even sautéed water spinach with garlic. 
Favorite new city to travel to for food: Is there such a thing as a new city? Among new world cities, I still love the food scene in Sydney the best.
Best/worst airline experience: Best: Delta. Worst: Southwest.
Favorite food souvenir: Texas nuts: hazelnuts, peanuts, pecans.
---
Richard Martin, Editorial Director
Favorite work trip this year: I can't recall the last time I visited a city for the first time and became instantly smitten. Maybe Portland in the early 1990s, or Austin not long after that. Let's just say it'd been awhile, and then I set foot in Bordeaux last month, expecting little, and finding a vivacious, pedestrian-friendly (and bike-friendly) city with incredible shopping, a dining scene perched between highly classical and wildly inventive, and of course, the best wine on the planet. But then I've already raved about Bordeaux enough, haven't I?
Favorite vacation trip this year: I have children ages three and not even one, so 2014 was definitively not a year of traveling far from home. We did manage to drive to the north of New York State for a stay at my wife's family cottage in the Thousand Islands area, on the St. Lawrence River. There's not much to do there but jump in the water occasionally and grill meats outdoors, which makes for a relaxing, low-impact getaway. Sometimes that's all you need.
Best hotel stay: At the Omni in Nashville, a very generous upgrade had me staying in the King Executive Suite. Did I need three flat-screen TVs, a parlor and full dining room? No, but these amenities, and a sweeping view of this emerging city, turned an ordinary business trip into an extraordinary three-night stay.
Best food/drink experience on the road: In Nashville, I somehow managed to have a pre-dinner at Rolf & Daughters, which was my first experience with Philip Krajeck's garganelli verde with heritage pork ragout (plus one of his squid ink specials), then head to a later dinner at The Catbird Seat, which has to be one of the most surreal dining experiences in the country. And yes, I had a cocktail at Patterson House before entering the elevator up to the clinical Catbird Seat, where the many-course dinner ran late into the night. I'm not sure how I managed to rally for lunch the next day at Husk, but throw in my first taste of Mr. Brock's cheeseburger, and, well, I'd say I hit a trifecta.
Favorite new city to travel to for food: I'd heard rumors about Houston's food scene being red hot, and I'd interviewed two of its emerging superstars, Chris Shepherd and Justin Yu, during Food Republic's annual Interview Lounge at the Austin Food and Wine Festival, but the city surpassed my expectations. Is it a sprawling urban planning nightmare? Absolutely, but folks like these chefs, cocktail lounge mastermind Bobby Heugel and others are turning this into a place that any food– or drink-obsessed soul should feel compelled to visit despite the aesthetic shortcomings.
Best/worst airline experience: Best: Delta's upgrade on a red eye trip back from Santa Barbara via LAX was a lifesaver, especially given how much wine I'd consumed during a trip to host a panel at Bridlewood Estates. Worst: A JetBlue flight to Houston didn't have WiFi; I figured, oh well, take a break from work and watch some TV. Then I found out that the screen was broken. I'm still a JetBlue fan, but c'mon.
Favorite food souvenir: Several years ago, I went on a rant about how impossible it was to find grits at any grocery store in Brooklyn. Sure, you could find instant grits, but those seriously do not count. I wanted real grits and I looked all over, to no avail. Then, the very great Court Street Grocers in Carroll Gardens turned me on to Geechie Boy, which I considered the gold standard until I traveled to Nashville and stopped at Porter Road Butcher. I picked up a sack of Falls Mill grits from Tennessee, and I'm hooked: they're the creamiest, most delicious grits I've ever made.
Where do you want to go in 2015: I'm a Europe addict. I've seen a lot of it, but there's never enough. So while it's always on my wish list to go to Tokyo or Thailand, I'd still take a French, Italian or Scandinavian trip over any other. If all goes well, I'll aim to take my family for a summer trip to Sweden with a stop-off in Copenhagen; I feel like I'm the only U.S. food editor who hasn't been yet. Then, after a swoop through Stockholm, I'd like to sojourn in the countryside, see the fjords and maybe even do a bit of foraging, Magnus Nilsson–style.
---
Matt Rodbard, Contributing Editor
Favorite work trip this year: I had some pretty ridic international travel this year — and covering Paris and Provence with an assist from chefs and intensely passionate winemakers was a real treat. But two trips to Nashville this summer really got me excited about the city — from a food and cultural and drinking until dawn perspective. Husk, Rolf & Daughters and Otaku South is just the start of my long list.
Favorite vacation trip this year: Rome. Jeez, I downloaded Katie Parla's app and went to town. I definitely hit Roscioli twice. I definitely hit Settimio all'Arancio twice. I never hit places twice on vacation. The food in Rome is simple, and you'd think that eating supplì, carbonara and bucatini alla matriciana would get a little tiring. Ha, are you kidding! Italy is the best. All those old buildings too.     
Best hotel stay: The Line in Los Angeles. Rooms are small, but who cares when they have the bar going late and Roy Choi's POT going later?
Best food/drink experience on the road: A tie between late-night gopjang with Hooni Kim in Seoul, being schooled about proper Tex-Mex at Ninfa's On Navigation in Houston and the January citrus tasting by an incredibly disciplined Curtis Stone at Maude in Los Angeles.
Favorite new city to travel to for food: Minneapolis in the summer is so good!
Best/worst airline experience: Best: Delta, because you never canceled on me this year. Let's keep it up in 2015! Worst: Alitalia is a strange airline.
Favorite food souvenir: Three very nice bottles from the Willett Distillery outside Louisville, KY.
Where do you want to go in 2015: Israel, Malaysia, Chicago.
---
Jess Kapadia, Senior Editor
Favorite work trip this year: Taiwan, for sure. I traveled all around the country with a few chefs as they learned about ingredients and techniques…including trekking deep into the jungle and boiling water for soup with a rock super-heated in a fire. 
Favorite vacation trip this year: I'm really bad about taking actual vacations, but I will shout out my parents' adopted hometown of Ojai, CA, where I visited not one but two dutiful times! After my mom's incomparable home-cooked food, the things you can make with ultra-fresh eggs from their half-dozen chickens (all named Muffin) and visiting the best farmers' market and tamale spot in the history of Southern California, an additional culinary vacay seemed relatively unnecessary. 
Best hotel stay: Fleur de Chine at Sun Moon Lake in Taiwan. My room had the deepest bath tub I've ever seen that filled with this magical water from Sun Moon Lake that leaves your skin silky-smooth. The window looked out on this huge, bright green lake with herons flying around.
Best food/drink experience on the road: Music To Your Mouth at Palmetto Bluff in South Carolina. I'll eat barbecue and Southern staples any day of the week, but doing that in a tranquil Spanish moss–strewn Lowcountry paradise with some of the biggest and best in the Southern food scene is some next level shit. Have you seen Tyler Brown's ham biscuits?!
Favorite new city to travel to for food: San José, Costa Rica, for incredible chocolate desserts, excellent ceviche and mariscada — their spin on sopa de mariscos. This is one region of the world to frequent if fresh fish on the beach is your game. It is most definitely my game. 
Best/worst airline experience: Best: EVA. I flew on the freaking Hello Kitty jet with Hello Kitty toilet paper to Taipei. Huge movie selection, very nice amenities. Worst: How is Sun Country still even in the air? Once I was on Sun Country and they handed out microwaved cheeseburgers somewhere over Indiana. I don't even remember where I was going.    
Favorite food souvenir: Incredibly fragrant guavas from my parents' tree, several pounds of pecans from South Carolina, so much country ham from the Great Artisanal Ham Tasting, Pisco from Lima. 
Where do you want to go in 2015: I need to get back to Asia, stat. First, I'm hitting Seoul with my boyfriend who lived there for a bit. We eat everything; it's going to be awesome. Second on the list: I need to see New Delhi's burgeoning fine dining scene (think Jewish delis, poached egg poutine) with my own two eyes to believe it, and that's not something you can do in a weekend.
---
George Embiricos, Assistant Contributing Editor
Favorite work trip this year: It wasn't exactly a work trip, but I was able to rack up a healthy expense account bill (and a not-so-healthy number of added pounds) during a weekend trip to Providence, Rhode Island to visit my sister at Brown University. The restaurant scene there is one of the country's most underrated.
Favorite vacation trip this year: I always enjoy my family's annual trip to a dude ranch in the Middle Of Nowhere, Wyoming. 12-hour days of nothing but fly fishing — now that's the life. There was also something about watching the U.S. World Cup game at a bar in Encampment, Wyoming (population: 443) that was just perfect.
Best hotel stay: Is it clichéd to say staying in a suite at the Cosmopolitan in Las Vegas for a friend's bachelor party? I don't care. Staying in a suite at the Cosmopolitan in Las Vegas for a friend's bachelor party.
Best food/drink experience on the road: I spent just 72 hours in Austin, Texas but was able to fit in an impressive array of local staples and hot tables during my first ever trip down there. The breakfast tacos at Veracruz All Natural are godly, dinner at Barley Swine is on my shortlist for the best meal I've eaten this calendar year and the line at Franklin Barbecue is worth it. So worth it.
Favorite new city to travel to for food: It's not exactly "new" but Philadelphia is starting to receive proper recognition for its blossoming food scene. There's a whole lot more than cheesesteaks going on — personal favorite newcomers include Kevin Sbraga's The Fat Ham and Michael Solomonov's Abe Fisher — and many of the city's top spots are BYOB, which is a nice plus.
Best/worst airline experience: Two cancellations and one four-hour delay. All for a single JetBlue flight to Palm Beach, where I was only staying for a day and a half. Not even DIRECTV can make up for that. The best? I was lucky enough to fly private for the first time in my life. Suffice it to say, there was no four-hour delay…
Favorite food souvenir: It was equal parts gross and glorious, but I drove a cheesesteak from Geno's in Philly back to New York City, (correctly) thinking it would make for excellent late-night food. Don't judge.
Where do you want to go in 2015: Charleston and Los Angeles top my domestic wish list. I'd love to plan a trip to Southeast Asia as well, but that's more ambitious.
---
Laura Neilson, Writer
Favorite work trip this year: Newport, Rhode Island. During the off-season, especially, I love the spookiness and grandeur of all those old mansions.
Favorite vacation trip this year: Venice Beach, CA. 
Best hotel stay: I've been relying on Airbnb so much lately that staying in a hotel truly feels like a luxury nowadays. I had an especially great two nights at The James in Chicago this summer — it's modern and stylish without trying too hard. 
Best food/drink experience on the road: I'd have to go with Axe in Venice, CA, which sadly closed shortly after my first meal there (at least I got one in!).      
Favorite new city to travel to for food: I think it's really telling that next year's James Beard Awards are going to be in Chicago. The Windy City's really stepping up its food game: Avec, Nico Osteria, Girl and the Goat, Little Goat, Trenchermen and the list goes on. 
Where do you want to go in 2015: It's time I revisit my roots and get back to Scotland. It's epically beautiful, and I think a lot of the younger chefs there are creating some really great, inventive food with local ingredients.
---
Emily Saladino, Writer
Best food/drink experience on the road: I accidentally walked into a stranger's living room in Guayaquil, Ecuador last month, and left holding a blue snow-cone. The confectioner was a surprised, slippers-clad resident of Cerro Santa Ana. This intensely vertical stretch of Guayaquil is characterized by colorful colonial architecture, tiny storefronts and blinding midday sun. Upon entry, I quickly realized my host's home was not a place to buy bottled water, as I'd previously thought. I laughingly apologized, explaining my mistake in the sort of Spanish that one might generously deem "child-like." A likely approximation of what I actually said might be, "Sorry! I am sorry! I search for the water! But, no! I am here!" Instead of swiftly guiding me to the door and locking a deadbolt, the Good Samaritan deemed me a harmless fool deserving of refreshment. He smilingly rose from his couch, chattering away in rapid-fire Spanish and walking towards what I thought might be a coffee grinder? Wrong again! It was an at-home snow cone machine. He made a shaved ice the color of my choosing (I can never remember the word for "yellow," so bubblegum-flavored azul it was), wished me a buen dia and sent me on my way. I ate the whole thing on a nearby stoop. It was even colder and sweeter than I'd imagined.
Favorite new city to travel to for food: Providence, RI. It's just a few hours from New York and Boston, and has incredibly diverse restaurants, bars and cafés — plus that certain je ne sais quoi that comes from decades of organized crime. At birch, Ben and Heidi Sukle serve the sort of intimate, seasonal tasting menus that would require an indecipherable reservation system and cost thrice as much elsewhere. On Federal Hill, north has the best goat-studded dan dan this side of Momofuku. Also, coffee milk, FTW? A revelation. The new Dave's Coffee bar serves a high-end version with house-made, cold-press syrup, but the late-night brew that Haven Bros. doles out in styrofoam cups is pretty satisfying in its own right.
Favorite food souvenir: Every time I go to Portland, OR, I stock up on Jacobsen sea salt. I would call it am obsession, but that would mean my enthusiasm is without reason. And that's just untrue.
Where do you want to go in 2015: I'd like to believe 2015 is the year I will finally go to India, a place I've been talking about visiting since I was an Aravind Adiga-reading undergrad. And Pittsburgh. I think Pittsburgh is a dark horse American food city.
---
Jenny Miller, Writer
Favorite work trip this year: Papua New Guinea. It's like nowhere else I've ever been. I suspect it's just like nowhere else, period.
Favorite vacation trip this year: Probably the three and a half weeks I spent bumming around Cambodia (where I ate tarantulas, among other things).
Best hotel stay: Falsled Kro, a Relais & Chateaux country inn in Denmark near Hans Christian Andersen's birth town. I spent St. John's Eve (Midsummer's Eve) listening to live music in the garden. So dreamy.
Best food/drink experience on the road: The fresh, delicious vegetarian food found in the roadside dhabas (essentially truck stops) of Rajasthan, India, where I took an epic road trip.
Favorite new city to travel to for food: Tel Aviv. Before going, I hadn't thought about how diverse it would be, culinarily. In addition to Israeli food, I had Yemenite food, Libyan food, Tunisian food…cuisines I've never really explored much before.
Best/worst airline experience: I took Qantas' first-ever direct flight from Dallas to Sydney (where I proceeded to eat A LOT of Asian food) and a bearded John Travolta was the star presenter at the press conference. It was random and weird, yet cool. I'm not a fan of the beard, though.
Favorite food souvenir: Mitmita, an Ethiopian spice mix I'd never even heard of until I traveled to Addis Ababa in October. Now I love it on popcorn.
Where do you want to go in 2015: I hope this is the year I finally make it to China to explore its regional cuisines.
---
Adeena Sussman, Writer
Favorite work trip this year: Truffle hunting with Anito Lo in Emilia-Romagna. Most of the hunting was done on bowls of pasta at some of the best restaurants I've eaten at in a long time. 
Favorite vacation trip this year: Iceland, hosted by my close friend, Erla Skuladottir, a New York-based filmmaker who returns every summer to Reykjavik. We ate tons of incredible salmon, cod and lamb.
Best hotel stay: The Brown Hotel in Tel Aviv. The rooftop bar is the best way to end just about any day, and the hotel's shaded outdoor restaurant is gin and tonic central for me no matter the season. 
Best food/drink experience on the road: Breakfast all over San Francisco with food festival impresario Lee Brian Schrager and photographer Evan Sung, my collaborators on an upcoming breakfast cookbook out in 2016; a homestyle Moroccan breakfast made for us by chef Mourad Lahlou (best dish: labneh with dill and cucumber, crumpet-like mesemen pancakes); Boulette's Larder, where chef Amaryll Schwertner knocked our socks off dish after dish (highlights: corn couscous with Dungeness crab and poached egg; custardlike soft-scrambled eggs over Hubbard squash puree and poached persimmons); a croque-madame at Tartine with roasted tomatoes hidden under the ham and cheese. 
Favorite new city to travel to for food: Raleigh, for chef Ashley Christensen's collection of restaurants and bars, including fine-dining Poole's and breakfast and coffee-centric Joule.
Favorite food souvenir: The giant jar of sorghum given to me as a parting gift by the owners of Bryant's Breakfast in Memphis. I used it to bake bourbon pecan pies over Thanksgiving.
Where do you want to go in 2015: But of course, Cuba.