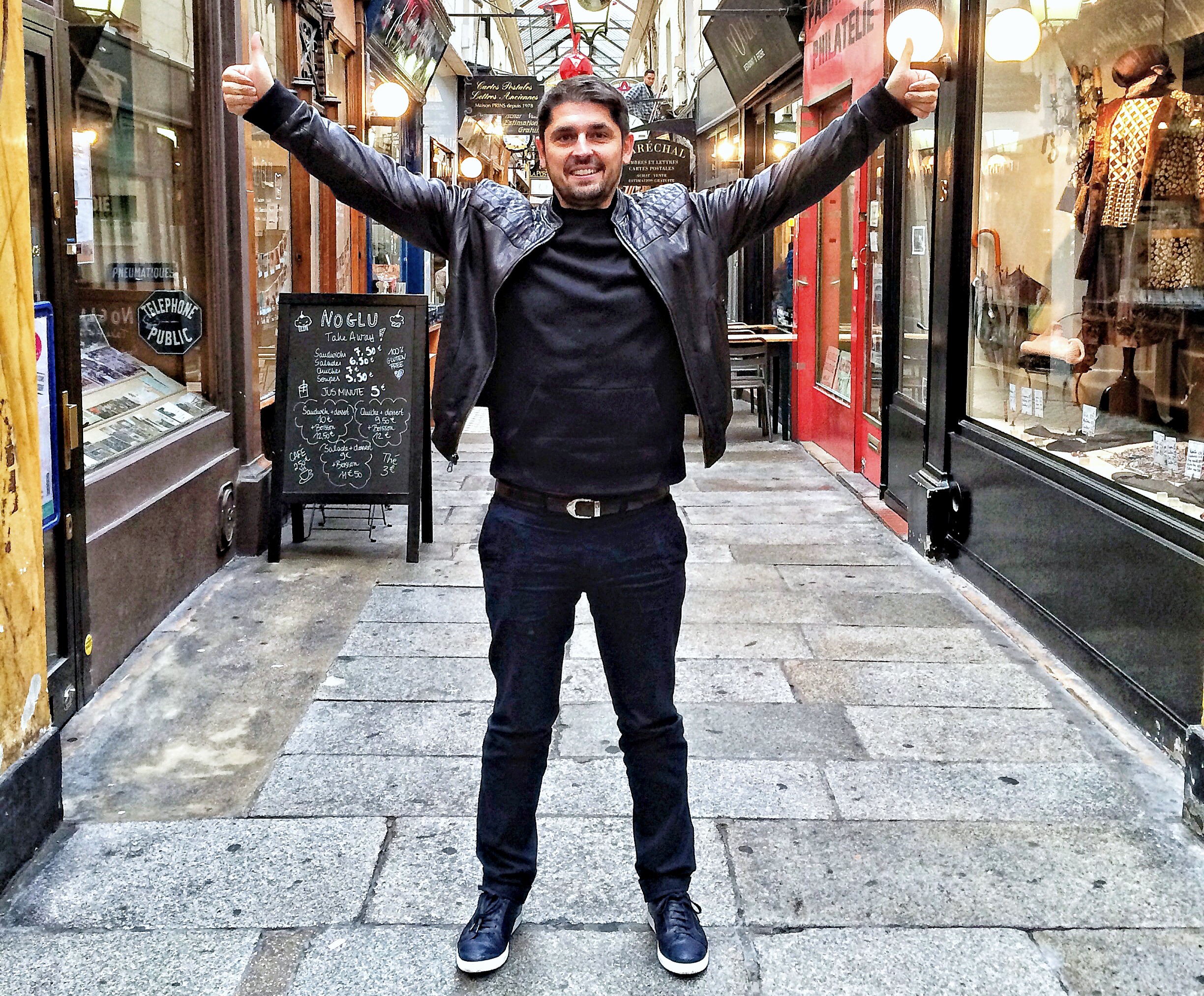 Save for Tony Parker and Michelin Man, Ludo Lefebvre might just be the most famous Frenchman in America today. As a judge/mentor on ABC's cooking competition show The Taste, he's known for challenging upstart cooks with a razor-sharp palate — and thick-as-Matelote-stew Bourgogne accent. But in food-world circles he's best known for running successful Los Angeles restaurants, the impossibly to book Trois Mec and new, walk-in only Petit Trois. Both are considered landmark openings in the ever-maturing LA dining scene, blending Lefebvre classic French training with a truly American, seasonal approach that he's refined since moving to the United States in 1996.
But before all that, Lefebvre was getting his ass kicked — in a way only a French kitchen apprentice can describe. He was getting his ass kicked by Marc Meneau at the legendary restaurant L'Esperance in Vézelay. This was followed by an ass kicking at Pierre Gagnaire in Saint-Etienne, and finally an ass kicking by Alain Passard at L'Arpege in Paris. Now, of course, he didn't literally get beat up. But as we find out, times were different in the late-'80s for a young chef. "You have no choice but to just suffer," he says while sipping a cappuccino at Caffé Stern — a converted engraving shop turned Philippe Starck–designed cafe in the 2nd Arrondissement. Ludo was in Paris to participate in a tribute dinner hosted for M. Passard by French restaurant guide Le Fooding. Betrand Grébaut (Septime), Tatiana Levha (Le Servan) and Sven Chartier (Saturne) also cooked a few courses each.
By Lefebvre's estimates, the dinner was the first time he had cooked as a billed chef in Paris in his life, and it marked a return to the city he cares for so much. As we found out in our talk, it's a city that is still misunderstood, even given the rise of French bistro cooking in America.
It's good to be in France?
It's good to be in France! I know the country is not very happy now, but to come back here, there is so much energy with the lifestyle.
Is that in a culinary sense?
French people are, you ask them on the street, you say "hey where can I go?" and they look at you blankly and say they don't know.
Wait, you were saying good things about the lifestyle I thought!
No no no, it's the people. I love the lifestyle. I love the lifestyle in France and Paris a lot. There's a lot of things going on in Paris. A lot. And I know there was all this talk about Spanish this and Spanish that, but –
You mean on a world scale?
Yeah, world scale.
So this is an important point to make.
Yeah for me it's important. I know people see all the Spanish food [becoming popular], but it was a trend. French food will always be here. It's a classic. Think about escargots and steak frites. And I know a lot of people trash French food – we're boring, we're passé. "French people don't know what they're doing anymore." Whatever. That's not true.
So talk about Paris to that point. When you say passé, a lot of people, like a lot of journalists, have written that it's dead in Paris. Is that true?
Yeah, like they say "All the restaurants are bad!" Excuse me! I mean, I don't know where these guys go, but it's impossible to get a reservation at Septime, impossible at Saturne and Chateaubriand. There are a lot of young chefs now. The simplicity, good flavor. I mean, I know in America we start with good ingredients, fish and vegetable but – come on, man. I was in the prep kitchen at Septime and what the fuck, man. You get veal still wrapped in paper from the butcher. I want to move back in France just for that. And the vegetables don't taste the same in America. Oh my God, I got some turnips, I mean –
But California is well known as the center of produce.
I'm sorry. It's not like France. California. Not yet.
Explain.
We don't have enough variety like France. California – I live in California and love California. I think that's the best state in the United States. But in France, we have terroir, that's what French food has been known around the world for a long time. We've had quality for a long time, years and years. It's amazing. It's like when you go to Japan and eat some tuna. It's the same thing.
One of the reasons we wanted to do this week was that in New York, there were no new French restaurants for many years. And then, in the past two years, there were like 10, 12, 20 new French restaurants. Every chef wants to do one: Andrew Carmellini, Rich Torrisi, all these guys. Why?
That's true, you're right about what you say, French food is coming back to New York. French food is coming back to Los Angeles. Petit Trois is a success. There's a line outside. People love it. We serve a lot of escargot. People feel a bit like in Paris, they love it. It's a memory for them. But anyway, yeah, in New York a lot of American chefs are interested in the French concept.
But you are sighing right now.
People started training with Spanish food, after that many people were looking at Noma and Scandinavian. And now, speaking for myself, I decided to do a classic French restaurant because I'm missing the old technique. I'm missing the flavor. I want to go to my kitchen and smell a stock. Bread from the oven. And I think chefs will go back to more classic. Because we enjoy that. And I think the trend before was not –
It was cooking with water.
Yeah, with water. And I respect them, but all these chefs are not trained in France. Work in France, train in France. And I'm missing that. You know? I think it's like fashion. Black and white will always be a good combination for dress. And I think French food will always be a good combination for chef. Definitely.
But back to New York, do you think that New Yorkers are understanding the new wave of these French restaurants in Paris? Are they understanding French cuisine?
I think so, I mean New York is European. New York is, I would say 50% French (laughing).
Depends on the time of year I guess.
I mean, there's a lot a lot influence from Europe. And New York still have some amazing French restaurants, don't get me wrong. But some with big names, you go over there and you don't have good bread. In New York, I'm sorry. They don't serve good butter either. I mean, a bistro, restaurant is about the bread and butter. The bread was mushy, not crispy, and the butter was white, not yellow.
So are the chefs, are they doing this all because it's a trend? Are they opening a place called Dirty French in the Lower East Side because it's a trend? Because you need to do that in the year 2014?
I mean, I hope it's a true love for French food. I hope it's not just because they want to do a restaurant, a new concept because you want to see your name in the newspaper. You know. I hope so. I hope so.
You hope so, as a proud Frenchman?
Yeah! I hope so! A lot of people trash France. For a long time. Especially you guys (laughing). And now we're coming back. A lot of journalists trashed us. Trashed us. But I think we have a big audience for French food.
People say "Oh, London is such a great food scene now" and it's all about London, or it's all about Copenhagen. But Paris, forget Paris!
You have a journalist, for example, from the New York Times Magazine, do an amazing article about a restaurant in middle of nowhere in Germany and boom! It is the new trend. This is very interesting!
Do you think that young culinary students in America are getting a solid French culinary background?
Look, all the big chefs you have now in France, or in the world, all trained in France. And there is a reason for that. Please put that in your article. A lot of these chefs train in France. Anyway, the new generation now is very, very different. I started cooking in 1986. And at that time, you have no choice to suffer, to be abused in the kitchen.
Trial by fire, they called it.
I'm lucky, I did my apprenticeship in the 3-star Michelin restaurant with Marc Meneau. Yes it was hard. I'm not going to lie. Yes, they abused me a little bit! Not the chef, but the cook. Because the cooks were at war. They were always fighting with each other.
To get to the top?
Exactly. They will get fired if they make a mistake. And if you quit, you're losing your job and after you have no job anywhere! Because it's a little mafia — they work with each other. And you have no choice but to learn your job and work with chef. Now, the time we're living now, people – because we have TV, because we have Internet and because you have a lot of cookbooks, now it's easier. All these young chefs now, they go to school, but because they watch TV, because we read the book of Noma, they think they're all chefs. And I have a lot of young chefs come to work with me — yes they have a great technique with molecular cuisine, but they don't know how to butcher a whole cow. They don't know how to do a stock. They don't know how to do a hollandaise. I mean, all of these are the foundation of cuisine. It's a new generation. Yes they're passionate, they want to cook, but I think they're not patient enough. They want to be a chef right away. I always say to my chefs, be patient! I know you're excited, I know you want to cook, but be patient! Travel, work with different chefs, take your time!
There's a great chapter in Alfred Portale's cookbook, about his early days in France. Where he would have to work at one station for 12 or more hours, just doing one thing—
I remember when it was my apprenticeship, I had to skin 20 wild rabbits. Take off the skin, inside and out. Oh my! But unfortunately about the young people, yes we need to be patient, learn their job, and being a chef is not just about cooking. Being a chef is to be a leader. Being a chef is to create your team, is to manage people. And when I was a young chef, yes I learned how to cook, but nobody taught me how to manage people. Nobody taught me about management. And that's sad. Because in France, we don't do that. You never sit together with a chef and talk about the problems in the kitchen. It's true! And thank god we care more about all these young kids.
So what's the first thing you do when you get back to Paris? Do you have a routine?
Patisserie. I love it. Because I'm in Los Angeles, we don't cook patisserie. No. No! Not like Paris. I will say one thing. One thing, French people are the best is patisserie. For sure. And making white wine in Burgundy. Best in the world (laughing). And steak tartare.
So where would you go to get that?
I go to a place called Chez Prosper. It's the best.
Read more stories about France on Food Republic: