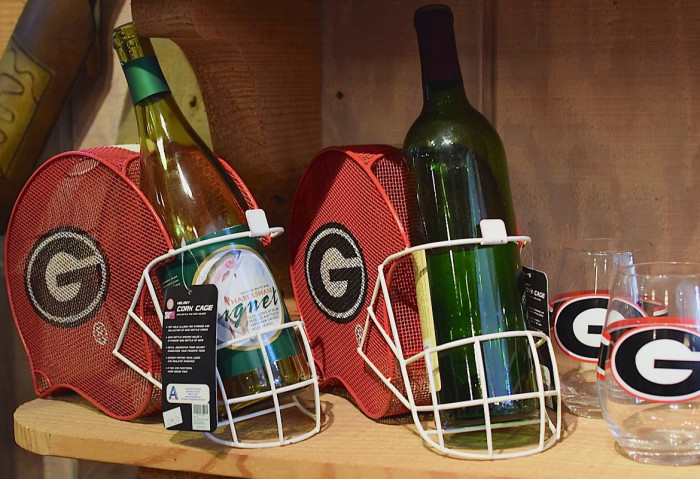 Dan Dunn is visiting wineries across the country for his new book project, and he's spilling his guts along the way in his long-running Food Republic column The Imbiber. This is the fifth installment. Click here to read part one , part two , part three and part four .
I purchased a 30-pound bronze ram's head at the Nacoochee Village Antique Mall in Helen, Georgia.
I'm not entirely sure why, of all the items I could have bought at White County's largest consignment store I chose a giant metal effigy of a farm animal, but I'm pretty sure if has something to do with my budding case of Viopsychocampesteria Arbiosa, which is what happens to your brain when you expose it for too long to a combination of fatigue, stress, the interminable flatness of Texas and a diet rich in donuts and Arby's. Then combine that with running over the occasional small housepet (hey, someone's gotta keep Arby's in business).
Basically when a guy spends too much time behind the wheel, shit gets real weird. It's been documented…
Look, Sal Paradise didn't just up and split for Mexico because it was a smart thing to do. Hell, he nearly goddamn died of dysentery down there. You see, that's the thing, though, it was all that time on the road drove him to it. Well, that and he was still pretty busted up over losing Terry and her kid. Plus, Dean Moriarty was this vortex of duende. He says let's go to Mexico, you go to Mexico. You just do it. State of grace. Muskrat love. Excalibur, man.
Not a Kerouac fan? All you need to know is this: I own a bronze ram's head now. I don't know why. And I'm okay with that.
On the wine front, I'm happy to report that I visited a bunch of vineyards in North Georgia, and tasted some surprisingly delicious juice. I say surprisingly because — well, Jesus Christ, I was in friggin' Georgia. Anybody who tells you they've gone to Georgia expecting to find great locally-produced wine is either lying or out of their mind (a combination, by the way, that has served Georgia politicians well for decades).
And I'm not talking Muscadine, either, although the supermarket shelves in Georgia are filthy with the stuff. Like evolution, wine is still a relatively new concept to a lot of Southerners and many of them are being weaned on vino that tastes an awful lot like fermented Dr. Pepper. But, hey, like the Bible says, it's okay to kill people if they don't believe the things you do. So I went ahead and kept my views on wine to myself in my visits to the supermarkets of Georgia.
Besides, if a Larry the Cable Guy acolyte sipping Autumn Blush over ice on his front porch means there's one less Bud Light drinker in this world, I say let's tip a ten-gallon hat to Muscadine winemakers everywhere.
But the general population notwithstanding, there are some serious producers coming up in the Peach State these days. They grow vinifera and French-American hybrids all over North Georgia, and they grow it well. Because of the higher altitudes, the vines are less likely to succumb to Pierce's Disease, the number-one threat facing lowland Southern grape-growers. You don't wanna go messin' with Pierce's Disease. I looked it up. It's a real sum'bitch.
My first stop was Tiger Mountain Vineyards on Old South Highway in Tiger, GA. Which reminds me…
Tiger Mountain sits on as picturesque a piece of land as you're ever going to see, and the small group of folks who work there are super-friendly and passionate about wine. They produce about 2,500 cases per year, about 85% of which is sold straight out of the tasting room. The rest is available in select shops and restaurants throughout the state.
And therein lies the rub. I can sit here and sing the praises of Tiger Mountain's award-winning Petit Manseng or the succulent Chambourcin-based dessert wine from Habersham. And I can also attest that Yonah Mountain Vineyards in Cleveland, GA, makes Cabernet Sauvignon that is as delicious as just about anything you'll find in the Napa Valley. And sure, Yonah Mountain buys their fruit from California, but that's okay because the Bible also says that quibbling about grape sources is also grounds for a good martyring.
But my point is, unless you're planning to actually physically visit Georgia, you're going to have a hell of a time procuring any of the wine they make there. If only someone could devise a way for consumers to directly buy goods from sellers no matter where they are in the world. One day we'll see it, I'm sure. Until then I'll keep carving my culturally insensitive musings into these stone tablets and hoping someone in the future finds them.
But right now, basically the only way to get some Georgia juice in your belly is to get your ass to Georgia. You can drive, like I did, but I've also heard there's a midnight train that goes there as well. There are certainly far worse places you can visit. Take Mexico City, for instance. I mean, look what happened to Sal Paradise…he only got 43% on Rotten Tomatoes.
I'd even go so far as to say Georgia is a wonderful place to spend some quality time. And not just for the bountiful wine or the random bronze ram heads. They've got peaches and Honey Boo Boos and a very liberal interpretation of the words "65-mile-per-hour speed limit." On top of that, there's a Waffle House within walking distance of every other Waffle House.
Not to mention Georgia's most plentiful natural resource, Soul. So on that note…
Follow Dan on Twitter @TheImbiber
More Imbiber on Food Republic: