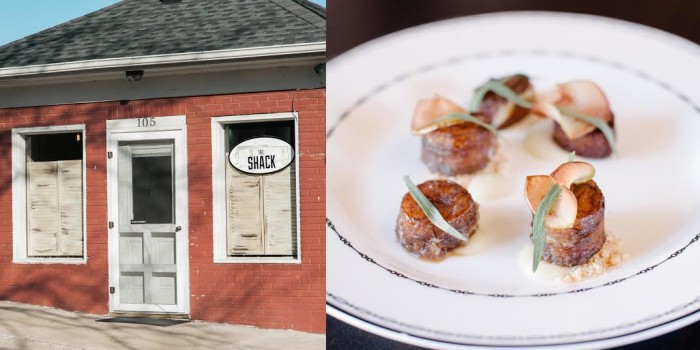 By now, you've probably heard about Virginia's rising profile on the national food scene — and, specifically, about The Shack, "the incredible restaurant in the middle of nowhere that nobody knows about." (You certainly have, if you're an Esquire reader, anyway.) Former New York chef Ian Boden's 26-seat ramshackle gem, located in the humble but historic town of Staunton, VA, has been racking up accolades since it opened less than a year ago. Just last month, Boden was named one of StarChef.com's "Washington, D.C. Area Rising Stars," even though his restaurant is actually quite far removed, about 150 miles or so, from the capital's usual power-dining circuit.
Now, Boden has lured another grizzled veteran of the New York dining scene to quit the big city and join him down South. Charlie Brassard, who had been the executive chef at Brooklyn's Cafe Colette with prior stints at Tony Liu's August and Michael Lomonaco's Porter House, is now cooking alongside Boden at The Shack, while the pair prepares to open a second restaurant in the same town next spring. The planned sister spot, yet unnamed, will operate like a sort of chef-ly diner, focusing mostly on comfort foods, like Boden's local beef burger. This will allow The Shack to switch to an entirely prix-fixe format, showcasing Boden's deft preparations of seasonal ingredients.
"The idea is all about the Northern-Southern diner," Boden says of the new concept during a phone interview. "We really want to pay homage to both of those things. Charlie is from New York City and grew up going to New York diners. And, I'm from the South. And, in the South, it's all about meat and three. The idea is to take those two concepts and bring them together harmoniously."
It's the realization of an old pipe-dream for the duo, who first met some 16 years ago, working under influential chef Bill Telepan at New York's Judson Grill. They say they used to fantasize about running "a diner with real food" while hanging out during off-hours at the former Howard Johnson in Times Square. "It was the only place you could have jalapeño poppers in the city," Boden fondly recalls. "And then we'd go to Virgin Megastore to go buy CDs," adds Brassard, whose southward defection only adds to the recent exodus of New York chefs bound for more laid-back places to cook.
We spoke to both chefs about the move and about all the hubbub over Boden's tiny powerhouse in small town Virginia.
Charlie, start by telling me how Ian sold you on the idea of coming to Staunton, of all places.
BRASSARD: It's a few things. I grew up in New York City, so the bloom has come off the rose for me. It's just not the same place that I grew up in. My wife and I have a kid. She's 17 months old. Having a kid, talking about having another one, we've been talking about getting out of the city for a little while now. Ian is doing amazing things down here. And, the opportunity to work with him and to create something new, that's exciting. It's somewhere where I can be creative and I can learn from Ian. And, hopefully, I can help him develop also as a chef.
In your announcement of this new partnership, you talk about your different styles, what with Charlie's cooking being more rustic, while Ian's is more modernist.
BODEN: I always liken it to music because I'm a music freak. You know, there's rock 'n' roll, which has soul but there's a formula to it, you know what I mean?
The 12-bar blues!
BODEN: Exactly. It's soulful and meaningful, and it's all of those things, but there's a structure to it and you get to play within that structure. And, then there's jazz, which is very free-flowing and out there. I approach menus from a jazz point of view, whereas Charlie approaches it from a rock 'n' roll point of view. I've had sous chefs that helped me with this a lot along the way, and I know Charlie is going to help beat it into my head, that the structure makes everything a little bit better. My cooks get pissed off at me all the time because I change menus on the fly. And, that's great when you're me. But, it's horrible when you're a cook trying to learn.
BRASSARD: When you have a staff, and you have to teach people how to cook things. And, all of a sudden, it's all don't do it this way, do it this way, people get frustrated.
BODEN: Right. So, he gets to be my bass, my grounding notes, whereas I get to be the free-floating riff.
How exactly did this new partnership come about?
BRASSARD: Ian's been trying to get me to come down here for years. The first time I came down here is when he got married. Me and my future wife, who was my girlfriend at the time, came down for his wedding. And, the town is beautiful. But, at that point in our lives, we're like, 'Eh, there's no way in hell we're moving down here.'
BODEN: Charlie beat me up when I left New York to come down here.
BRASSARD: I did! I beat him up a little bit. But, Ian was in a little different place in life than I am at this point.
BODEN: Yes, very much so, I was 25 years old [laughs].
BRASSARD: I'm slightly older than that, at this point. But, I've always wanted to work with Ian. I think he's really talented, and we're driven in the same sort of way. And, I like the idea of getting to recharge my battery and return to really cooking. A lot of the stuff that I did in New York, I mean, I wasn't cooking anymore. It was administrative and making sure that people did the work. I really wanted to get back to cooking and be creative again. The truth is, the further along you get in your career, the more likely you are to carry a clipboard.
BODEN: If you want to make enough money to actually sustain yourself and your family, especially in larger markets, that's what you're forced to do.
OK, Charlie, time to make all of your former New York neighbors jealous. How big and spacious is your new home?
BRASSARD: We went from 900 square feet to just shy of 1,800 for a third of the price.
With all the newfound respect that Virginia is getting on the national food scene, coupled with the highly publicized exodus of several other New York chefs, does that make this move more palatable for you?
BRASSARD: Definitely. I mean, you look at Gavin Kaysen, who had that thing in the Times about moving to the Minneapolis. He's one of the top chefs in New York and he decides to skip town. I think the realities in New York, unless you have tons of money backing you, it's just so much pressure and things make you change. The example I love to use, and this is a reason that I never wanted to open a place in New York, is The Redhead in the East Village. When they originally opened, it was a bar that served food. They had great fried chicken, really good staple American comfort food. And then, because people kept packing the place, they had to turn it into a restaurant. There's nothing wrong with that, but it's not what they started out as. I think you need to stick to your guns and do what you set out to do.
Do you have a name for the new place?
BODEN: We do but we're not going to tell you yet. We're negotiating a lease currently, too, but I can't tell you where.
Clearly, though, you have a specific space in mind. Your announcement mentions exact numbers of seats and things.
BODEN: We do. We have an agreement in place. Honestly, one of the advantages to being in a place like Virginia versus being in a place like New York is, because rents are the way they are, and because locations are a little less important than they are in a big city, you can conceptualize, let's say, the place and then find a space that works for the place. You don't have to find an awesome deal in a great neighborhood with a great lease and then develop a concept around that space. You can go the other way around, which is one of the huge advantages of being in a town instead of a major market. Like, if we were in D.C., it would take us, you know, a year to find the space, then a year to raise $2 million, then a year to build it out. Here, we're looking at spring. Now, if it's going to be the beginning of spring versus the end of spring, well, certain things need to fall into place first. But, I can guarantee you that we'll be open in spring.
How has business changed at The Shack since the original Esquire story and all the press that followed?
BODEN: We've been really fortunate. We haven't even been open a year yet. I've gotten more press and accolades at The Shack in less than a year than I have over the rest of my career. It's been really ridiculous. It's really hard to judge how much each individual piece has affected our business. What I can tell you is, since we started taking reservations, I'd say 75 to 90 percent of all reservations are out-of-town guests. You know, it's crazy to me. Where The Shack is now used to be a barbecue joint, that I'd done pop-ups at after I closed my first restaurant, Stanton Grocery. It was vacant, and I was doing pop-ups at a friend's bakery down the street. I was, like, for what they're asking in rent, I can rent this space, put in my old equipment from the grocery. I already have all the plates. I already have all the silverware. I had everything I needed. I can just do pop-ups on Fridays and Saturdays, until I can raise enough money to open a bigger space. And, [Esquire restaurant editor Josh] Ozersky walks in the door three days after we open, and that all changes. Right now, I have a five-year lease, with two five-year leases behind it. I've probably put more money into the building infrastructure at this point than the actual building is worth. We added a patio. My refrigeration went down, so we bought a walk-in. I have a new stove coming in next week. We've redone half the electric in the building. We're talking about doing an addition onto the kitchen so we can serve food outside. You know, it just went from zero to 60.
That's fairytale, baby.
BODEN: And I opened this restaurant, literally, in the restaurant business anyway, on pocket change. It cost me less to open this restaurant than most restaurants in New York make in a day. It's crazy to me. I mean, the whole theme of this restaurant was my wife's grandma, Tissy. It was all paying homage to her and her family. She was the matriarch of the family. I never got to meet her. So, this was my way of connecting to my wife and her family. Me and my wife did most of the build out. And, to think that we spent that much money on a little shithole building in the middle of a shithole parking lot, and we're doing what we're doing, is fucking awesome. And I'm stoked because I get to cook what I want to cook. I don't have to worry. My business model is based around the stuff that we have. And I need 26 people to come in and eat. And it's working. And I'm still shocked every day. But I couldn't be happier. I'm having more fun doing what I'm doing than I have in the last 15 years. And now I get to add Charlie to the mix. I've been talking with him for years about moving down to Staunton. I was in New York doing an event and I called him. And he's like, 'You know what? Let me talk to my wife.' She was actually the one who encouraged the idea.
BRASSARD: She was really the driving force. She's the one who was like, 'We've got to get out of here. We've got to move on and do something that can grow and be something.'
BODEN: It just all fell into place. And, of course, the self-deprecating part of me is waiting for the shoe to drop.
Is that why you want to expand now? Strike while the iron is hot, as they say.
BODEN: That's a big part of it. But, if I didn't have Charlie, I wouldn't be doing it. Look, I've been in this business since I was 13. I've gotten jerked around a lot, and my trust level for people in the industry is not very high. Me and Charlie know each other. And I trust him.
The Shack, 105 S. Coalter St., Staunton, VA; (540) 490-1961
Read more reports from the South on Food Republic: