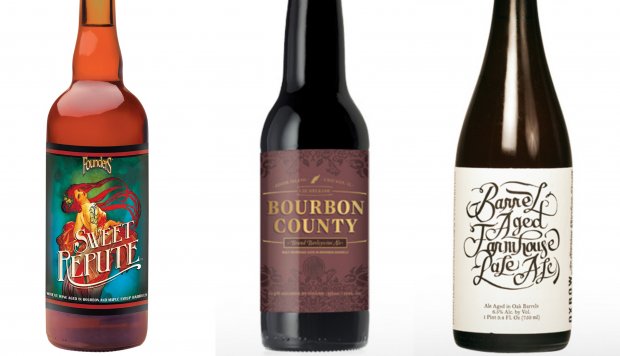 Hating on craft beer is totally in right now. First Thrillist tried to pick apart IPAs (success?), then sour beers (FAIL, they loved 'em). Now, internationally acclaimed chef and restaurateur David Chang is taking to GQ to defend the awesomeness that is "lawnmower beer," a custom passed down from his grandfather. Respect. Okay, so hating fancy beer is sexy, and here comes Chang — who in his defense gets a ton of street cred for appearing on Deltron 3030's last album — throwing an underhand Bud Light soaked softball pitch just waiting for the "neck beard"-adorned craft beer lovers to take a swing and crush it out of the park. Spoiler alert: it worked. There's an epic hate thread currently five pages long on Beer Advocate. Call the wambulance. Fancy beer is still the shit.
Despite my largely writing about awesome craft beer, let's be perfectly clear: not all craft beers are great, or even good. Some completely suck. Craft brewers, too, sometimes suck. Some good beers go bad and still get released. Some beers go bad, still get released and get slapped with a $20+ price tag plus a disclaimer to drink immediately or your beer will go bad (yes, this really happened and it unsurprisingly sold out instantly). Beer douches are common and sure enough there is a seemingly endless amount of dick measuring that goes on between rare beer hunters (#whalezbro?) and even brewers. The point is, craft beer and beer in general isn't holier than thou but the availability of beer with flavor is something we can all be happy about. Even David Chang.
In fact, the headline of his piece "My Name Is David Chang, and I Hate Fancy Beer" might attract plenty of clicks, but it has nothing to do with the point of the piece. Chang doesn't hate fancy beer, he's "seen the sunrise from the bar at Mikkeller, okay, guys?" (Okay, David!) but he simply prefers "bad beer." Chang also wants you to know that you know he hates epicurean snob sets like "cheese snobs" who "are okay, except for the delusional ones who proclaim America's artisanal cheeses are as good as Europe's." However, "Wine snobs are pretty great, because they give me delicious wine." No dude, wine snobs are snobby as shit and are way, way worse than beer snobs. Vintners are pretty great because they give you great wine. Unless you're making a statement about your wine snob friends who give you wine and…well then!
Related: 8 Simple Steps — How Not To Be A Dick While Drinking Beer
The problem here is Chang's use of the word "bad beer" to describe the all-inclusive world of light and adjunct lagers. The examples he lists like Singha, Presidente and Natty Boh are fine but do Schlitz, PBR and Narragansett get ruled out for being too hipster? There are plenty of decent examples of the style but when you're specifically asking for the "lightest, crappiest beer," it's hard to imagine an enjoyable recommendation, especially from someone as respected in the industry.
This is essentially the equivalent of writing a piece arguing that shitty ramen is shitty, but actually good. I would never do that because, well, shitty ramen is awful, which is why I like to eat at Chang's Momofuku, where, by the way, there is no shitty beer on the menu. There is Tiger, an enjoyable lager from Singapore, alongside hoppy Michigan staple Bell's Two Hearted Ale and the excellent throwback Berliner Weisse by Professor Fritz Briem.
The real kicker — hold onto your hats — is that while Chang has been on the record for years about his love of shitty beer, Momofuku Shōtō in Toronto actually commissioned a collaborative beer between experimental brewer extraordinaire Jeppe Jarnit-Bjergsø, of Evil Twin and Tørst fame, with the local Bellwoods Brewery. The beer, called Twin Peach, is a not-too-hoppy pale ale brewed with peach which doesn't sound a lot like the beer Chang tweeted about in 2012 as his ideal brew for Momofuku, a combination of Bud light, Coors Light and Tecate.
@davidchang @momofuku I thought it was already brewed 😉 @tpaopao

— Evil Twin Brewing (@EvilTwinBrewing) November 12, 2012
So to recap, things we learned from the David Chang story: David Chang drinks "bad beer" and respects fancy beer but really hates beer snobs, though wine snobs are okay. This is problematic because by virtue of calling out people who drink fancy beer and defending shitty beer, he is actually embodying the very snobbery that he abhors. And therein lies the lesson: being a snob is bad, no matter what beer you like.
---
More beer etiquette on Food Republic: