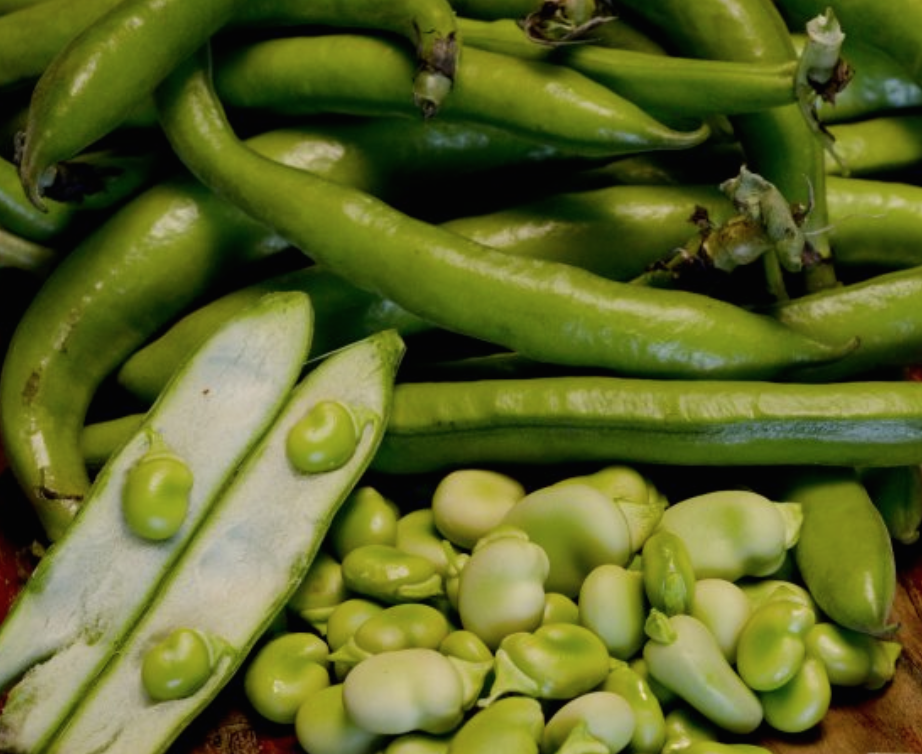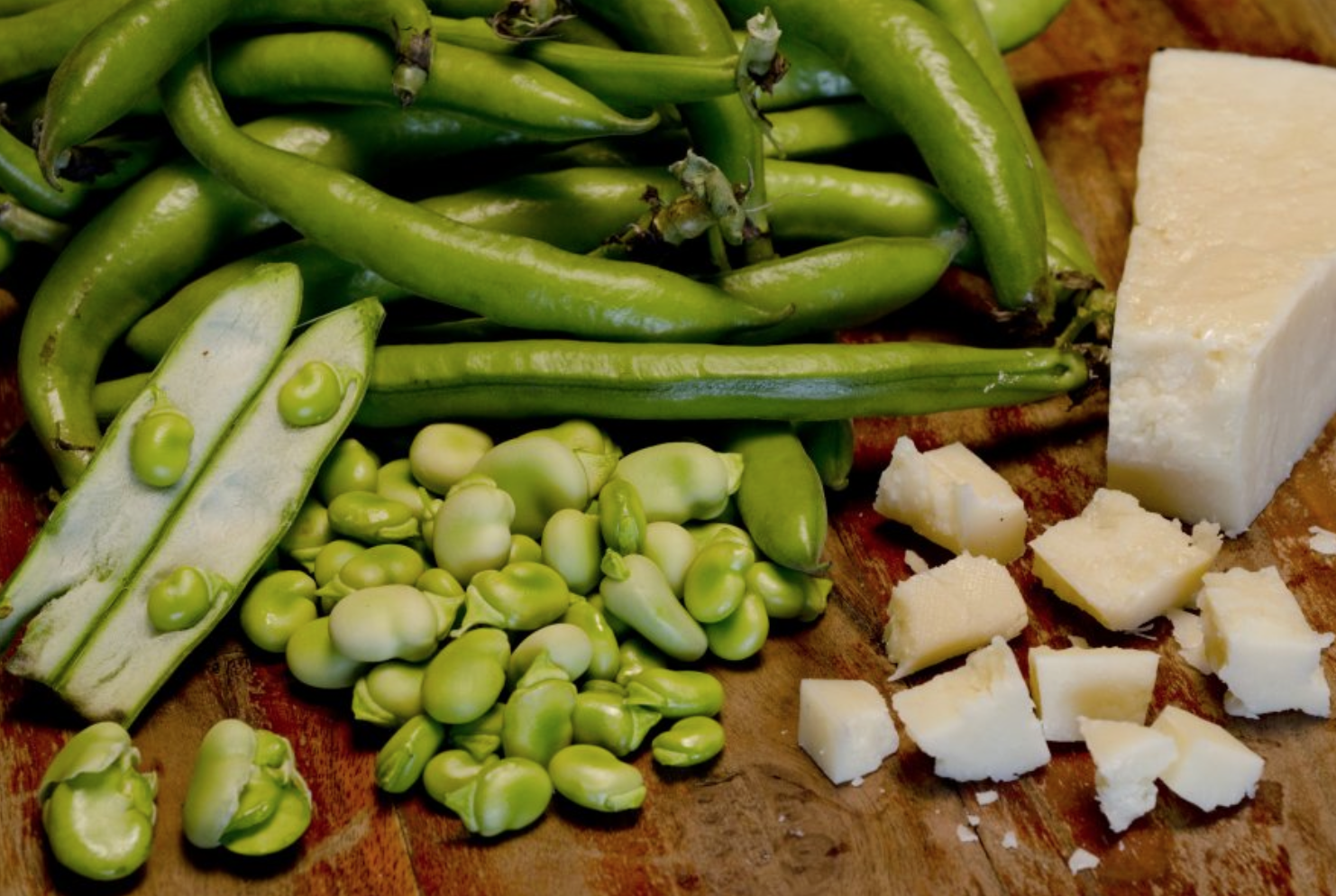 This weekend marked the official end of summer, and chances are that you've already covered your backyard grill until next year. It may be a sad time for you and your hopes of finally sporting the tan that's been eluding you for months now, sure, but take solace in the fact that this is a vibrant time at farmers' markets nationwide. We've combed through our What's In Season columns to uncover some diverse seasonal recipes. Coming to us from acclaimed chefs and cookbooks, these five recipes make use of early autumn's bounty of fruits and vegetables.
Dry Aged Ribeye with Padrón Pepper Escabeche Recipe

Courtesy of chef Dave Conn of Tinto
Shishito peppers are so last year. Instead, give its Spanish cousin the padrón a try the next time you want to play with capsicum. Right now is the peak season for these plump, bright green peppers which offer a mild, slightly nutty taste. And, like shishitos, you have the fun of getting a sporadically spicy specimen in the mix, so eating them is like the Russian roulette of snack foods. "They have a unique texture and viscosity that's almost comparable to okra, but in a positive sense," says Conn. "Also, they tend to be a touch bolder than the shishito, and a little spicier."
You can treat these little green pepper simply, and Conn advises that a little salt goes along way. "They are great with a little cured ham and a glass of beer or wine," says the chef, who also serves them in a fried potato dish at the restaurant. He also recommends making a tangy escabeche to add a seasonal twist to beef like he does in the dish below.
Servings: 4

Ingredients:
4 (14-ounce) aged ribeye steaks
3/4 pound fresh padrón peppers
1 bunch scallions
1 head garlic
1/2 bunch fresh thyme
2 lemons, Meyer preferred
12 ounces sherry vinegar
4 ounces honey
4 ounces olive oil
1/2 bunch flat leaf parsley
To prep in advance:
Reduce sherry vinegar slowly in a small saucepot until it achieves almost a syrup-like consistency. Add half of the honey to the reduced sherry vinegar, cool and reserve.
Roast whole garlic cloves, just submerged in olive oil, in a small pot or pan covered with aluminum foil at 300 degrees for 25 to 30 minutes or until completely tender and light golden brown. Cool, and store submerged in oil, refrigerated until ready to use.
Directions:
Briefly pan fry or grill pardon peppers with a sprinkle of sea salt.
Cook for 5 to 6 minutes or until skin is blistered and flesh has become tender but has not begun to lose color. Set aside to cool.
Trim root from scallions, and separate white part from green tops. Split scallion whites lengthwise, toss lightly with oil and salt and grill on cut side for two minutes, flip and grill on opposite side until tender. Set scallion whites aside to cool. Slice scallion greens as thinly as possible.
Smash roasted garlic to a smooth paste.
Remove stems, skin and seeds from cooked padróns and dice small. Dice roasted scallion whites.
Chop thyme and parsley finely.
Combine diced pardóns, scallion (whites and green), one tablespoon of roasted garlic puree, zest of two lemons, two to three tablespoons of reduced sherry vinegar, juice of 1/2 lemon, four ounces olive oil, two ounces of honey, thyme and parsley. Season with salt and pepper to taste. Can be refrigerated for up to five days.
Season steaks with salt and pepper and grill to desired temperature.
Allow to rest, slice and spoon padrón escabeche over sliced steaks.
Garnish with any other late summer vegetable desired.
Roasted Cauliflower Recipe

Courtesy of chef Shane Lyons of Distilled
I am a big fan of this dish because it moves cauliflower into the center of the plate instead of on the side, where it's commonly found.
Ingredients:
1 head cauliflower, cut into florets

1/2 cup toasted pumpkin seeds, lightly seasoned with butter

10 Thai basil leaves

20 snap peas

Shiro Miso sauce (recipe below)

Canola oil

Lemon juice
Shiro Miso Sauce

1 cup vegetable stock

2 tablespoons white wine

1/2 cup garlic confit*

1/2 cup shiro miso

1/4 cup confit oil
*You can make garlic confit by cooking whole cloves in olive oil until soft.
Directions:
For the cauliflower:
In a large skillet over medium heat, roast the bite size cauliflower florets in canola oil until they are brown and begin to get tender.
Once the cauliflower is almost cooked through, add 1/3 cup of the miso sauce, or more if you prefer, and some vegetable stock to deglaze the pan. Be sure to use as little vegetable stock as possible so that the cauliflower becomes glazed with the miso and not stock.
Once you glaze the cauliflower, add the snap peas and cook them until they become bright green, keeping them firm.
Turn off the heat and toss in the basil and pumpkin seeds.
Garnish with a squeeze of fresh lemon juice and some more basil leaves.
For the Shiro Miso sauce:
Purée ingredients until smooth.
Homemade Granola with Poached Plums and Whipped Crème Fraîche Recipe
Reprinted with permission from Alfred Portale's Greenmarket to Gotham
This is an homage to breakfast — the maple-honey granola with its sweetness and crunch and adding a little sweet milk with the crème fraîche. The acidity of the plum poached with a little thyme rounds out this morning go-to.
Ingredients:
Granola
1/4 cup maple syrup

1/4 cup honey

1/4 cup grapeseed oil

6 cups rolled oats
Crème Fraîche Chantilly:
1/4 cup confectioners' sugar

2 cups heavy cream
2 cups crème fraîche
Poached plums:
10 cups water

3 cups sugar

2 ounces fresh thyme

6 plums, cut in half
Directions:
For the granola:
In a medium saucepan, heat the maple syrup, honey and oil over low heat. Place the rolled oats in a large mixing bowl and pour the liquid over the oats.
With a rubber spatula, gently toss the oats until fully coated.
Place on a sheet pan lined with parchment paper and bake at 350°F for 15 to 20 minutes, removing from oven every 5 minutes to toss for uniform baking.
Allow to cool, and store in an airtight container.
For Crème Fraîche Chantilly:
In a mixer fitted with a whisk attachment, combine the sugar with the heavy cream and whip to medium peaks and reserve.
Place the crème fraîche in the same mixing bowl and whip to medium peaks.
In a mixing bowl, combine the two and fold together.
For poached plums:
Place the water, sugar, thyme and plum halves in a medium saucepan.
Over medium heat, poach the plums until evenly soft.
Remove the plums from the poaching liquid and gently remove the skins. Cut into thirds and reserve.
For assembly:
On a plate, arrange five slices of the poached plum in a random pattern. Scatter five tablespoons of granola around the plums. Garnish with three clouds of Chantilly cream and serve.
Cucumber and Watermelon Salad Recipe
Reprinted with permission from
The New Persian Kitchen
Perfect for bringing to an end-of-summer barbecue, you can assemble this crisp, juicy salad ahead of time, and add the salt and vinegar just before serving. Sprinkle with sumac for a tart and salty finish.
Servings: 4
Ingredients:
1 pound unwaxed cucumbers, sliced in half lengthwise

3 cups diced seedless watermelon

1 scallion, green part only, thinly sliced

3/4 teaspoon sea salt
1 tablespoon white wine vinegar
Directions:
Seed the cucumbers and cut them into half-moons 1/2-inch thick.
In a bowl, combine the cucumbers with the watermelon and scallion.
Add the salt and vinegar, mix well and serve immediately.
Stewed Broad Beans Recipe
Courtesy of chef Evan Hanczor of Parish Hall in Brooklyn, NY
This warming dish is perfect for using up some seasonal vegetables, plus, it can easily be served as a side dish or topped with fried egg or a plump sausage for a main course.
Servings: 8


Ingredients:
1/2 cup olive oil

3 cups sliced leeks

1 large clove of garlic, minced

3 cups broad beans

1 teaspoon salt to taste

1 pinch of black pepper to taste

6 cups tomato, chopped

1/3 cup dry white wine, like Clos du Bois Sauvignon Blanc

1/2 cup bacon, pancetta or any cured meat, chopped (optional)
Directions:
First, sweat the leeks and garlic in oil until lightly colored.
Add white wine, tomatoes, beans and salt and pepper. Partially cover and simmer over medium-low heat until beans are tender, about 30 to 40 minutes.
Plate up and serve on its own with crusty bread, or topped with a protein like grilled shrimp, steak, or even a sweet, succulent pork chop.
Read these What's In Season columns on Food Republic: