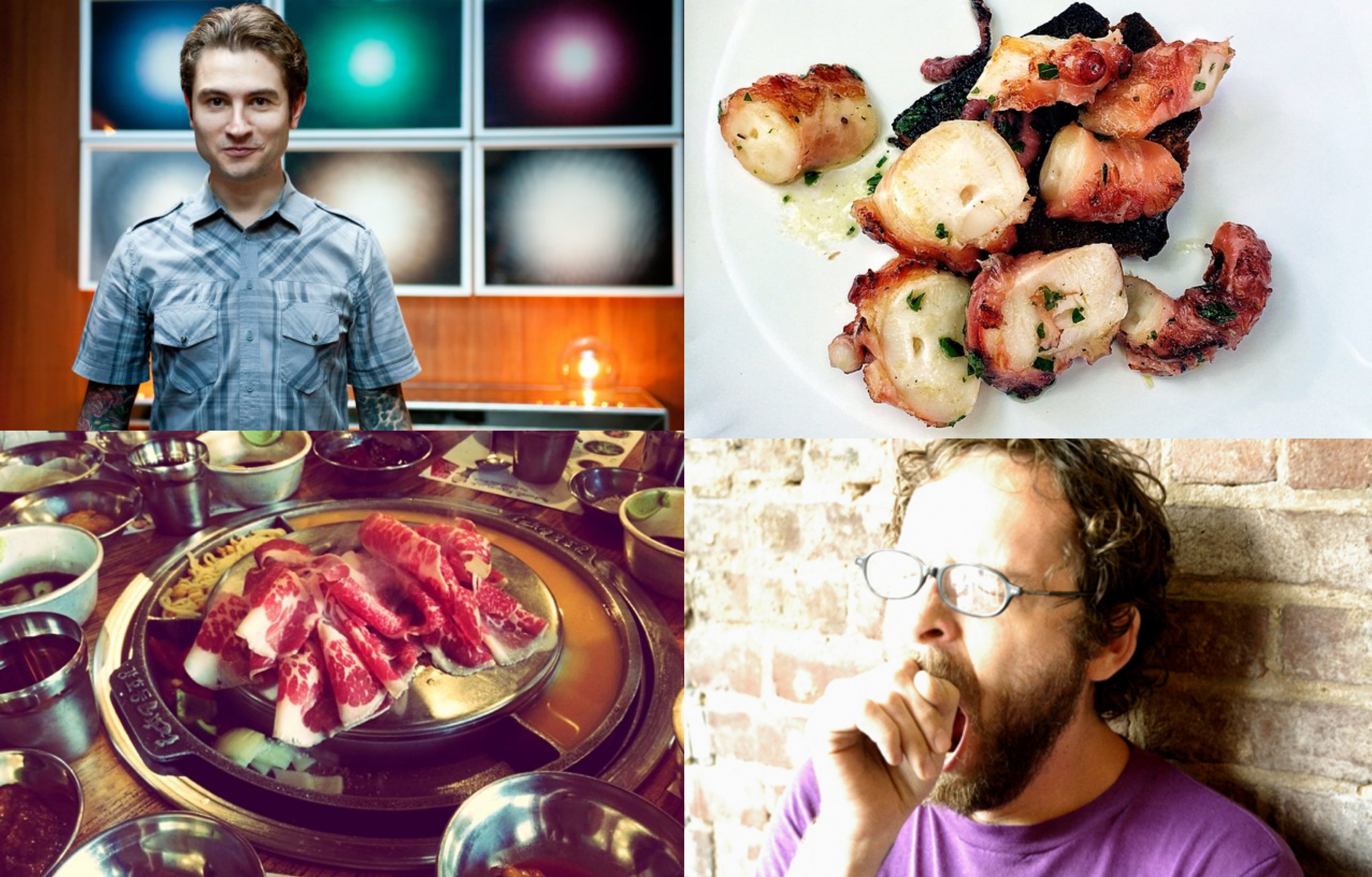 It's admittedly an imperfect science to write about a restaurant in preview (plywood) form — after all, restaurants are like babies. They grow out of their clothes too quickly and sometimes shit all over themselves. The business of building restaurants is messy, and oftentimes vague. But from what we've gleaned from hushed phone conversations, drunken text messages and kitchen visits with chef-restaurateurs, the rest of the year is shaping up to be a great one in New York City. Here are 21 places to get excited about.
1. Dirty French
Got to give it to Mario Carbone, Rich Torrisi and Jeff Zalaznick, the trio behind a growing list of restaurants that polish and refine (sometimes re-invent) the Italian-American cuisine of their childhoods — including Carbone, Parm and Torrisi Italian Specialties. Their Major Food Group has expanded their empire at an incredible clip (including an opening in Hong Kong this summer), while maintaining a deafening buzz and praise from hard-headed critics and fickle downtown diners alike. The stakes are even higher (and the steaks even rawer) at the crew's first non-Italian opening. Dirty French, opening early next week, is located in the Ludlow Hotel and is inspired by the trio's travels to French-speaking regions of the world: France, obviously, but also New Orleans and Morocco. "A dirty French restaurant for us makes a lot of sense," says Zalaznick over beers."Dirty French is taking something very classic and very pure, like a French bistro, and infusing it with big and bold flavors. I compare it to a dirty martini."
Carbone warns that the restaurant is not a "Parisian's bistro, all soft and supple," but a more aggressive restaurant experience that leans more sweet and sour. This means dishes like frisée with duck giblets on a skewer and classic papillote and terrine preparations. And the bread? It's hardly an all-baguette affair. "We found this incredible semolina Algerian flatbread in Paris and when we got back to New York, Rich started working on it," recalls Zalaznick of the inspiration for one of the restaurant's crepe-like bread options, which will arrive topped with tomato and yogurt. 180 Ludlow Street, Manhattan
2. Marta
Danny Meyer seems to do no wrong in New York, and he'll soon take his first crack at a pizza-centric restaurant with the opening of Marta. Helmed by chef Nick Anderer and Managing Partner Terry Coughlin – both of Meyer's Maialino – Marta will celebrate the Italian tradition of cooking seasonal specials over open embers. In addition to thin, crackly crusted Roman-style pizzas, the menu will include antipasti and dishes like plancha-seared brook trout "saltimbocca" with prosciutto and sage, and beer-brined half chicken served with pesto trappanese. Located in the recently rebranded Martha Washington Hotel, the Union Square Hospitality project plans to be open all-day, starting later this month or in early September. 29 East 29th St., Manhattan, martamanhattan.com
3. George Mendes Chelsea Restaurant
"Right now we're off to the races," says George Mendes with the sound of clanging in the background. He's standing at the Chelsea (or maybe we'll call it NoMad) construction site that will house his new, un-named restaurant scheduled to open in late fall. Earlier this year, Mendes popped up at Madison Square Eats with a highly enjoyable tent called 100 Sardines, which served sardine toasts and salted cod croquettes, two classic dishes form his native Portugal. The new opening will offer a similar "rustic Portuguese café" and while Mendes is keeping major menu details close to the chest, here's what we do know. There will be many (the menu will be large) so-called "peasant dishes" including gratins, casseroles, a lamb braise and plenty of bacalhau (the salted cod). The restaurant will be equipped with a large wood-burning oven, which Mendes hints will be a primary focus. He'll be cooking a butterflied flattened chicken with piri piri, which is this incredible South African chili. While there will be plenty of Portuguese wine available, beer is center stage, with at least 12 craft beer taps. As for Portuguese beer, it's a big question for the chef, who says he's still researching. "I'm gonna definitely try to bring some cool stuff into the U.S." 835 Avenue of the Americas, Manhattan
4. Dirt Candy 2.0
"I'm really trying to stick to the Dirt Candy philosophy of showing how things work, rather than tricking the customer with a bunch of smoke and mirrors," says Amanda Cohen of the expansion of her popular, and tiny, groundbreaking restaurant in the East Village. Since 2008, Cohen has been the loudest, and most talented, supporter of a vegetable-based restaurant diet — preparing exceptionally flavorful dishes like smoked cauliflower with waffles and kimchi donuts. But with success came demand for one of the 18 seats (in a dining room fit for 12) and reservations proved difficult. This will change with an Allen Street location that will swell to 60 seats, offer a full bar and "all chairs will have four legs," jokes Cohen.
The restaurant's kitchen will be located in the middle of the room, with seating around it so "everyone can gaze upon my incredibly beautiful line cooks." Cohen says she wants her kitchen staff to be on the floor as much as possible. Why? "Customers seem to like seeing the people who make their food." Cohen also wants to get rid of tipping and to try to do something "really fun" once the restaurant ramps up for brunch. She notes the restaurant's proximity to Chinatown, which could only mean…dim sum carts? Yes please. "We live by the motto go big or go home. Our space is getting bigger, so now the food needs to get more exciting, more ambitious, and more unlike anything people have ever seen before." 86 Allen Street, Manhattan, dirtcandynyc.com
5. El Colmado Butchery
Tertulia chef Seamus Mullen is behind El Colmado Butchery, a tapas and wine bar in the heart of the Meatpacking District. Offering traditional tapas and quality Spanish wines, the second outpost of El Colmado (the first is located in Gotham West Market) will feature classic takes on pan con tomate and hand-cut jamón Ibérico, as well as creative small plates like langostinos (Mediterranean prawns with fennel aioli), remolachas marinadas (marinated smoked beets with Caña de Cabra cheese and candied almonds) and albóndigas (lamb meatballs with mojo picón and sheep's milk yogurt). Opening in October for lunch and dinner – with plans to expand to breakfast, catering and delivery – the rustic yet modern 41-seat space will include a large rotisserie and true butcher's counter for fresh meats, available for retail. 53 Little West 12th Street, Manhattan
6. Little Park
Entrenched as one of the city's most acclaimed chefs, Andrew Carmellini is confirmed to be opening a restaurant inside the trendy Smyth Hotel (currently being redesigned, with completion slated for late 2014) – along with NoHo Hospitality Group partners Luke Ostrom and Josh Pickard – sometime in December. While there is not much additional information available at this time, Carmellini's second TriBeCa hotel restaurant (Locanda Verde is located in The Greenwich) will have 85 seats and is rumored to have a farm-to-table theme. There will also be a library and living room within the project. 85 West Broadway, Manhattan
7. Mu Ramen
A Per Se alum and his wife open up a ramen pop-up in their bagel shop and later, their apartment, the ramen is soon named the city's best by The New York Times restaurant critic and the shop has to relocate due to an overwhelming number of reservation requests. It may sound like the stuff of an indie film screenplay, but that's the story behind Mu Ramen, set to open as a stand-alone restaurant for the first time in Long Island City in late September/early October. The sample menu for Joshua and Heidy Smookler's upcoming endeavor includes trademark steamed buns and bowls of ramen, as well as unique appetizers such as tofu buratta, roasted nori with Kobe and foie-stuffed fried chicken wings. 1209 Jackson Avenue, Long Island City
8. Kang Ho Dong Baekjeong
By now, most New Yorkers are familiar with the great ceremony (and great amount of soju and beer) that a night of Korean barbecue at one of the dozens of restaurants lining 32nd and 35th streets in Manhattan entails. And while NYC's compact Koreatown houses a few legitimate fan favorites including Kum Gang San and Kang Suh, it's hardly been home to anything serious on the culinary front (Hooni Kim's excellent Hanjan is located well south on 26th street and thus excluded). This is all about the change with the opening of Los Angeles import Kang Ho Dong Baekjeong, a longtime favorite of critic Jonathan Gold. The name of the game is high-quality beef, including USDA Prime and Australian Wagyu, but at the same price level as the other K-Town players. "It's as if Peter Luger had a crazy fun Korean cousin," jokes the restaurant's chef Deuki Hong, who previously worked at Jean Georges and Momofuku Noodle Bar. [Note: Hong is currently working on a book, Koreatown, USA: A Cookbook, with Food Republic Contributing Editor Matt Rodbard.] The menu, at under 25 items, will be slim by Koreatown standards and feature barbecue staples like bulgogi and kalbi (soy-marinated sirloin and short rib), as well as un-marinated samgyeopsal (pork belly). And, of course, there is banchan — the complimentary small plates that arrive at the top of the meal starring soy pickles, a bubbling and briny egg called gyeran jjim, and several types of kimchi. 319 5th Avenue, Manhattan
9. Via Carota
Chefs Jody Williams and Rita Sodi are longtime New York City restaurant players, with the former owning popular West Village wine bar Buvette and the latter operating nearby Tuscan restaurant I Sodi. They're also a couple and are embarking on their first professional partnership with Via Carota, an homage to the pair's deeply-rooted background in Italian cuisine. Never one to embrace conventional restaurant policies like reservations and structured menus, Williams envisions an all-day bistro modeled similarly to Buvette. Expect coffee and pastries for breakfast and dishes including sardines with breadcrumbs, raisins, pine nuts and lemon, roasted squab with farro, sage and pickled fruit, octopus with red onion, potatoes and oregano, fried artichokes and – perhaps – even a burger. The partners are anticipating a September opening. 51 Grove Street, Manhattan
10. Empellón Al Pastor
It's been a busy few years for Alex Stupak. Without prior experience cooking Mexican food, Stupak left his post as pastry chef of Wylie Dufresne's wd~50 in 2011 to open two New York City taquerias. An instant hit with both the public and critics, the restaurants have achieved success in the East and West Villages by combining the simple and the sophisticated. Stupak's third city venture aims for an even more casual vibe. Located on St. Marks Place, the "bar and tortilleria" will feature a selection of tacos (highlighted by the namesake al pastor), five sides and guacamole, alongside five renditions of micheladas. An open kitchen, no reservations policy, no desserts, and disposable plates and cutlery are all on tap as well for Stupak's latest take on Mexican cuisine. Look for a September opening. 132 St. Marks Place, Manhattan
11. Ganso Yaki
Tadashi Ono, the former Matsuri and Hiro chef, was most recently spotted manning the grills at the underrated MaisonO. His lamb gyoza, the size of a small fist, was the juiciest, most flavorful piece of lamb we've had in years. It's too bad the restaurant didn't last through a couple fashion weeks, though probably all the better for anybody living in Brooklyn, where the chef has teamed with his writing partner Harris Salat to both relaunch a ramen shop Ganso (ongoing) and open Ganso Yaki — a Downtown Brooklyn restaurant that will focus on Japanese street food. This includes miso-cured fish and meat, light tempura, okonomiyaki pancakes, Japanese-style fried chicken karage. There will also be Tokyo-style soba, for the bowl-of-noodle freaks in the building. Opening in September. 515 Atlantic Ave., Brooklyn
12. White Street
Floyd Cardoz (North End Grill, Tabla) will team up with media guys Dan Abrams and David Zinczenko to open a "market-driven modern American" that will be housed in a 19th-century building. Early menu items include sfoggilini squid ink spaghetti with crabmeat and chili flakes and north Atlantic sea bream with shaved Brussels sprouts with a tamarind glaze. 221 West Broadway, Manhattan whitestreetnyc.com.
13. Aldo Sohm Wine Bar
Often referred to as the world's best sommelier, Le Bernardin wine director Aldo Sohm is behind this namesake lounge in Midtown. Located just steps away from the Michelin three-starred restaurant — and marking its first expansion in almost 30 years of existence — the casual new spot from chef Eric Ripert and owner Maguy Le Coze will offer a simple menu upon opening in September. You can expect light options such as salads, panini, charcuterie, cheese to compliment the top-flight curated wine list. Then again, with its Le Bernardin affiliation, just how simple could the food actually be? 151 West 51st St., Manhattan
Related: 6 Things To Look Forward To In The World Of Wine
14. Upland
Stephen Starr continues his New York City expansion with Upland, a California-style farm-to-table restaurant opening in the Gramercy space that most recently housed the short-lived Manzanilla. Chef Justin Smillie — formerly of Il Buco Alimentari — will incorporate the culinary culture of his birthplace of Upland into his signature rustic and seasonal cooking style. The menu will showcase ingredients from local farms in dishes including crudo of diver scallop with kombu, turnip and chili, and coffee-soaked lamb belly with okra, Sun Gold tomato and beans. Slated for an October opening, the restaurant should exude a casual, creative feel, highlighted by an open kitchen, an expansive bar and intimate green leather booths. 345 Park Ave. South, Manhattan
15. GG's
Nicholas Morgenstern is a longtime New York City chef and restaurateur previously behind such winners as the General Greene and Goat Town. But you probably know him best from his recent ice cream shop, which has become one of the blockbuster openings of the year. He's hoping that the streak continues (and we think it will) at GG's in the East Village. He's teamed with the talented chef Bobby Hellen (formerly chef at Resto) to offer a menu driven by the seasons (there's a large garden in the backyard) as well as to showcase the chef's love for pizza making. Though, this is hardly a pizzeria alone. Opening in September. 511 East 5th St., Manhattan
16. Birds & Bubbles
Few food and beverage items have a more ardent following than fried chicken and champagne, the main focuses of this upcoming restaurant from Sarah Simmons, owner of culinary salon City Grit, which has been referred to as the "off Broadway version of the James Beard House." In charge of the ever-rotating team of established and up-and-coming chefs since founding City Grit in 2011, Simmons — a Food & Wine Home Cook Superstar award recipient — is planning to open her first full-service restaurant on the Lower East Side on September 9. In addition to serving her grandfather's buttermilk fried chicken, Simmons will present a menu that draws on her Southern roots and elevates takes on regional classics. A full bar will have a variety of cocktails, craft beers, wines and – of course – champagne from the team's favorite producers. 100B Forsyth St., Manhattan
17. No. 7 North
Tyler Kord has rebooted his No. 7 Sub location in Greenpoint and transformed it into No. 7 North, a vegetarian-friendly spinoff of his popular Fort Greene location. Broccoli tacos and classic cocktails (Manhattan, gin & tonic) will be served in the space that has been designed by Matthew Maddy. Longtime Kord foot solider Chris Fisher will run the joint, which also has a pool table. 931 Manhattan Ave., Brooklyn, no7sub.com
18. The Camlin
Fresh off the success of Hell's Kitchen wine bar and small plate star Ardesia, Mandy Oser and chef Amorette Casaus are set to take on Brooklyn. Looking to open "a sophisticated yet approachable wine bar" in Williamsburg, the two have assembled a menu split between snacks such as oysters and charcuterie, and larger sharable plates. Oser is curating an international wine list with an emphasis on domestic offerings, and classic cocktails will be presented with updated touches. An inviting lounge area consists of a red lacquered wall and handmade wooden tables. 175 Kent Ave., Brooklyn
19. Yellow Magnolia Café
Nightingale 9 and Wilma Jean chef Rob Newton will open a café at the Brooklyn Botanic Garden in October. It will serve breakfast and lunch only and be operated in partnership with Patina Restaurant Group (of Lincoln, Brasserie). Newton tells us that he will be sourcing ingredients from Grand Army Plaza Greenmarket, Brooklyn Cured and Cayuga Grains. 990 Washington Ave., Brooklyn
20. Cosme
"We want the restaurant to be Mexican, because we are Mexican and have a Mexican mindset," Mexican celebrity chef Enrique Olvera told us in March about his anticipated New York City debut, Cosme. While the chef has offered few menu details (raw seafood and lobster sopes have been teased) we know that the restaurant will mostly stray from Olvera's more modernist approach at Mexico City's Pujol. Instead, he'll sell tacos, offer a large selection of tequilas and tableside guac. "You pay your rent with the margaritas and guacamole," he joked. Well, half-joked. 35 E 21st St., Manhattan
21. Arrogant Swine
"I have yet to meet a new pitmaster in NYC who isn't doing it for the sheer passion of BBQ," says Tyson Ho, proprietor of Brooklyn's forthcoming Arrogant Swine. We met Ho while researching a long feature about the great barbecue explosion in New York City and are happy to report that his North Carolina–styled smoke house will soon open in Bushwick. Pulled pork will obviously be a focus, but as we've read in the chef's colorful opening journal on Serious Eats, there is a bright future ahead. 173 Morgan Ave., Brooklyn, arrogantswine.com