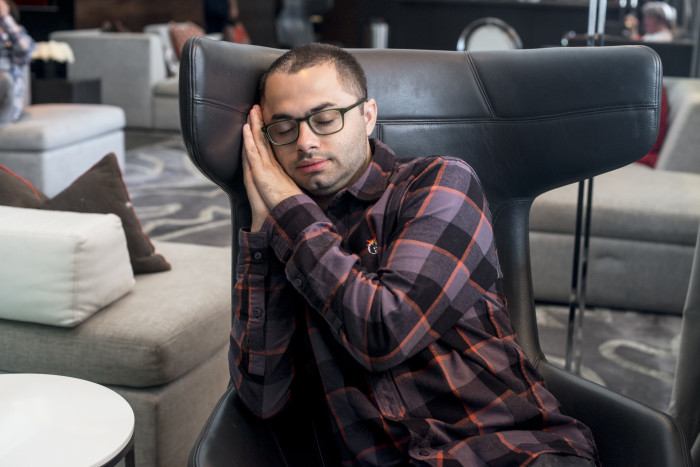 Here, we feature Q&As from the 2013 Food Republic Interview Lounge at the W Austin during the Austin Food & Wine Festival and Moontower Comedy Festival, featuring video excerpts of the sessions with host Richard Martin. Next up, Joe Mande, a stand-up comedian who recently released the "comedy mixtape" Bitchface, and a writer for the NBC series Parks and Recreation, as well as a regular on The Nick Kroll Show. 
Joe Mande At The Food Republic Interview Lounge in Austin, Texas from Food Republic on Vimeo.
Let's talk about what we're doing here in Austin. There's a comedy festival going on which is why Joe's here, there's a food festival going on which is why a lot of us are here. But you happen to cross over a little bit because –
Because I eat food.
You eat food! But you're also pretty knowledgeable about the scene. I hear you know a little bit about Paul Qui's restaurant.
Yeah, I went to qui earlier last year.
And how was it?
It was great from what I remember. I went with three friends of mine and we all got high, we got really high, and went in, and they sat us down, and we couldn't read the menu. Like that's how bad we were. We were like, we gotta focus, we gotta figure out what we want. And the waiter came over, and we asked the waiter, What do you recommend, you know what's the good thing to get? And there was like 15 or 16 items on the menu, and he said well for a group of four people, we recommend 14 or 15 things. And we all started laughing. Because that's the whole menu, right? And then he could see the state we were in, and he said, you know what, why don't I take the menus and I'll just keep bringing food to you guys. Which was a smart move. Because we couldn't make a decision.
That's actually a great business model for a restaurant. To really cater to stoners because they'll just eat anything you put in front of them.
I think Denver's the next place for food to really blow up because – people out there are so high you know?
"I've been opening for Aziz Ansari. So food-wise, that shit's out of control."
What's it like – for those of us who have never been a comedy writer working on a sitcom, in Hollywood – are you in Hollywood even?
Yeah, I'm in Studio City.
Studio City. But what's it like? Are you guys just sitting around writing jokes, and then you're like okay let's order some lunch? Or how does that work?
I eat three meals a day. At work when we're there. So we – if you really want to know, it's kind of boring. So at 10am, we order lunch. For like 1pm. Which is a hard move, you know. You don't necessarily know what you want to eat at 1 at 10 a.m. That's like the worst. I have a really charmed life. [Laughs]
Now does everybody get to order what they want or do you all take turns picking a place?
No, literally someone's job is to figure out what we're getting for lunch everyday and to pick it up.
How is the vibe in that room? What's it like when you guys are on a roll? Does it get to be very funny?
It's the most fun I've had for a job. It's amazing. You work with 12 hilarious people and you just dick around all day and get paid for it. It's pretty great.
But you're still doing stand-up too. Like you're here at the Moontower, in Austin. Are you on tour right now or did you just come here for this?
I've been on tour for – I haven't been home in a month. I'm pretty burned out but I compensate. It's kind of like a teacher's schedule a little bit where it's like nine months writing, and then we get three months off. So the three months I get off, I kinda go nuts and I release my album right away, and I've been on tour for a month. It's mostly because I know I'm going back to work in about four weeks. And I'm kind of locked in a cave, you know?
What's it like on the road for you? Do you enjoy traveling?
Yeah. I love it. In the past three weeks, I've been opening for Aziz [Ansari]. And so food-wise, that shit's out of control. Because he loves food.
Where is he taking you?
Every city we go to, we just look up what the best restaurants are and we go there. Every breakfast, lunch and dinner.
Is there a recent meal that you had that was super memorable?
Yeah, we went to this place in San Francisco called Flour + Water. That was pretty insane. Another one kind of like qui, where we just said we'll have the menu. Because we couldn't figure out what we wanted.
It has made ordering a lot easier.
Yeah. And then we did a really cool thing in San Francisco as well. We drove an hour north to this place called Tamales Bay. It's like an oyster farm. And we just picked oysters out of the water essentially ad shucked them ourselves and put them on a grill. It was awesome, that was pretty great.
I talked to you last year, and you had just recently moved from New York to Los Angeles. You told me that you were going to try to start eating healthier to fit in. How did that go for you?
Not good. I have about 15 minutes of stand-up now about Café Gratitude. Oh my God. That place is ridiculous. It's a health food chain run by a sex cult basically. It's just super obnoxious. All the food items are named with these aphorisms, like "I am beautiful," "I am inspired," "I am majestic." If you saw it in a movie, you would be like that's ridiculous and no place like that should ever exist or does exist.
But people like it in California.
People love it. It's crazy. I'm a pariah for making fun of it. People are like how dare you? It's so good, where else are you gonna get your – you know, kelp salad with quinoa?
Do you like quinoa?
I do like quinoa…I don't know what it is. I don't think anyone knows what it is.
What are you gonna do when you get back to LA?
I'm gonna just make juice with my Vitamix and not eat solid food.
Put some flaxseeds in there.
Yeah. Flaxseeds. Quinoa. Açai. All the super foods. I can't eat – it's been a month of just eating straight up pig. It's great, I'm not complaining, but when you're on the road with someone like Aziz, you're basically eating like pre-revolution French royalty. I'm always looking around like someone should chop my head off for how indulgent we're being, you know?
---
For more on Mande, check out joemande.com
Earlier: Is This The Real Reason LaCroix Mineral Water Dropped Joe Mande As Fake Spokesperson?
Presented by our friends at the W Hotel Austin.