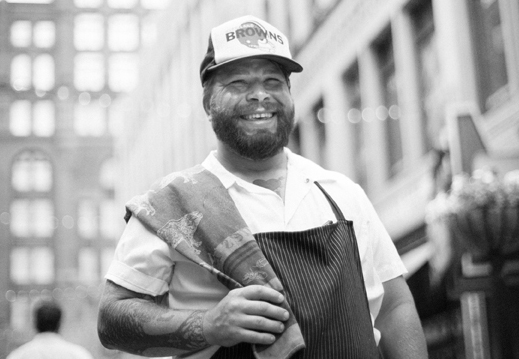 Life is filled with wonderful things and terrible things. During interviews, however, we pretty much only get to hear about the wonderful things. Ten Things I Hate is a chance for people in the food world to get things off their chest. We ask them what they hate, they give us a list.
Opening a restaurant is like giving birth, except instead of just popping out a baby, you're dealing with investors and new menus and new employees and new equipment and permits and inspections and landlords and a million other things normal people never even think about. This is the hectic place where Cleveland chef Jonathon Sawyer is living right now as he prepares to launch his new full-service Northern Italian restaurant Trentina in late May.
Sawyer's accumulated a murderer's row of awards (James Beard finalist, Food & Wine Best New Chef) after leaving the employ of Michael Symon at Parea in New York. He moved back to his hometown in 2007 and has since earned his reputation as one of the city's hottest young chefs with his uber-eclectic roster of restaurants and stadium concession stands including The Greenhouse Tavern (French gastropub), Noodlecat (Tokyo-inspired noodle house), Sawyer's Street Frites (sandwiches at First Energy Stadium) and See-Saw Pretzel Shoppe (Bavarian-style pretzels for Cavs games).
It may seem strange for a chef with so many outlets to even think about undertaking the arduous task of opening something new, but based on his resume alone it's clear that Sawyer is not someone content with doing the same thing day after day. Despite all of the hassle, it's clear that Trentina is a labor of love and with the opening coming up so quickly, we asked Sawyer to give us the 10 Things He Hates About Opening A Restaurant.
Stress dreams
In the middle of the night – under a false reality – the restaurant burns down or the expo printer won't stop printing out food tickets. All I hear is "eeeeee……eeee….eeeeeeeeeeeeeeeeee….eee."
The city could find my double-secret fermentation room
They'd shut us down before we even opened. [Editor's note: Probably not a good idea to include this one if you were hoping to keep it a secret]
Tasting all the new menu items
I love rolling out 41 new dishes, but there's not enough Fernet Branca and milk thistle in the world to aid in the digestion.
Hurry up and wait
Hurry and design the dining room! Wait for the paint. Hurry and design the tables! Wait for the chairs. Everything is on our timeline but needs are at an emergency level – with prolonged results.
Cigarette smoking
Sub-contractors, a.k.a. workers, are going to be the death of me. They flick cigarette butts and ashes all over your beautiful new restaurant.
"Friends and family"
Team Sawyer is blessed with so many of each, that it's impossible to have them in all in one night. So we do a week instead. It's a great problem to have.
Not being present for the kids
Opening a restaurant means neglecting the joys of parenting my two wonderful kids, Catcher and Louisiana. I'm missing out on cheer competitions, soccer practices and dates with my wife.
Neglecting the other restaurants
We know what works best at The Greenhouse Tavern, we know what works at Noodlecat and we know what we like at Sawyer's Street Frites. The hard part is making sure there are no derivatives of these at the new restaurant.
The temptation to open everything at the same time
It's tempting, but we won't do it. We're only going to offer dinner at first to learn how to serve our dining room properly.
Burying the dead
Part of opening this restaurant is saying goodbye to the one that we're replacing [edit: in this case from the late Cleveland chef Sergio Abramo]. It's hard to gather up the previous restaurants' awards, belongings and personal effects.
More things chefs hate on Food Republic: