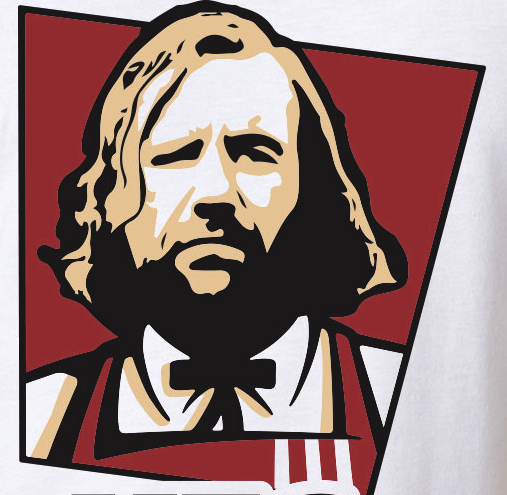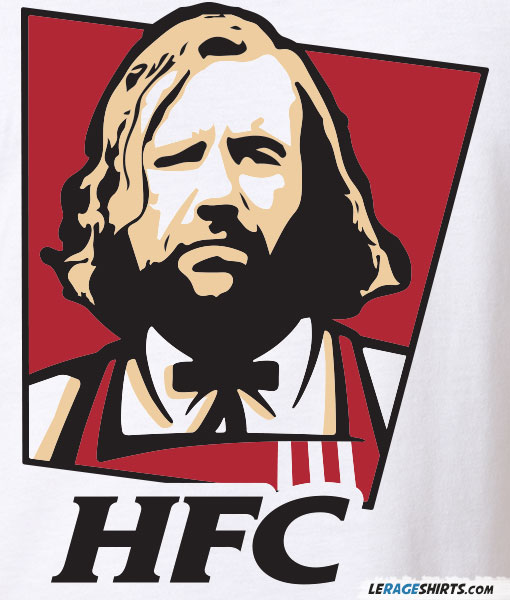 If you yell at me about a spoiler, I'm going to aggressively question your loyalty to House Food Republic. My good friend musician/artist Rocom designed this logo…well, seconds after the Game Of Thrones premiere. That was as Hound a moment as you'll get without goring someone. And even though I knew what was going to happen this past Sunday night because, yes, I read the books, there's no more appropriate time to sport this tee.
In case you don't remember, The Hound used to be Joffrey's dog. Of late, he's his own beast, threatening to eat all your chicken. But it's cool — he's letting Arya kill pretty much anyone she wants (best babysitter, ever). Says Rocom of the design, "While watching the premiere, I thought they really focused on chicken in the final scene. So it came naturally to want to create 'Colonel Sandor' as a re-branded KFC logo."
Later that night, he created the logo and uploaded to Tumblr. It was immediately re-blogged and posted to other sites until it reached the front page of Reddit. "Then it was all over," he says. TV-themed apparel shop Le Rage quickly purchased the design and hired him to produce another. Wouldn't you?
Get yours — lord and ladies' sizes — at Le Rage Shirts for $20, and keep an eye out for a new design inspired by Sunday night's episode. Rocom wouldn't say much, except, predictably, "Fuck the king."
More Game of Thrones on Food Republic: