Chefs John Currence And Brandon Carter Bring Music To Your Mouth To Austin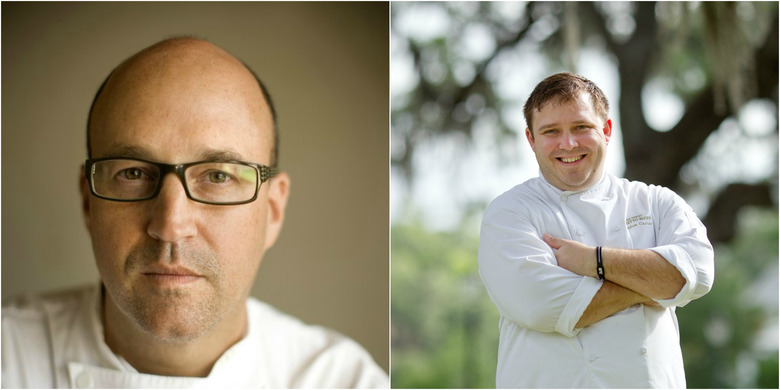 Music To Your Mouth has been one of the food and drink world's best-kept secrets for the past seven years, with the festival held exclusively on the grounds of Palmetto Bluff, South Carolina. Last year's celebrations included guest chefs showcasing lowcountry cuisine, intimate music performances and a boat cruise with Allan Benton, Julian Van Winkle and, predictably, some of the best pork and bourbon to ever be served at sea.
The event won't remain a well-kept secret for much longer. Looking to expand its footprint in the run-up to the eighth annual festival, Music To Your Mouth is hosting one-off events in three other cities, starting with a dinner in Austin, Texas on Thursday, April 24 (you can purchase tickets here). Kristian Bush of Grammy-winning band Sugarland will perform an acoustic set, and cooking will be none other than John Currence, the Mississippi-based chef who took home the James Beard Award for Best Chef: South, in 2009. In addition to running his flagship Oxford restaurant City Grocery since 1992, Currence has opened another six venues. We caught up with him to talk about music in the kitchen, the direction of Southern cooking and Ashley Christensen's mac and cheese. Mmmm. And below, Palmetto Bluff executive chef Brandon Carter schools us on classic lowcountry dish he'll be serving alongside Currence at MTYM Austin.
John Currence
Why are you doing this event?
My decision to do it is based entirely on how much respect I have for the event that they put on in Palmetto Bluff. So many events these days are – whether it's intentionally or unintentionally – targeted at taking advantage of chefs' talent. These guys are respectful of our time and of the material and approach the food subjects and musicians with reverence, as opposed to having a tequila-shooting shit show for the sake of satisfying sponsors.
What is the festival about?
The event is about food, it's about the history of that food and it's about music. It's about how food and music are related to each other, and what that relationship means.
Does music play a big role for you personally in your kitchen?
Yeah, it does. I started getting into food as a musician. The appeal of music and the appeal of food are somewhat symbiotic, in that they provide the person that's making either one of them with the same sense of immediate gratification.
You play a song as a musician and you immediately gauge what someone's response is. The same thing goes for food. They're both things that are created as a result of love: as a result of storytelling and sharing, and of experience with listener or eater. These things speak to me in a very similar way.
What music do you listen to when you're cooking in the restaurant?
Right now, I'm listening to Rosanne Cash's new record, which is absolutely brilliant. You're talking about a record that is exploring our area of the country, and making sense of the South. When it's busy and things get hectic, you'll hear the loud, fast, fun, like Guns N' Roses. We've also ensured in our old age that you'll regularly hear NPR in our kitchen.
What about at home?
I have a one-year-old, so there's a lot of Disney music going on. Every once in a while we'll sidestep into classical music for the baby, and we're just starting to listen to traditional Irish folk music. On Sundays, I find myself regularly tuning in to a gospel choir. We play real classic gospel in the dining room for brunch at City Grocery.
Changing gears a little bit here. What's new and exciting right now in Southern cooking?
There's a continued exploration of vegetables, with an emphasis on vegetables that are unique to specific areas. I like the fact that I'm the big mouth out there that says, "Would everybody quit talking about pork?" Southern food's not all about pork. I started barking about that around four or five years ago. It's been a very natural path, which lends to the Gulf of Mexico, the Eastern seaboard and what's available from the ocean. Seafood is very important to food in the South.
Would you say this is the "lighter side of food"?
Yes, it's the exploration of the lighter side of food, and how we can achieve the same sense of satisfaction as what we grew up with. It was built for an agrarian population and we need to give it the sensibility that it needs to feed a more sedentary population.
Can you give an example of that?
One of the things that I really want to do is to look at veal Parmesan, which I love. I want to look at ways that we can achieve the same sort of unctuousness and satisfaction that you'd get from that and a big pile of red sauce and cheese. We started playing around with breading the veal with breadcrumbs, Parmesan and egg white and baking it. All of a sudden you come up with a piece of veal that has a fraction of the calories, but a fat content that delivers the same kind of punch, richness and texture.
Do you find it has the same amount of satisfaction to the customers?
Yeah, I think so. People are looking to eat more healthfully when they go out, but they don't want to be lectured about it. So anytime that you put a heart sign down next to a menu item, you're saying, "Here's something that's good for you." It's an attack that fails. The idea here is we're giving them that option.
Do any chefs come to mind that are doing this especially well?
Steven Satterfield and Ashley Christensen are quite insightful at delivering that.
Well, I'd never say no to Ashley Christensen's mac and cheese. Regardless of what kind of heart symbol was next to that on the menu.
[laughs]
---
Brandon Carter
Carter took over as exec chef at Palmetto Bluff a little more than three years ago, and quickly adapted to his lowcountry surroundings. He's an avid fan of May River oysters and has developed relationships with fishermen throughout the South to bring fresh catches to the tables around the stately South Carolina property's restaurants. Unfortunately, those oysters are out of season when he heads to Austin for the first Music To Your Mouth to be held outside Palmetto Bluff, but he has something else intriguing planned, as he tells us here.
What will you be cooking in Austin?
We'll be doing a taste of lowcountry. We're gonna produce a Frogmore stew, which is as lowcountry as it gets.
What is Frogmore stew?
You may have heard it referred to as a lowcountry boil. It's a dish that was developed near Beaufort in a town that's no longer there called Frogmore. It's a boil with blue crab, clams, shrimp, potatoes and corn. It's gonna be special.
When you get back to Palmetto Bluff, it'll finally be time for some great seasonal ingredients. What are you looking forward to cooking?
I love boiled peanuts. And okra. I feel like okra is this misunderstood vegetable because people are like it's too slimy. And it can be. It'll get slimy if you don't treat it properly. We started grilling it. We'll drizzle a little olive oil and sea salt on it and grill it real quick and it's delicious.
---
More about Austin on Food Republic: