Austin Hunter And Butcher Jesse Griffiths Transitions From The Field To The Café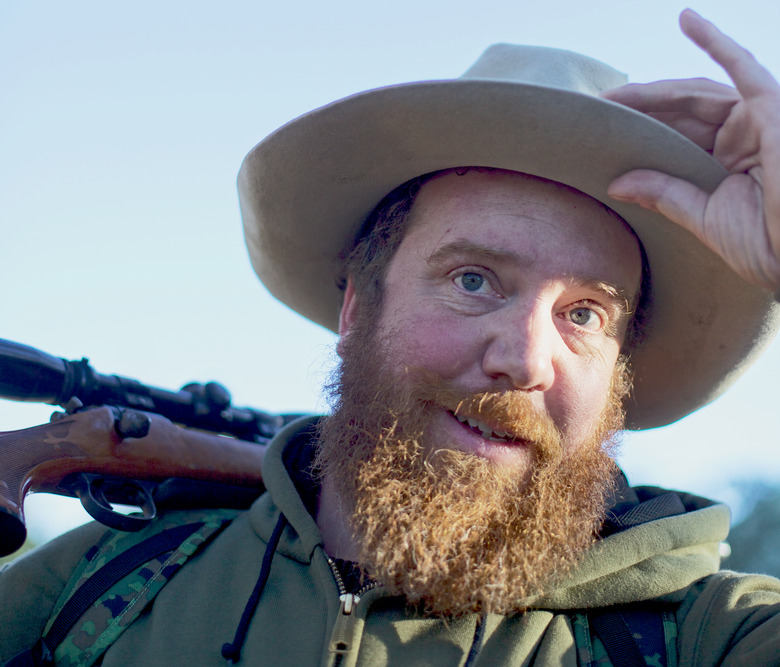 We may receive a commission on purchases made from links.
While many modern chefs utilize local sourcing and farmers' market goods, Jesse Griffiths has made them the focal point of his career. Griffiths is a Texas butcher, chef, hunter, educator and author, but all aspects of his trade focus on sustainability. His cookbook Afield, which features a contribution from Andrew Zimmern, teaches readers how to use the local products around them while reducing food waste. The same is true of his intense, by-application-only deer/hog-hunting and fly fishing schools, which help outdoorsmen (and women) better understand how to skin, butcher and cook their bounty.
After years of cooking at the farmers market and supper clubs, Griffiths will debut a brick-and-mortar of his Dai Due Butcher Shop in East Austin this summer. We spoke with Griffiths to learn more about the upcoming restaurant, his points of inspiration and why exactly it's better to buy meat at your farmers' market.
Working on farms and traveling in Europe were points of inspiration for you. What were some of the lessons you learned?
I learned that global food culture is mostly reflected by what people have available to them locally, and they don't feel restricted by that. With any great food culture, they're just using what they've got and that ingredient restriction really defines their food. In Austin in the late 1990s, you could get anything you wanted. At the time, Austin was an immature food town. We thought that you should be able to get every ingredient. Europe had less ego-driven food and people were more interested in treating their ingredients with simple respect.
You do a very immersive hunting, butchering and cooking school a couple of times a year. What inspired this program?
We get people from all over the spectrum, and while it is expensive, we offer scholarships and internships. As an intern, you work! You don't get to hunt, but you do skinning, cutting, butchering and cooking. Scholarship students get the entire package for a reduced rate, because we want to make it more widely available. They travel from all over the U.S., and we've had people in from Russia and Italy. The students are typically more interested in the preparation, cooking and butchering than the hunting. The experienced hunters have their own opportunities back home. They come to learn how to break animals down and utilize them better. No one else out there does these classes.
We also have new hunters who are fascinated by the process and we try to explain how to find places to hunt, buy reliable equipment and make it work on their budget. We've had line cooks, people who are obviously wealthy, and everything in between. Lots of people that have young families do this as an optimal way to feed their families in an honest, careful way. They see it as a great way to put food on the table. Those are people that we really strive to get into the class.
How do thoughtful consumers find a butcher or farmer they can develop a relationship with? What would you suggest someone look for?
They should be able to tell you about the animals — the most important part is the life of the animal, not the death. If you walk into Bud's Grocery Store, they're going to have no idea. They'll say it came from somewhere in Iowa. How are they even going to know? I would go to butcher shops that treat you with a level of personalization.
At our farmers' market, some people seem comfortable buying produce but are hesitant to buy meat or eggs. Why do you think that is?
I once had a client who was throwing a dinner party and asked, "You actually buy meat at the farmer's market?" I was just astounded, and replied, "You shouldn't buy meat at a grocery store!" We both had our prejudices and misconceptions. Some people think farmers pull up with trucks full of cows killed the day before in their barn. They think it's un-inspected meat — that is absolutely not the case! You are getting extremely high-quality meat that has been been cared for and didn't go through a middle man. This person raised the animal and can tell you everything about them. A few years back we saw more of that fear, but people are more comfortable now. I think they realize that there's nothing that's not transparent.
You've written a book (Afield) about cooking game and fish. Do you have any other favorite cookbooks on butchery or cooking proteins?
One of my favorites is The River Cottage Meat Book by Hugh Fearnley-Whittingstall. That book changed everything for me. It's well-written, thoughtful and huge. It's British, so it isn't entirely contextual to this country, but his thoughts and ideas are applicable globally. It not only discusses different types of butchery, but it talks about the morality of eating meat.
You guys love to create and offer homemade condiments. Any pointers for pairing the right condiments with your meat?
Condiments lend themselves well to meats. When you're dealing with sausage and things that are inherently fatty, you want to something that is going to compliment that and offer some balance. The sharp, acidic and sometimes sweet flavors of condiments marry so well with what we sell. When you buy from us, you can buy the whole meal. Buy sauerkraut and a fatty sausage! Those go together. They also make things more digestible and are good from a nutritional standpoint. Mustards, pickles and fermented vegetables are all good choices with fatty meats.
Dai Due is moving from a supper club and farmer's market model to a brick-and-mortar shop. What will stay the same, and what will change?
Stylistically, nothing will change. Our commitment to local products stays. With our change in size and buying power, the efficiency of having a roof over our heads will actually make it easier to bring in local products. We'll go from our current 98%-local sourcing to 100%, hopefully. Our dry goods will be local. Our grains are being milled in Waco. You're going to see the same type of food, comforting dishes prepared with better ingredients, usually cooked over wood. We'll have a full butcher counter with sausages, chicken and steaks. We're offering all three meals. And we won't have to deal with weather, which will make things more comfortable. It's exciting! We could not have done this earlier, because there wasn't enough local food available in such mass quantities. Now that the market has caught to the demand, things are coming together at the perfect time.
More Butchery & Charcuterie on Food Republic: