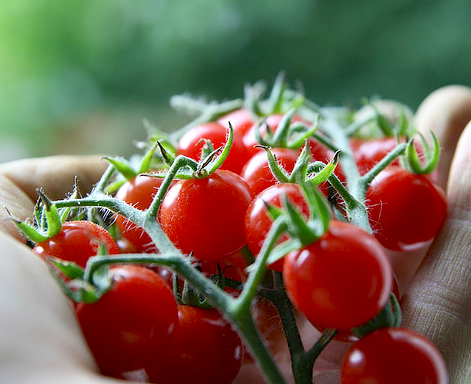 Last night, a friend told me something his grandfather used to say, a borrowed lyric from a song by country music singer Guy Clark. "There are only two things that money can't buy/And that's true love and homegrown tomatoes." Last year, everyone called me out when I went trigger-happy on the totally non-existant tomatoes on the last day of May. We're not even in May yet. We're not even a full week into April yet. I shouldn't be thinking about tomatoes, period. But I am, so I guess I'm shit out of luck.
Okay, so all of April, all of May, some of June and then tomatoes. I've been on a fresh mozzarella rampage lately and am already making pairings in my head. Stripey green heirlooms with bufala and shiso leaves. First cherry tomatoes of the season with stracciatella on toast. I need more cheese emojis. Just got super-into microbasil. Just learned about busara-style pasta. I have some tomatoes "aging" on my windowsill, even though I know they're just going to stay mealy and get mushier, not sweeter and certainly nothing along the lines of tender, fragrant, juicy and eager to get down.
Here's the actual thing: I get incredibly antsy the first week of April, jumping all kinds of guns and putting all cold weather clothing into storage as though people are not still wearing puffy winter coats. I shun my braiser to the back of a cabinet and say ridiculous things like, "So guys, Hamptons share, let's jump on it, they're going to be gone in like, a day." Which vegetables calm you down!? Actually I've heard celery can calm you down. But I'm not going to eat that, it's almost lunchtime. And as the pickins are slim, allow me to offer the following suggestions to tide us or me over until the glorious day arri…nah, there's not even a light at the end of the tunnel. And I wish I was wearing pants and a sweater and not a skirt with no tights. That was a dumb move. These are not, as cooking tomatoes helps bring out whatever sweetness they decide to grace us with.
Silver lining: I expect pea shoots back in my life shortly.
More seasonal eats for lunch on Food Republic: