Here Comes Letherbee, Chicago's 'Anti-Craft' Punk Rock Distillery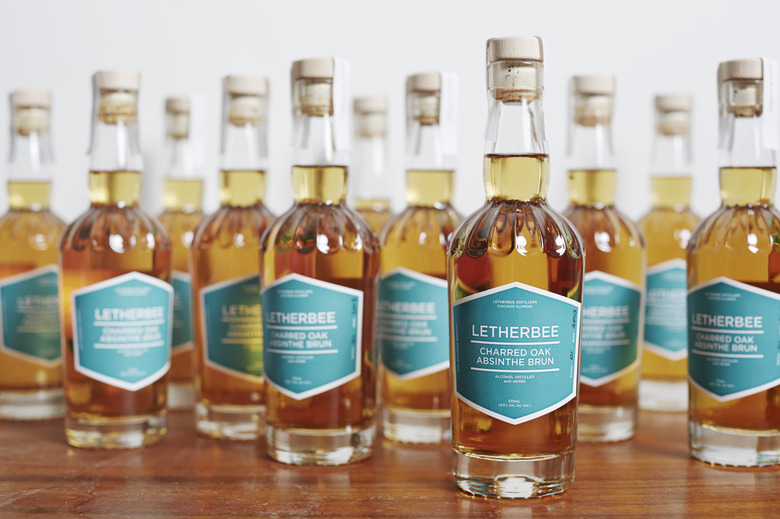 Welcome to What's Your Story?, our feature about innovative entrepreneurs in the food industry. Find out what goes into the making of a new and innovative food brand, how the product is made, who designs the packaging. All these questions, answered..
Brenton Engel can easily recall the moment when he realized he could distill gin for a living. "It was the best feeling I've ever had," he says. The Chicago native started out making moonshine at home, went on to bartending all around Chicago, then finally took the plunge and started his own distillery in 2012. In a few short years, Letherbee has grown to produce Original Label Gin, R. Franklin's Bësk Liqueur, Barrel-Aged Absinthe and Seasonal Gins (Vernal/Autumnal). But as many of his craft-y peers have discovered, the evident growth comes with a fair amount of pain. Here, Engel reveals the Letherbee story, from struggles in the competitive distilling business to his proudest moments as the man behind one of craft spirits' most exciting young brands.
What were you doing before launching the company? Did you have previous experience in the industry?
First, I started by making moonshine. Then, I started bartending in the Chicago area. The moonshine gained a level of popularity inside a few of Chicago's industry circles and it appeared that I had a knack for making drinkable hooch.
Why distilling? 
When you approach it from a D.I.Y. perspective, distilling is an exciting combination of art, engineering, design and science. There are a thousand things happening at all times and keeping things in order and consistent is an enticing challenge.
So I assume gin is your favorite spirit then?
I really took a liking to gin soon after I started bartending. Its nuance and versatility for cocktails always impresses me and I felt there was a niche in the American craft gin world that I wanted to fill.
What makes gin unique? 
By definition, the predominant flavor of juniper berry. Gin's history is radical and has roots in medicine. It's been called "Dutch Courage" and "Mother's Ruin." The gin craze of England in the 1700s makes for some interesting reading.
What is your best-selling product? 
Letherbee Original Label Gin.
Do you think you could make more money producing bourbon?  
I don't make bourbon, so I can't tell you which spirit is more profitable to produce. I would assume it all depends on production methods, styles, etc. But, I can tell you that, right now, I don't make much money. Maintaining prices that are attractive to cocktail bars is a huge priority and I'm willing to make a smaller margin to do so. It's very funny that as soon as people see you in the news or in a magazine, they automatically think that you're rich. I now have to tell people, "It's easier to make news than money." Truth is, I made more money bartending than I do now.
Still, do you think bourbon is in Letherbee's future?
I love bourbon, but the bourbon world seems very difficult for a small producer. It's become very hyped up and crowded, and many folks are offering whiskey that most of my bartender friends and I consider overpriced and produced in a hurry. There's also a systemic issue of brands that simply buy bulk whiskey and put it in their own bottle. Then, there's the grandiose story-telling on the label; that shit is out of hand. You know, there's absolutely no regulation against a producer telling any story they want on the back of their bottle. When it comes to marketing in the spirits industry (especially American whiskey), half the truth is often a great lie. And great lies are already commonplace in the booze world.
What has been your proudest moment? 
Every time a great cocktail bar or bartender uses Letherbee in their program. It's the most flattering thing when the people, who are a big influence on me, enjoy using what I make. Also, seeing our Barrel-Aged Absinthe on the cocktail menu at Maison Premiere in Brooklyn was a bit of a dream-come-true. Oh, and many of my friends congratulated me when I got a cease-and-desist letter addressed to Letherbee.
Cease-and-desist? I'm curious! Tell me more...
Basically, a company that shall remain anonymous, thinks it deserves exclusive rights to a word that is an ingredient. Can you imagine someone trying to trademark a word like absinthe? Seems ridiculous, right? Well, this company basically threatened to sue us until we went bankrupt if we continued doing what we were doing. So, we decided it was in the best interest of Letherbee to use a different word. Perhaps a far better word.
What advice would you give a food/drink-centric small business? Someone aspiring to be a distiller? 
Honesty and value are the most important things that can translate to your customers.  People are ever more curious, passionate and informed about what they are consuming. Don't take advantage of their enthusiasm to try to make a quick dollar. You want people who will be customers for life.
What are some of your long term goals with the company? Do you plan to branch into other spirits? 
I would be hiding something if I didn't tell you I hope Letherbee becomes Chicago's gin. I'd love to see it at every cocktail bar in the city. Overall, I hope to make classic products that aren't subject to the whims of trends but will always be appreciated. We plan on soon releasing a fernet that will become a permanent fixture of our portfolio. I'm also interested in aquavit and all things botanical and bitter. If I could find the means, I would move back to the cornfields of Central Illinois and start a whiskey distillery.
How did you develop the company's brand identity? 
I'm still not too sure how to describe Letherbee's identity. Sometimes I'm tempted to label us as "anti-craft" but that's just the punk rocker inside of me. I hope to be considered "honest and a good value." I think our simple-while-handsome label aesthetic lends itself to this type of identity...
Do you do the branding yourself? If not, who does it? 
All the graphic design is headed by my friend at Stuggle Inc.
What does your label/packaging mean? 
In an effort to celebrate the craft distillery movement, I wanted to name the business Let There Be! Distillers — which on the back of our bottles you see is our official business name. For the branding, I liked something with three syllables. It just rolls of the tongue — "blah blah blah gin." I also liked the idea of using a name that reminded me of the old-timers that taught me about making booze. A friend of mine suggested to combine the words Let There Be into one name — Letherbee. It fit the bill perfectly.
Can you give us a quick recipe for one of your favorite gin cocktails? 
Gin & Tonic. Mix gin with tonic to taste. Garnish with a lime wedge. Feel free to add bitters and/or supplement with soda water if you find yourself using unfavorable tonic. Hell, throw in a splash of our Bësk Liqueur and call it a "Letherdaddy."
[ Read about more food and drink entrepreneurs in What's Your Story? ]