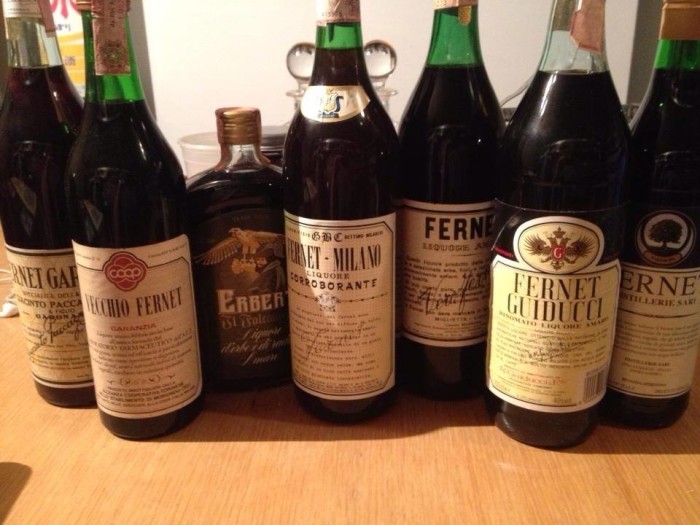 While we gear up for New Year's Eve, arguably the year's biggest drinking holiday, let us reflect on the year in drinking. There were new bars, and old favorites — along with innovative products, terrible products and bartenders making it all look easy (or too complicated in some instances). Here, Food Republic writers and editors list the good, the bad and the boozy. Read more of 2013 in review: Top 25 Vegetarian Recipes, Top Travel Destinations For The Food Alone, Top 15 Quotes Of The Year
Gabi Porter | Writer and photographer
Favorite new bar: I have one entry for outside-of-New-York and one for New York. The Multnomah Whiskey Library in Portland, OR is just a magnificent space, excellent cocktails in a city full of excellent cocktails and cocktail carts! And in New York, Burning Waters Cantina which isn't even really officially open yet. See if you can find it: it's a subterranean space on MacDougal across from Minetta Tavern and Artichoke Pizza. They are Latin spirits–focused and the cocktails are outstanding.
Favorite new product discovery (old or new): It's a three-way tie for me between Carpano Bianco, which is the most delicious vermouth I've ever tasted; Sorel, a sophisticated liqueur from Brooklyn made from hibiscus, clove, ginger and all kinds of holiday flavors; and Solbeso, which is a South American spirit distilled from cacao fruit and which makes the most interesting variation on a Manhattan I've had this year.
Best trend of 2013: Ever-expanding "Cocktail Weeks" in other cities, like the bigger and better Portland Cocktail Week and Thirst in Boston. For cocktail enthusiasts/tourists, it's a great chance to visit other cities and experience drinking and eating with lots of like-minded people.
Worst trend of 2013: Beef jerky Bloody Marys and meat straws. Yes, I actually had a drink served to me with a stick of meat with a hole through it.
Describe your hangover of the year: Waking up still drunk the next day, and still tipsy two days later. Honestly, can't remember how it happened and where it happened. It was probably something to do with Macao Trading Co. If you go downstairs there the night will not end pretty.
What will you be drinking on New Year's Eve? Probably a lot of Fernet Branca straight out of the bottle, poured right down my throat.
What do you hope will happen in the cocktail scene in 2014? I hope more people play with slushie machines. There is nothing more fun than a proper cocktail in frozen form. And more tequila and mezcal in everything.
---
Chantal Martineau | Writer
Favorite new bar: Attaboy. I loved the old Milk & Honey, but Mickey McIlroy and Sam Ross have really made the place feel brighter (as much as can be for a dim-lit bar) and warmer. And the drinks are as bang-on as ever.
Favorite new product discovery (old or new): Atsby vermouth. We needed a great craft vermouth to go with all the micro-distilled whiskey coming out of New York. Now I can have a totally local Manhattan.
Best trend of 2013: More good mezcal and regional Mexican spirits (raicilla, bacanora, sotol) available.
Worst trend of 2013: Foraged cocktail ingredients. And just increasingly complicated culinary and gourmet cocktails in general. Too often, these end up being enjoyable only on a conceptual level. Besides, you shouldn't need to have staged at Noma to make a decent drink.
Describe your hangover of the year: I really believe you can drink a lot of good mezcal without getting a hangover. I've tested the theory. Exception to the rule: when you have to spend the next morning zig-zagging up steep mountain in the Sierra Madre in a small, stuffy car. I'm already prone to carsickness.
What will you be drinking on New Year's Eve? Probably not much, said the sad pregnant lady.
What do you hope will happen in the cocktail scene in 2014? Fewer gimmicks. More great, grown-up establishments that do great cocktails with amazing bar snacks.
---
George Embiricos | Assistant Contributing Editor
Favorite new bar: NYC's The Dead Rabbit doesn't need any introduction, having taken home multiple awards at this year's Tales of the Cocktail. I've managed to work my way through about half of the 72 historically accurate cocktails (in around 5-6 visits, naturally). Having the entire superb bar of Pouring Ribbons – which technically opened in late 2012 – to myself and my lovely date on a cold Monday night in January topped my list of most enjoyable drinking experiences this year.
Favorite new product discovery (old or new): From a drink point of view, I made the mistake of discovering the wonder of the Hurricane this year in New Orleans. In terms of products, maple syrup-smoked whiskies definitely made their mark. Knob Creek makes an exceptionally good – and affordable – one.
Best trend of 2013:
 I noticed the appearance of more beer pairing menus this year. The one at Brooklyn newcomer Luksus is especially worth mentioning – definitely the highlight of the meal.
Worst trend of 2013: The emergence of "hybrid spirits." It's either rum or Kahlua. Cognac or vodka. On the topic of vodka flavors – PB&J? Smoked salmon? Popcorn? Make. It. Stop.
Describe your hangover of the year:
 As a result of my embarrassing fondness for sugary drinks (see above: New Orleans, Hurricanes in), a steadfast refusal to properly hydrate while/after imbibing and a rapidly deteriorating physical physique, my regular two to three-day hangovers are equal parts legendary and deathly. I'm currently on the mend from Thanksgiving.
What will you be drinking on New Year's Eve? My friend and I have a tradition – started out of nowhere – to purchase and drink from random bottles of liquor on New Year's Eve. Past year's selections have included unfiltered sake, blueberry moonshine and bacon vodka. We are trying to officially cross the fine line of weirdness and get our hands on a bottle of Yogurito or Snake Bile Wine. Bizarre? Yes. Fun? So much.
What do you hope will happen in the cocktail scene in 2014? It's unabashedly biased, but I'd love for the ongoing cocktail renaissance to continue in New York City. The opening of world-renowned hotel bars (The NoMad), pre-Prohibition joints (The Dead Rabbit) and many quality speakeasies mere blocks from one another has spoiled us New Yorkers. Keep it coming, please!
---
Matt Rodbard | Contributing Editor
Favorite new bar: Long Island Restaurant Bar and Whiskey Soda Lounge are my new favorite locals. Had a drink last week at Golden Cadillac and, despite my serious skepticism towards the ironic/porno mustache '70s theme, I had some very nice drinks. In Chicago, Alex Bachman is proselytizing the pleasures of vintage Fernet at Billy Sunday. The cocktail world needs more Alex Bachmans. In Seoul, the dudes at Southside Parlor are introducing the city to the Aviation and small-batch Kentucky brown. A noble cause.
Favorite new product discovery (old or new): Irish whiskey. The guys at Dead Rabbit have made me think twice about ordering the brown stuff from Kentucky or Scotland.
Best trend of 2013: Vintage spirits, shrubs and rhum agricole.
Worst trend of 2013: White whiskey (moonshine, easy money) is still marketed with the word "premium" attached. Please go away.
Describe your hangover of the year: Involved soju, gin, dubstep at a Korean nightclub. Even budae jjigae could not aid.
What will you be drinking on New Year's Eve? I've made pisco punch the last few years and will continue. Our party has a few pregnant folks, so I might try to make a virgin batch. I'll look for bottles of funky dry whites from Hungary. Richard Martin is on the natural white beat, so I will look to him for advice.
What do you hope will happen in the cocktail scene in 2014?
Every year I wish for more simplicity. Get rid of these split-base drinks and esoteric tinctures that only add confusion, not flavor.
---
Richard Martin | Editorial Director
Favorite new bar: My best cocktails were had at Betony in NYC and Billy Sunday in Chicago. I plan on spending some early 2014 evenings at Whiskey Soda Lounge in Brooklyn. My favorite new bar that isn't so new anymore is Dead Rabbit in NYC, which is out of the way even if you live in Manhattan, and yet the most highly recommended place for any serious cocktail aficionado.
Favorite new product discovery (old or new): The Hudson Standard Shrubs from Hudson, NY, and Lady Jayne's Alchemy bitters, also from Hudson, NY. I also enjoyed trying out many of the upstart New York spirits brands at this year's Manhattan Cocktail Classic, including Bootlegger Vodka, Brooklyn Gin and Atsby Vermouth.
Best trends of 2013: Return of old-school drinks like milk punches and tonics. I also enjoyed the mainstreaming of the Negroni, which made it possible to order them like anywhere. And the continued evolution and popularity of mezcal and tequila is exciting. While vacationing in Playa del Carmen, I officially made the switch from tequila to the Mezcalita, which adds a smoke blast to the sweet cocktail. I also lovedlovedloved the proliferation of small-batch bourbons on liquor store shelves, and I keep going back to Willet Kentucky Straight Pot Still Reserve since I bought my first bottle this year.
Worst trend of 2013: When it was like 100 degrees every day, I jumped on the frozen drinks bandwagon; heck, we even devoted a week to slushy cocktails. In hindsight, some of these drinks look really gimmicky. I don't think I want my Negroni to crossbreed with a Frappuccino in 2014.
What will you be drinking on New Year's Eve? Probably grower Champagne and whatever gin cocktails my buddy who grew up near Plymouth, England is mixing up (only with Plymouth gin, naturally).
What do you hope will happen in the cocktail scene in 2014? I'd like to see the artisanal spirits movement live up to its potential. I feel like small-batch and new distillers are getting a pass because they're independent upstarts; now it's time for the quality to ramp up.