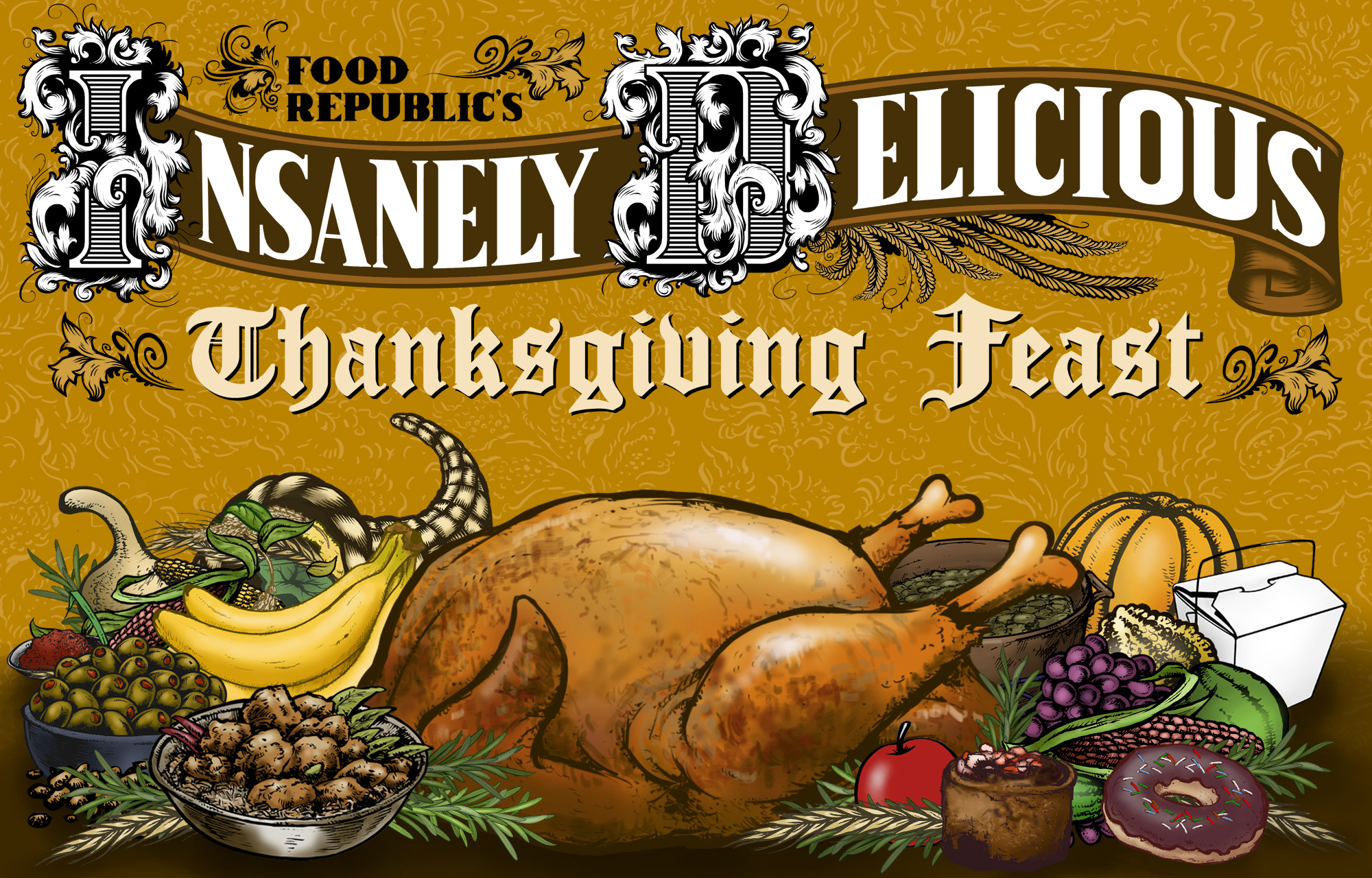 Would you believe it we told you that our test kitchen smells likes Thanksgiving for much of the year? You should. Here at Food Republic we spend A LOT of time bringing you the ins and outs of home cooking through recipes, how-tos and the occasional pro tips. Thus, when tackling America's most treasured day for home cooking, we've dedicated a lot of time and resources over our three years on Internet earth. With that in mind we thought it would be nice to bring it all together in one guide, broken into categories like appetizers, soups and the all-important turkey. Enjoy, and please don't burn the pie. 
SOUPS AND STARTERS
Everybody is eager to get to the main course. Are we wrong? You thought about turkey on the long journey to your house, stuffing while shopping for wine shop and pumpkin pie while pulling into the driveway. But we're not quite there yet. You shouldn't just dive into your Thanksgiving feast like a barbarian. Start it off in a civilized and delicious manner with any of our excellent soup or starter courses. We've included a generous handful of each below, and don't worry, they're every bit as photogenic as they look for  those Instagiving junkies.
SOUPS
STARTERS
TURKEY
If you're readying to cook a Thanksgiving, you're likely in one of three schools of thought: 1. I can do this, I've been following Food Republic's practice Thanksgiving guides. 2. I might be able to do this, how hard could it be? 3. I'm f*cking freaking out right now, guys. How long does it take a turkey to thaw? For those of you in the third school of thought, please remove your birds from your freezers six hours ago and place them in an appropriate thawing environment. Turkey is the centerpiece of the meal and for those in need of a little inspiration, review these recipes and thank us later.
The good thing about vegetables during the Thanksgiving meal is that if you mess one up, aborting the mission isn't that big of a deal. The beans are bland? Who cares. Either nobody will remember or you can just skip it. There is plenty of food to go around. The scorched pumpkin pie on the other hand? You usually buy enough canned pumpkin for one shot. So, don't fuck this up, Mitchell! But we're not here to talk about making mistakes. We're talking about owning your vegetable side dish's destiny with these proven recipes — some have been on the site for years and are considered "fan favorites."
SIDES AND SAUCES
At Thanksgiving, sides usually fall into the categories of potato-related and not-potato-related. And of course there is the whole concept of stuffing (or is it called dressing?) But we've gone potato heavy with this assortment of recipes. And we've also included a few cranberry sauces that push things beyond that awesomely jiggly can-shaped mold.
DRINKS
Okay, the name of the game is to make sure your guests get to the dinner table in one piece. As in, don't get them hammered before the soup course. With this mind, here are some suggestions for easy sipping — and maybe a couple harder ones thrown in there. "The Thanksgiving Day meal is an amalgamation of many different plates from many different sub-cultures in America," says Daniel Beedle, wine director at Betony in New York, who gives us 10 tips for drinking still and sparkling wines. And then there are the cocktails. If you're tending bar, take is easy on your friends. At least until the pie arrives.
DESSERT
Sweet potato and pumpkin pies sort of rule the universe, but when it comes to Thanksgiving dessert, we're found plenty of crafty, gourd and tuber-free alternative. We realize that after spearheading an entire Thanksgiving feast, the last thing you want to do is make. But some of these pies and tarts are so easy, you could make them in a tryptophan daze.