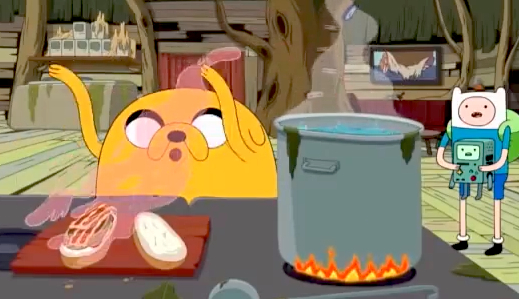 I crazy-love Adventure Time, quite possibly the greatest cartoon ever made. Pendleton Ward, I'm 1000% behind being buddies with you. And yesterday, the show received its 10 millionth Facebook like (and this subsequent congratulatory doodle from creator/writer Ward himself). Ten million. That's more likes than Martha Stewart, Jesus, In-N-Out Burger and Boo the Cutest Dog In The World. But not more than Miley Cyrus. Quick bit of Facebook research there.
Anyhoozle, I've been watching Adventure Time in somewhat of a religious manner for years and rewatched one of my favorite episodes last night: Time Sandwich. First, a sandwich prayer: "I am ready to receive instruction from the realm of creation above me, of the sandwich I am about to conceive. I am open. Use me."
Second, Jake's sandwich:
Note the care he takes in sharpening his knife, maintaining a steady 135 degrees in his hacked homemade sous-vide machine and the masterful combination of cream cheese, pickles, dill, boiled eggs, bird from the window, cucumber, Roma tomato, organic sweet yellow onions, tears for salt (questionable), sous-vide herbed meat, bacon and yes, the soul of a recently deceased lobster. Then Magic Man busts in and fucks shit up. Basically just watch the episode, it's the greatest episode of sandwich-themed cartoonery of all time.
And make that sandwich. Email me for the secret to extracting lobster soul, cause they kind of glossed over it in the episode.
More pop culture lunch on Food Republic: