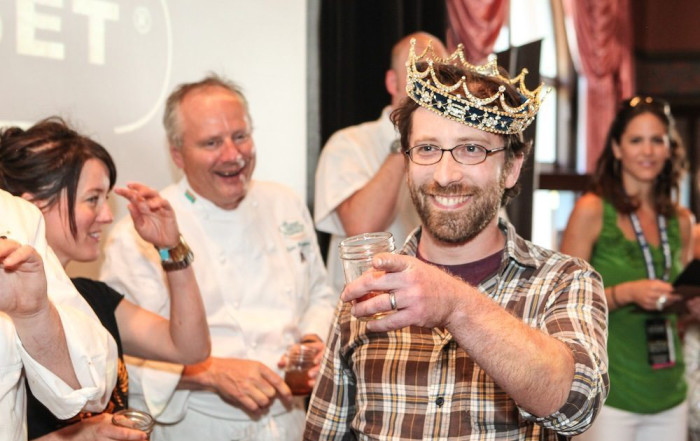 Life is filled with wonderful things and terrible things. During interviews, however, we pretty much only get to hear about the wonderful things. Ten Things I Hate is a chance for people in the food world to get things off their chest. We ask them what they hate, they give us a list. Next up: Jason Vincent.
Every year seems to get better for Jason Vincent of Chicago's Nightwood. In 2013, he was named one of Food & Wine's Best New Chefs. The year before, he was dubbed "Prince of Porc" at the Grand Cochon event after winning the Chicago Cochon edition a few months earlier. The hits keep coming, but that doesn't mean life is rosy for the Cleveland-born chef. In fact, based on the number of "fuck yous" in his edition of 10 Things I Hate, it's safe to say that he's got some underlying anger issues that may need to be addressed. Some would suggest a therapist, but he's probably better off taking out his aggression on a freshly slaughtered Berkshire pig. Here's what Mr. Vincent can't stand:
The Big Guys in the Industry
Stages don't show up, culinary schools aren't teaching kids dick, cooks have a hard time comprehending what "delicious" means. No amount of "open letters" are going to fix that. Any kid that ends up reading and accepting any sort of widespread advice that's gone through your PR machine probably isn't the kid that it was intended for. The ones you're trying to reach are the ones whose resumes you've never looked at; the ones who have never met the guy whose name is on the door. I'm not pretending to understand what it's like to be the figurehead with 20 restaurants and 1,000 employees, but I do know that the immediate effect of rolling up your fucking sleeves and getting dirty will be felt by everyone around you…you know, in your kitchen.
The Little Guys in the Industry
Give yourself a couple of years of perspective before you use the word "sellout." I remember talking about Melissa Kelly opening a version of Primo in Miami. I was the only non-business owner in the room and flippantly suggested that she was selling out. The room went silent. I look back at that moment and now understand that those opportunities may only present themselves once. It's always going to be a gamble, but if someone offers you a shitload of money to put your name on something (assuming that you have actually "earned" your name and made one that's actually worth a shit) and you say no just to avoid being called a sellout, well… then you're just fucking stupid.
Kimchi
It's what charcuterie was 10 years ago. Everyone likes eating it, so everyone is making it, and 90% of it is absolute garbage. Listen, develop your method before serving anything to anyone. Be overly critical of yourself (even if you're happy with something, which you should never be) or else someone else will be.
"Research Trips"
C'mon guys. Let's call them what they are: trips to New York or Paris or Copenhagen or wherever so you can steal design and food ideas and write off the expenses.
My Food
Under-thought, poorly executed, muddled, ugly, under-seasoned, too rich, inconsistent, repetitive, too simple, disorganized, over-garnished, too salty, overly sweet, forgettable, overthought, too acidic, technically unsound, trying too hard (actually, fuck you to anyone that doesn't "try too hard"), incomplete, unbalanced, overly complicated…and that's just when I'm making mac and cheese for my kid. I'm a mess.
The "Man's World" Kitchen Mentality
Fuck you! Can you sense a running theme? I would like to buy you a beer, prop you up on a stack of phonebooks front and center in our kitchen and let you watch the women throw the fuck down like you will never be able to. They work harder on a Monday than you do on New Year's. Then, maybe, you can run back to your swinging dick shithole and finally be able to cook yourself out of a Happy Meal. And good luck with the kimchi.
Restaurant Workers Who Use Yelp
You are the worst of the worst.
Chez Panisse Not Having a Michelin Star
You've got to be fucking kidding me. The last I heard, the reasoning was the "inconsistency." Fuck you. There is no point in arguing with the world's least transparent critical body, so I'll just say this: consistency is not a good measuring stick when the restaurant in question changes their menu every day. When it's all said and done, Chez Panisse (and Next) are still full every night and you guys are, really obviously, just trying to keep up appearances.
Stages
Specifically the ones who, when asked why they're leaving the place that they're working at, reply with a laundry list of complaints that, to me, sound, like a good description of being a cook.
Monsanto
Yeah, it's obvious, but you are killing the world after all.
Read more '10 Things I Hate' columns on Food Republic: