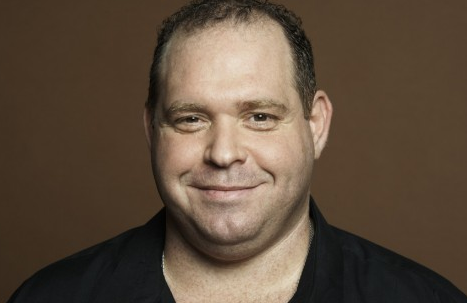 You probably recognize Louis Lombardi from his memorable roles on shows including 24, Entourage and The Sopranos (where he played Agent Skip Lipari). It turns out that the man's utmost passion is food and that he knows pretty much all there is to know about cooking for some of the biggest names in Hollywood. The Bronx-born actor just launched his own gourmet food line – called Lombardi's – featuring olive oils, pastas and sauces imported from Italy. We caught up with the loveable big guy to talk cooking at home, eating on set and the question on everyone's mind: Should Edgar Stiles and Chloe O'Brian have hooked up?
[Editor's Note: This interview took place before the tragic passing of The Sopranos star James Gandolfini. Related: A Food Tribute To The Sopranos]
How did the idea for Lombardi's originate?
I've had a passion for cooking since I was five years old. I was brought up in a household of all women and I would cook all the time. People don't sit around a dinner table with their families anymore. Now it's, "Here's McDonald's, here's a video game, now shut the fuck up because I worked all day." Kids have no social skills and are getting sick from all the shit they're eating. McDonald's now has cancer labels on their food, man. Take the kids' iPhones away from 6 to 8 every night, bring them into the kitchen and show them how to cook! Lombardi's wants to bring families back to the dinner table. You can make a healthy, Italian dinner in the same amount of time that it takes you to go to that drive-thru and get home.
What are your go-to dishes at home?
I'm a pizza nut and I make a hundred different kinds, from a breakfast pizza to a chicken francaise pizza to a grilled cheese and bacon pizza to a taco pizza. I'm writing a pizza cookbook. I'll also make Chinese food, sushi, Italian food – I can make something out of nothing. I may not be a chef, but I'm a passionate cooker.
What is different about your olive oil? Why is it so great?
We have a lot of different flavors and it's all made in Calabria. It's organic and it's made from great olives. Buy a bottle of my rosemary olive oil, put it on a chicken breast with some salt and pepper and stick it in the oven for 20 minutes. I promise you'll call me afterwards to tell me how great it came out!
What's your favorite restaurant in Los Angeles?
La Vecchia on Main Street has unbelievable Italian.
Did the cast members of 24 or The Sopranos ever get together and cook?
I created a comradery on 24. I put a table in the middle of the trailer and before you knew it, all the actors would be sitting around, eating and laughing. I loved that – The Sopranos was great, too, because they're all real dudes.
What is the food like on set?
You have a caterer and they do what they gotta do. Sometimes, they'll make you stuff if they like you – the caterer is your best friend! The guys on 24 used to always hook me up and make me special things, because that's the kind of vibe I create with food. I eat to enjoy. Give me a French fry and I'll dip it in five different sauces.
Your first film was about food, right?
Yes! It was Doughboys, which is about two brothers who own a bakery. Vinny Pastore was actually in it! Martin Scorsese said that you should do what you know best for your first project, and that's what I did. This food line is going to be the best thing that has ever happened to me – I know just as much about food, if not more, than about acting. We each gained about 20 pounds on the set of that film, by the way. Our wardrobes didn't fit by the end and people were cursing me.
So, you cook a lot for actors?
I used to cook for so many kids out here, some of whom became famous. Michael Rapaport was one of them. I'd go over to LeAnn Rimes's house and cook for her. She'd call me the next week: "Hey, do you want to come over and cook me some more chicken parm?"
Before I let you go, I have to ask: Should Edgar have gotten with Chloe on 24?
No! [laughs] I think that the brother-sister dynamic worked better. I think the fans would have liked it either way, but that it was best that they kept it like that. When I died on the show, it was like losing more of a family member for her.
That was the saddest moment in television history, in my humble opinion.
Aww, thank you. Well, I shouldn't be saying thank you because they killed me [laughs], but thank you because you liked it. It was great to work on that show – it has some of the best writing ever and the guys are just geniuses. My personality transformed into that character.
I read, though, that you think you most closely resemble your character on Entourage?
Yeah, I do! That's completely me. [Entourage creator] Doug Ellin is a big foodie, too! He'll call me up to check out some spot and I'm there immediately. We go for dim sum a lot in LA.
Read more actor interviews on Food Republic: