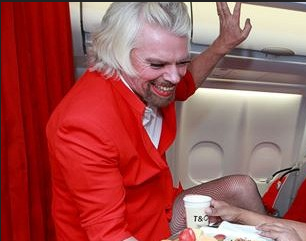 It's not every day that you'll see a Forbes 500 member dressed as a "lady." Yet that's exactly what went down this weekend on a flight from Australia to Malaysia. British business magnate Richard Branson — chairman of Virgin Group — lost a 2010 bet to AirAsia founder Tony Fernandes regarding whose Formula One racing team would finish higher in the standings. (New meme alert: Shit rich guys bet on?) Three years later, Branson finally made good on losing the wager, posing as a female flight attendant for the day.
As reported by Jezebel, Branson spent the day pouring beverages, serving meals and making flight announcements. He even immersed himself in costume, fully shaving his legs (although we're not sure that was part of the bet). The day did not pass without minor controversy, as Branson dumped a tray of juice on Fernandes' lap, resulting in the Malaysian entrepreneur spending the remainder of the flight in his underwear.
Well, there you have it. There's nothing quite like envisioning one billionaire donning lipstick and female flight attendant garb, while another rides pantsless, to spice up your Monday at work.
Read more News Feed on Food Republic: