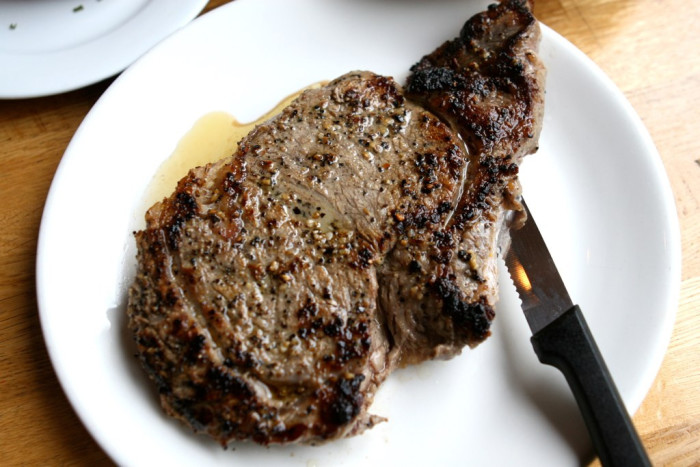 Anti-obesity campaign. Check. Food fraud in China. Check. The Obamas wax lyrical about steak. Check. It's another week in food politics and along with these steadfast topics the news brought tobacco farmers embracing chickpeas, trouble in Bordeaux country and a possible threat to Pacific Northwest salmon.
As we've mentioned before, China has some serious food safety issues (think antifreeze vinegar). So it's not shocking that after a three-month national campaign to uncover food fraud offenses are pouring in, but the latest may be among the most stomach-turning — rat sold as lamb meat.
And though the U.S. isn't having to deal with combating the illicit sale of rat meat (at least we hope not) advocates are raising concerns about a decline in foreign food inspections due to a lack of funds and manpower at the F.D.A, while illnesses from imported goods are increasing.
On the anti-obesity front Coca-Cola, announced efforts to make diet drinks more available in foreign countries, but has not released a timeline for implementation, and the Grocery Manufacturers Association has interpreted Michelle Obama's nutrition "Facts Up Front" campaign as a way to illustrate how Americans are failing to be healthy — in infographic form — as noted by Dr. Marion Nestle.
This week, the Wall Street Journal explores the unlikely relationship between tobacco farmers and Sabra hummus, as the hummus company (owned by PepsiCo and Strauss Group Ltd) works to convince tobacco farmers to grow chickpeas in Virginia to offset a possible shortage of the legume in the Pacific Northwest. Meanwhile, The Atlantic investigates the rise in caffeinated products and whether or not the F.D.A could reasonably set age limits on caffeine consumption.
Abroad, warming temperatures are threatening the famous grapes of Bordeaux and possibly the region's celebrated wine as we know it. Here in the U.S., meanwhile, one prominent scientist voices concern that Pacific Northwest farmed salmon are under attack from an infectious disease — though it's important to point out that there's significant doubt about this from other biologists.
And if it's Friday, it's steak night in the White House, according to Michelle Obama. The First Lady opened up on CBS' Sunday Morning show about the President's love of red meat, his distaste for "cheesy stuff" and their weekly steak dinner.