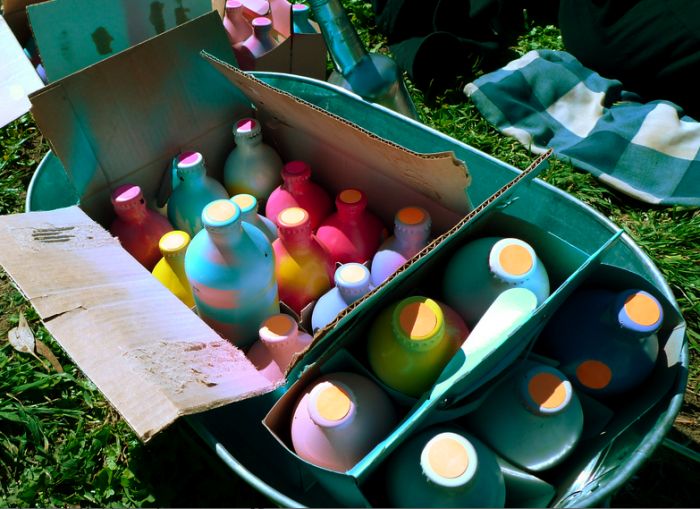 Having trouble deciding what to put in your Easter basket this year? We're hoping for something other than dyed eggs, not that those aren't fun. Naturally, our festive replacement of choice is beer!
You might be surprised to learn that Easter beers are in fact a thing: Denmark, Sweden, Belgium and England have longstanding traditions of brewing special beers to serve with Easter dinner. While we don't have many official Easter beers in the U.S., we do have plenty of awesome spring beers — Saison De Lente is an excellent choice — and even some made to enjoy while fighting dragons or killer bunnies. Here's an idea you can use to start a fun Easter tradition of your own while also engaging in the most hop-forward blind-tasting event of the spring: throwing your own Easter Beer hunt.
Step 1: Make your selections
You'll want to get at least six beers per person to hide around the house, because six-packs are the new Easter baskets and skimping ain't bunny. Virtually all Easter beers are bottled, like Brouwerij Het Anker's Gouden Carolus, Mikkeller's Hoppy Easter and Carlsberg's Semper Ardens Easter Brew, but we highly encourage you to do this with cans. It's safer and much easier to cover up the labels. Also, cans are really, really cool.
Step 2: Hare of the dog arts and crafts
If prep starts on Saturday morning, you might need a little liquid reinforcement to keep you going strong. Try one of our spring cocktails as an excellent prep-time icebreaker.
While you can actually paint with beer, we don't recommend it. Instead, try some festive pastel-colored spray paints if you have an outdoor space — it's quicker and easier. If you're prepping indoors, finger paints will also work and if all else fails; you can use heavy-duty tape to cover the label for maximum secrecy. They sell it in lots of colors, don't make Easter masking or duct tape-colored. Make sure to cover the top of the can with plastic wrap so you don't paint the lip of the can (we don't want anyone drinking paint).
Now, make a key so you know which cans are which color – this is important for the blind tasting. Don't show the key to any of the participants during the hunt.
Step 3: Pick your hopping ground
If possible, you'll want to be in an open space. We don't condone beer hunting in public parks; yes they are awesome, no we don't want you to get arrested (but if you do, tweet us a pic when they take off the cuffs). Backyards are a great alternative. If you're staying inside, get creative: the sleeve of a jacket, a large poster tube, a carved-out melon, all make great hiding places.
Step 4: Follow our rules down the rabbit hole, but make your own, too!
The X-factor in all of this is creativity and you'll want to put a bit of pressure on the participants, especially if you invite enemies to partake. Choose an effective way to crown the winner: you can opt to give the person with the most beers of a single color a special bottle. You could also be a real jerk and give the winner a special spicy surprise like Twisted Pine Brewing's Ghost Face Killah made with ghost chili peppers.
If you want to keep things tame, each person must put their beer into the six-pack Easter basket before looking for another. If your house/garden/public space is a frat house or your crowd is comprised of hefty beer drinkers, make sure each person finishes their beer and puts it into the sixer before moving on to find the next.
If they're drinking at the time, show them the six different can options and have them guess which can is which.
The last person to finish has to slam an Old Monk 10000. This rule is mandatory.
With your rules in place, you're a hop, skip and a drunk away from a delicious Easter dinner.
Step 5: Prize for the person who can identify the most beers
A winner must be selected. Hand out the list of beers you hid and see how many your friends got right. At this point everyone's tired and drunk and in need of some candy. Consider Peeps, cause Peeps are the shit. Then receive praise for the best Easter "something" hunt, ever.
Read these craft beer stories on Food Republic: