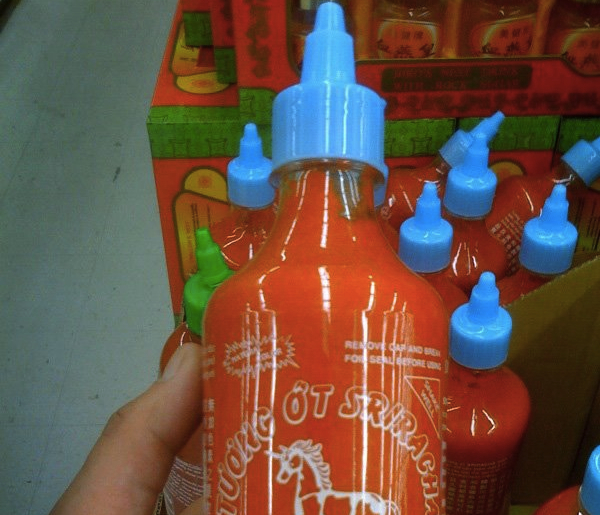 I know I'm not the only one who knows about counterfeit sriracha, but I never thought a bottle of the blatant hot sauce imposter would show up right here at Food Republic headquarters. As I was unpacking a box of Asian goodies we'd received not too far back, I gasped loudly. Nobody reacted, obviously, so I had to pretend to faint, complete with sound effects. Still nothing — today's headphones are really effective at blocking me out. Finally I just came out and said it.
"There's fake-ass sriracha in this press package, guys."
Finally, the reaction I'd been looking for! I don't know why I can't just be straightforward about these things instead of creating a whole song and dance around it. There was shock, awe, disappointment, disbelief, hunger. Hey, it was right around lunch and the stuff was counterfeit, not poisoned. Well…hmm. Anyhoo, yes, fake sriracha was sent to us, and so I must now help correct the universe's course — because if sriracha goes to pieces we're all doomed — by helping you identify, Instagram and then avoid fake sriracha.
Some bottles claiming to be sriracha have uniformly smooth light blue caps, which are very clearly not the ridged green caps Huy Fong Foods uses to symbolize the freshness of the chiles they source (true story). If your cap is anything other than green, shit's fake. Also the rooster on the blue-capped bottle is a unicorn. Not the same thing. Unicorns don't crow.

If your cap is green but either lacking in the "grooved" department (different from the Groove Department) or doesn't have a thin, slightly protruding ring at the base of the cap, what you have is not sriracha. Quick, finish it before someone sees and learn from this senseless act of cruelty some faceless criminal has impossed upon you.

The writing and codes on the bottom of the bottle of the real stuff are laser-etched, not heat-stamped. One is blurry and counterfeit-looking. One is clear and nice and also has Huy Fong USA not heat-stamped into the bottom of the bottle. Guess which is which?
In conclusion: don't mess with wack sauce. It's demeaning to us all. Snuff out these blatant thieves before the rooster god sees himself portrayed as an only very mildly spicy unicorn and gets really, really mad.
More hot sauce love for lunch on Food Republic: