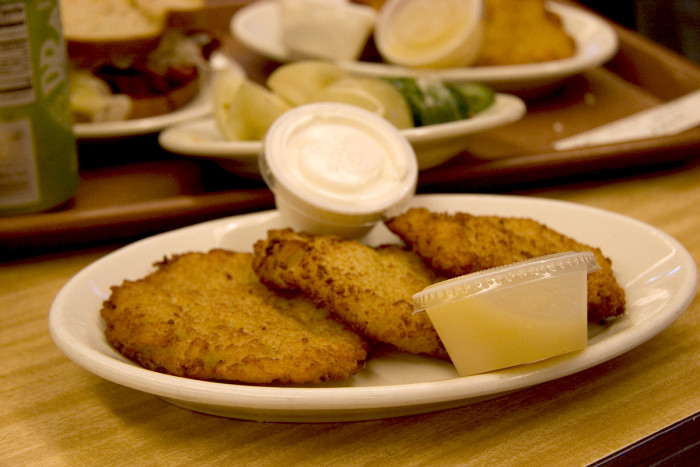 What insane holiday magic is this? A seasonal treat that can go sweet or savory and is so addictive you can and will eat way beyond your capacity? It's a latke. It's not a simple thing, it's actually insanely difficult to make properly and your kitchen will definitely not smell like Christmas cookies afterwards. And boy, is it worth every last grease splatter.
How do we like our latkes, random survey-style?
"Eggs benedict is solid, anything with a poached egg, really."
"Applesauce with sour cream mixed in." (Heyyooo!)
"Don't hate: ranch dressing. Let's keep that on the DL though." (I literally just said I was posting whatever you say, so let's hope Bubbie's not on Facebook.)
Kessler Report columnist Jason Kessler and outspoken latke enthusiast says, "My family usually goes for both, although we've been known to just pour white sugar on those bitches, too." Approved!
Traif's good with latkes; I've done a little nest of prosciutto with a dab of goat cheese. That's a total of three traifs, right? We've got the pig, the co-mingling of animal products and cheese from another cloven hoof beast. Unless the milk is okay. I'm going to look that up, I'm not 100% up-to-date on super-traifey vs. not-all-that-traifey.
And on that note, I'm hitting the 4th Annual Latke Festival Monday night at Brooklyn Academy of Music. Once I get the image of an appropriately bearded hipster klezmer band out of my head, I can report that I'm beyond excited to go to town on potato pancakes with vanilla applesauce and schmaltzy onions, latkes with fontina, apples and truffles, and my personal most-anticipated, the offering from the Sussman brothers: "latkes with lots of sauces." Between Max and Eli (the Ad Snacking guy), they know so many sauces. So many!
I'm going to start practicing how many latkes I can eat in one sitting today so that by Monday after the event I not only reek of potato-fried oil, I AM potato-fried oil. Cause minus the whole potato part, that is what Hanukkah is all about.
More potato love for lunch on Food Republic: