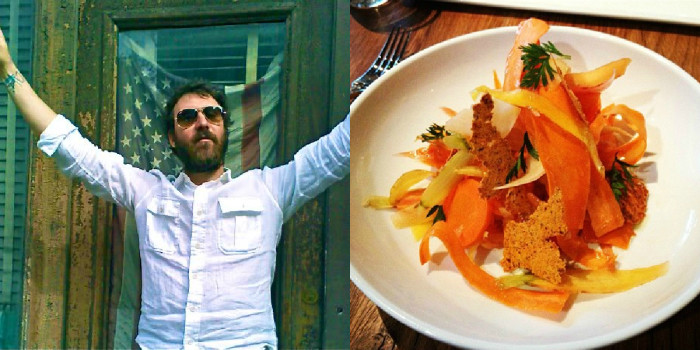 Scott Winegard is a busy man. This month he'll juggle the debut of M.A.K.E. — a raw food restaurant in Santa Monica, where he is Director of Culinary Operations — with the highly anticipated reunion of Texas is the Reason, the mid-1990s emo band for which he served as bassist. (On October 10, TITR plays a sold-out show at Brooklyn's Music Hall of Williamsburg.)
The 40-year-old (mostly) vegan chef boasts an impressive resume both in and outside the world of vegetarian cooking. Over the past decade, he's taken up residencies in the kitchens of New York's Flatbush Farm, Angelica Kitchen and Pure Food and Wine (where I served as the pastry chef), as well as Noma, where he recently served as a stagiaire. Even in his downtime he finds an excuse to stay in the kitchen, hosting a Brooklyn-based private dinner series called Nasturtium.
We caught up with Winegard days before the reunion shows to talk about plant-based diets and its place in the world of fine dining. Just don't mention tofurkey, lest you want an eye roll in response.
As a chef who feeds vegans and raw foodists, how strictly do you adhere to a similar diet?
I eat mostly vegan, but I'll eat anything if I know I can trust the source. I was a super strict vegan for 10 years, but the more I took cooking seriously, the more I wanted to experience some foods I never had. I'm happy with the balance I have now.
Do you ever feel you are missing out on certain culinary experiences, like nose-to-tail cooking or the Bacon Explosion?
No — like I said, I'll try almost anything if I know where it comes from.
How would you say vegetarian cooking and eating has changed over the last decade?
When we first started Texas is the Reason, all of the members were vegetarian or vegan. But we all ate like shit, especially on tour — lots of Taco Bell and Denny's. Veganism is a bit more accepted now and we have more options. But there are also a lot more processed fake meats out there and at this point in my life I find that stuff really annoying.
How so?
It just annoys me, especially when people think they're eating healthy. That stuff is just as processed as its real version. I'd prefer that people enjoy vegetables.
Why do you think it's so difficult for vegetarian restaurants to attain Michelin-level success?
There are a few: Kajitsu in New York, Joiaia in Milan and Ubuntu in Napa. I just don't think there are enough vegetarian chefs that have the training or knowledge, let alone vegetarian chefs that even know what a Michelin star is.
Maybe they should all follow your lead and apprentice at Noma. How did working in a non-vegetarian restaurant inform the way you cook now?
I loved it at Noma. I was really into the idea of what they do there and followed them closely, and it definitely helped solidify my style of plant-based cooking. Plus, being around all these other great chef stagiaires from around the world was inspiring.
What kind of advice would you give to a meat-and-potatoes guy who wants to convert to vegetarianism, or at least incorporate more plants into his diet?
When I went vegetarian it was a way for me to stop eating chicken, which I hated. I would say take it slow, find the balance that works for you, and do whatever makes you feel good. You don't have to go cold turkey. There's a lot of information out there.
Still, vegetarianism/veganism carries a stigma. How does someone adopt a plant-based diet without falling into the trap of looking like a hippy dippy, sprout-loving, Californian?
Easy. Don't put avocado on everything and never ask for a side of ranch dressing.
What are five pantry staples everyone should have when they are cutting meat and/or dairy from their diet?
1. Really nice oils, vinegars, and sea salt. A great olive oil is key. Bariani is a top notch brand. 2. Quinoa. It's simple to cook has a ton of protein and lots of flavor. 3. Tahini. You can make so many sauces and dressings with it. Sesame is also high in calcium. 4. Kale. It's the new pork belly. It's hip and tasty. 5. I try and go to the farmers market at least once a week to pick up whatever vegetable I am craving. Talk to the farmers. Ask how to cook stuff. There is always such a diverse selection of fruits and vegetables. Just try not too buy too much of anything or it'll go to waste.
Name the manliest vegetable in the plant world.
Hmm… good question. A beefsteak tomato.
---
More about vegetarian cooking and eating on Food Republic: