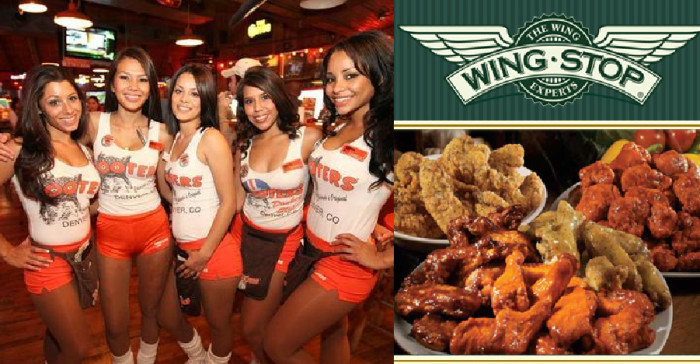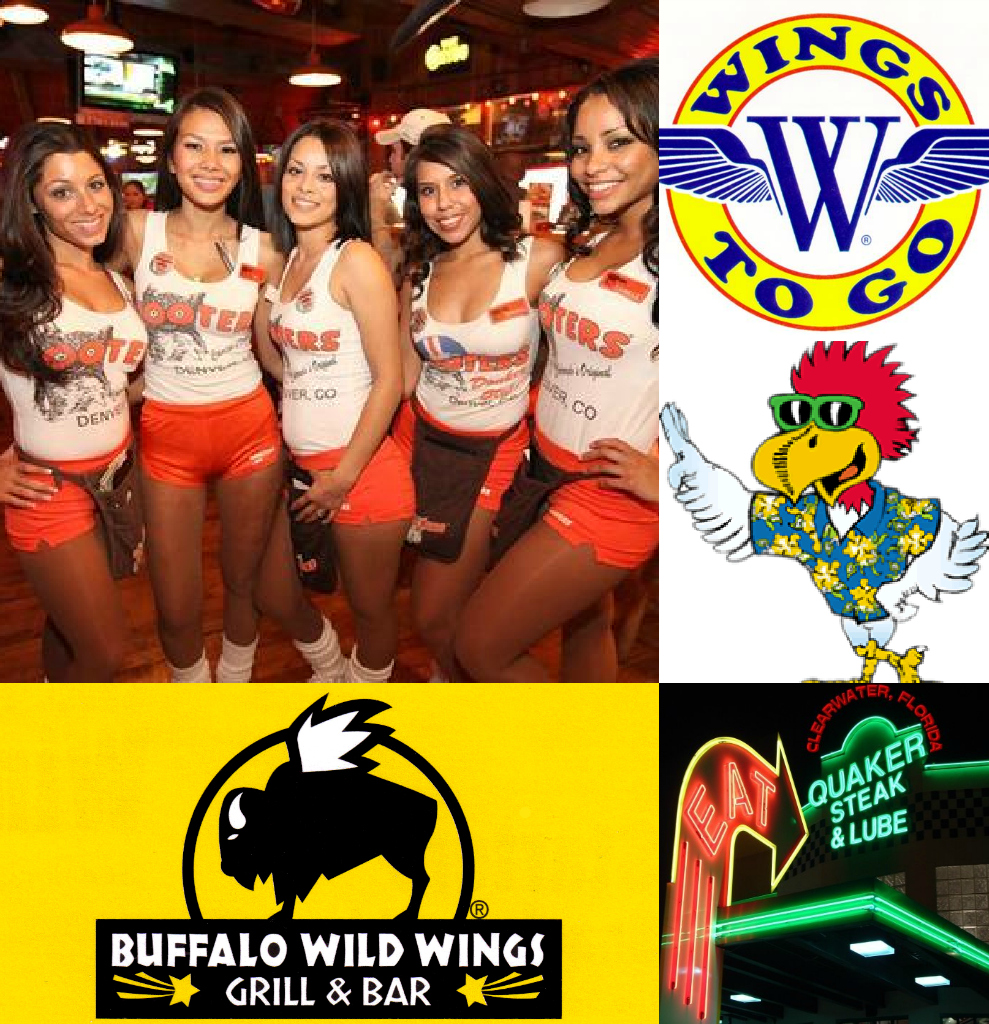 Not everyone is lucky enough to live in Buffalo. Sure, it would be nice if we could all pop over to the Anchor Bar for some real wings, but the sad fact of life for most wing lovers is that we don't live anywhere close to Buffalo. We get our wings the real American way: from one of the myriad wing chains that have sprouted up across the country like a margarine and hot sauce-fueled plague. I'd love to be able to try them all but the Food Republic jet got impounded when Rodbard tried to smuggle back some smoked roe deer from Copenhagen, so I'm stuck here in L.A. with limited access to the major wing chains in the U.S. Luckily, I've got a computer, a phone, and some good ol' fashioned ingenuity, so I'm going to rank these joints based solely on their websites and a phone call to a randomly selected location in Ohio, because as we all know, as Ohio goes, so goes the nation. It's time to wing it.
(FYI: Each employee we spoke with was asked what made their wings the best. They're identified by first name and how long they've worked at their respective restaurant.)
1. BUFFALO WINGS AND RINGS
Website: http://www.buffalowingsandrings.com/
Their "About" section starts, "Just to set the record straight, we're not a wing joint or a wing bar or a wing hangout," but it fails to say what it actually is. They opened in 1984 and claim to offer diners "the absolute finest wings in America along with more combinations of sauces and heat levels than they've ever seen before." Based on my evaluation of other chains, there's no possible way that this is true. That said, Buffalo Wings and Rings is clearly confident about their abilities and I respect any company that strives for success so openly.
Website
The BWR website is either the greatest thing you've ever seen or a complete disaster. Your parents will not be able to use this site. It's a scrolling Flash page (similar to the HBOGo iPad app if you're familiar) where your cursor can take the content in all four major directions. It's the website equivalent of a Segway. If you're not into their newfangled design, the old-school navigation tab puts everything you need right in front of you. I personally think it's cool. The design is attractive and modern, the tone is fun and light. In my book, it's a hit. 9/10
Menu
It's not just the website that breaks the mold with Buffalo Wings and Rings. The menu is also pretty far outside the norm. Keep in mind, I have no idea if the food tastes good, but the menu's definitely different. Solid selection of starters including the always popular fried pickle chips, a full selection of burgers, and a very surprising best seller: gyros. The wing sauce selection isn't as robust as some of the other chains, but BWR does offer a pretty cool innovation: like your favorite Thai take-out spot, you get to adjust the heat level from mild all the way up to atomic. You would expect more emphasis on the rings, but maybe they're just shy. 8/10
What An Ohio Employee Says
Emad (manager, worked there five years) Lebanon, OH location: "Our wings are fresh and bigger."
Total Score: 17/20
2. QUAKER STEAK AND LUBE
Website: http://www.thelube.com/
Quaker Steak and Lube started out in the mid-'70s as a cook-your-own-steak concept that paid tribute to the culture of old-time gas stations and muscle cars. Now they serve over 80,000,000 wings a year. Not a bad transition, but it's a little off-putting to have "motor oil" as your theme. Their 45 locations are mainly in Pennsylvania and Ohio but they go as far south as Florida and as far west as Colorado. As a side note, they apparently like to be called "The Lube®" so much that they've trademarked the name. Perhaps most important: they hold the title of "Best Wings USA," but that title came in 1988 at the National Chicken Out in Cleveland, OH. Can they really claim to still hold the title?
Website
TheLube.com is a good mix of all the other wing chain sites. It's a clean and simple design with scrolling panels that advertise various new products and promotions. Bright colors with the bare minimum of information makes for easy navigation. A nav bar at the top of the page will lead you to their menu, sauces, e-mail club, and online store as well as options for online ordering and promotions. The whole thing is very straightforward. It may not have much panache, but what it lacks in wow-factor, it makes up in simplicity. 7/10
Menu
The Lube's menu is more classic American bar and grill chain than anything else. It's really extensive with tons of options for just about anyone. They've got big-ticket items like ribs and steaks in addition to more traditional fare like their wings with 23 sauces and "dusts." The boneless chicken salad gets the nod as the most popular item ordered (in Beavercreek, OH) and to wet your whistle, they serve a 100 oz. Lube Tube, which looks like a bong filled with beer (but not a beer bong). The big problem with the menu is that they've taken the motorsports theme way too far. Cutesy named like "Cheese Steak Phil-M-Up" and "Backfire Boom Boom Shrimp" make me want to drive far, far away. 7/10
What An Ohio Employee Says
Jessica (one year) Beavercreek, OH Location: "They're just pretty amazing. A lot of people bread their wings but ours do not have breading on them."
Total Score: 14/20
3. WING ZONE
Website: http://www.wingzone.com/index.html
There are Wing Zones everywhere. With locations in 20 states and five international countries, this is pure-and-simple franchising at its best. Everything seems to be market-tested and trademarked with sales gimmicks like a Cool Ranch "flavor rub" and the option to "FlavorFuzeSM" anything on their menu (more on that later). The founders of the chain were inducted into the National Buffalo Wing Festival Hall of Flame in 2009. Congratulations?
Website
Truth be told, this website seems like more of a way to sell franchises than buffalo wings. The fact that 25% of the navigation options lead you to franchising opportunities really reinforces that. The whole thing feels a little too polished in a chain restaurant kind of way. It's fairly easy to get around, but lacks the heart and soul of a website run by non-corporate humans. Plus, you can only see a full menu if you download a PDF. That's lame, guys. They do allow online ordering, so that's a serious feather in their cap. They also have a distracting flash-card thing for all their wing flavors at the center of their home page, so let's go ahead and take that feather away. 6/10
Menu
Wings. Fried shrimp. Chicken tenders. Salads. Nothing too exciting here except… FLAVOR FUZE! What's Flavor Fuze you ask? It's the ability to add any of Wing Zone's 17 flavors to just about anything on the menu. Kickin' RanchSM Caesar salad with fried shrimp? Yep. Lemon ZingerSM burger. Go for it, champ. If you want to hit up the most popular, order up the Garlic ParmSM wings. At Wing Zone, you're the flavor boss. That's a prettySM seriousSM superpowerSM. 7/10
What An Ohio Employee Says
Ramzi (owner since 2005) Dayton, OH Location: "Fresh wings and delivery. Everyone besides Wing Zone has dine-in only. We actually deliver wings and sandwiches."
Total Score: 13/20
4. BUFFALO WILD WINGS
Website: http://www.buffalowildwings.com/
Buffalo Wild Wings is probably the most visible chain wing restaurant in the country right now, with commercials in heavy rotation and sponsored halftime shows during college football games. Founded in 1981, they now also happen to be one of the fastest growing chain restaurants in the country. Here's a knowledge bomb to drop at your next wing party: a lot of wing fans know it as BW3, but few question why there's a three involved when there are only two Ws. The chain was actually originally known as BW-3 and the third W stood for weck, as in kummelweck, a popular roll in Western New York (and a main component of the beef on weck sandwich that's much loved out there). As Biggie said, "If you don't know, now you know."
Website
As you'd expect with a big company like Buffalo Wild Wings, their website is pretty slick. It's Flash-based and highly interactive. The whole thing seems to have a Planet BDubs motif, although the planet appears to be a floating chunk of earth with tiny people and oversized bottles of hot sauce. There's a Boss button on the side that displays a spreadsheet when you click it so you can hide your wing lust if you need to get your fix while at work. At the bottom of the page, there's a creepy GPS tracker that automatically displays your closest location. With games, promos and an online shop, this is definitely more than just your typical menu/location/franchise website, but is it too much? Probably not. If you're so hardcore that you're spending time on a wing chain's web planet, you probably want to take an extended vacation there anyway. 8/10
Menu
For the fastest growing wing chain in the country, their menu is actually kind of weak. They've got a full 16 sauces and five flavored seasonings, but they're pretty much the same flavors that everyone offers. The honey barbeque is the most ordered and available at just about every wing chain out there. A "Build Your Own Burger" option is nice, but hardly innovative. Perhaps the best thing about this menu is that you can order both traditional wings and boneless ones at the same time. That's a nice option, but overall I expect more from the big boys like Buffalo Wild Wings. 5/10
What An Ohio Employee Says
Rachel (three months) Lima, OH Location: "The quality of the wings and the size."
Total Score: 13/20
5. BC Roosters Wings
Website: http://www.roosterswings.com
"A Fun, Casual Joint," Roosters was started in 1988 by Bob and Corrine Frick. This chain now has 27 locations, mostly in Ohio and a few in surrounding states (KY, WV, IN). The mascot is a cool dude rooster named BC who's like a cross between Duffman and Foghorn Leghorn.
Website
Roosters is clearly spending their money somewhere else. It looks like they hired an Ohio State computer science major to put this together. Simple scrolling photos of smiling customers, easy-to-navigate side bar. This site isn't flashy, but it's not anything special either. You can find what you're looking for, but don't expect many frills besides BC Rooster himself chillin' on just about every page. 4/10
Menu
The menu is pitch perfect for a chain that specializes in wings. They offer 12 wing sauces from the classic mild, medium and hot to more exotic fare like Carolina Gold, Donkey and Super Killer. Honestly, those may not be wing sauces. They could easily be street names for heroin. The rest of the menu is surprisingly expansive. Don't feel like wings? No problem. They've got oven-baked subs, pizza and a rather extensive salad section. Those in the know order the Italian sub, but the basic wings with mild sauce happens to be the most popular item on the menu. Any place that has fried pickle chips gets extra points, so Roosters is a winner based on the menu alone. 8/10
What An Ohio Employee Says
Lashawna (three months) Chillicothe, OH Location: "I think they just taste better and they're bigger."
Total Score: 12/20
6. WINGS TO GO
Website: http://www.wingstogo.com/
Opened in Delaware in 1985, Wings To Go has gradually been to-going in states along the Eastern Seaboard and as far west as Texas. It's another franchise-based chain but they set themselves apart with 60-cent boneless wings every Wednesday and a Hot Sauce Club that sends members five free wings on your birthday. As you might imagine, these wings are only available to go.
Website
If your old AOL Hometown personal website could dream about the future, this is what it would dream about. Nothing glitzy about it, but there's something that feels distinctly dated and current all at the same time. It may be "Burnie," the mouth-on-fire mascot, or the red/blue/yellow color scheme, but this feels like a WordPress page gussied up for mass consumption. Online ordering is a plus and all the information is straightforward and easy to access. If you have any frequently asked questions, though, they'll go unanswered. The FAQ section is completely empty. 5/10
Menu
Twenty sauces to choose from, including oddballs like Chesapeake Bay (the only description is "Taste of Maryland," which could mean just about anything) and the chain's top pick Bar-b-cide® which is a spicy barbeque combo and not the product your barber uses to clean his combs. The most appalling/intriguing of the bunch is Homicide®. I don't know about you, but I always like to think about murder with my wings. The rest of the menu is pretty typical with wings, chicken tenders and fried shrimp along with the added bonus of a few wraps and catfish. The most intriguing option is the "Garbage Fries" with chili, cheese, salsa, sour cream, black olives, guacamole and jalapeños. That doesn't sound like garbage to me. That's a tostada salad with fries instead of lettuce. 6/10
What An Ohio Employee Says
Donald (two years) Pickerington, OH Location: "Great food, great atmosphere and great specials."
Total Score: 11/20
7. HOOTERS
Website: http://www.hooters.com/Home.aspx
Hooters, like most of the wing chains mentioned here, was first opened in the early 1980s. Hooters, unlike most of the wing chains mentioned here, employs hot women with giant breasts to entice you to eat chicken wings. The "ABOUT HOOTERS" section on their website is incredible. It appears to have been written by a company lawyer and refuses to outwardly acknowledge that "hooters" means tits and merely says that there's a debate about the meaning and "the chain enjoys and benefits from this debate." There's also a section on all the legal troubles the chain has had and claims that "sex appeal is legal and it sells." The page is a great resource for any high school student writing a paper about Hooters.
Website
Bucking the trend of Flash websites, Hooters goes for Microsoft's Silverlight technology to get your attention. Unfortunately, they've used it for evil instead of good. As soon as you land on the homepage, an annoying digital Hooters Girl pops up to tell you some meaningless information. There's a lot of empty space on this site and it looks kind of chintzy overall. It has all of the same features as the Buffalo Wild Wings website, but in a much less pleasing format. No disrespect to Hooters, but with a 2008 copyright on the landing page, don't you think it's time to spring for some new web design? 5/10
Menu
There is a category on this menu labeled "Hooterstizers." It happens to include the ultra-popular fried pickle chips, but come on. Let's be real here. 4/10
What An Ohio Employee Says
Katie (seven months) Springdale, OH Location: "We have a ton of different sauces. We have more sauce selection than most people and our wings just have a good flavor."
Total Score: 9/20
8. WINGSTOP
Website: http://www.wingstop.com/
One of the later entrants into the wing game (founded in 1994), Wingstop has grown to be one of the biggest wing chains in the world. They've got more than 500 locations and they're not stopping there. Troy Aikman is their national spokesperson. Troy. Aikman. That's big time.
Website
There's a chance that Wingstop and Quaker Steak & Lube have the same web designer. The sites are pretty similar, although Wingstop is a bit more bare-bones (pardon the pun). Franchising gets more screen space than the menu, so that's fairly messed up. You do have the option to order online and Wingstop is the only chain to mention Pinterest on their homepage, so at least they're staying modern. Unfortunately, it's just not a very engaging site. 4/10
Menu
Similar to their website, the Wingstop menu isn't trying to break any new ground. While the other chains offer all kinds of non-wing options, Wingstop sticks to wings, wings and more wings. You've got your choice of either bone-in or boneless wings (sweet/tangy Hawaiian is the favorite sauce) and…that's about it. There are "Gliders" – think of them like fried chicken breast sliders – and sides, but nothing else. At Wingstop, it's all about the wings. On top of that, they have a fairly limited sauce selection with only nine options available plus a "Louisiana rub." The good news? You can buy a large side of hot cheddar cheese sauce if you're in the mood. The menu says "Great for dipping!" I say "Great for fending off attacking hordes of invaders from other kingdoms!" If you're in the mood for anything besides wings, you're pretty much out of luck. 3/10
What An Ohio Employee Says
Natalie (five months) Mentor on the Lake, OH Location: "They're cooked fresh every time and we make sure the sizes are either big enough or if they're small, we'll add an extra one. We try to be fair."
Total Score: 7/20