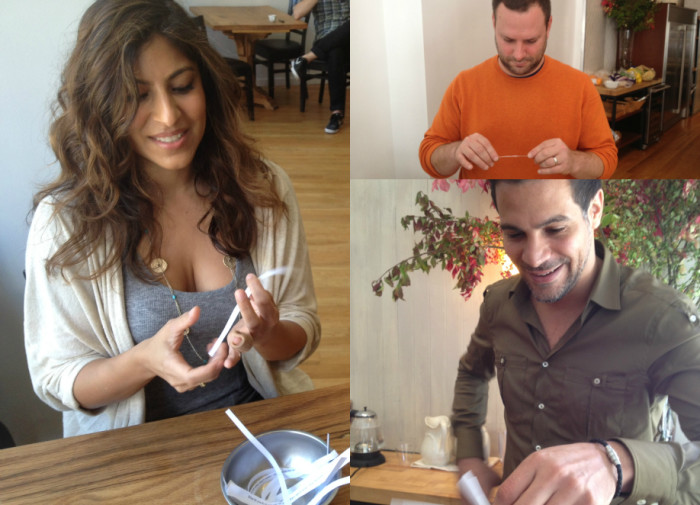 Today we are live from the Food Republic Test Kitchen & Interview Lounge at Little Owl The Venue in New York's West Village. A lot of our friends from the culinary world are stopping by for interviews and fun in the kitchen. See full schedule.
Angelo Sosa is chef-owner of Social Eatz and Añejo Tequileria. Aliya LeeKong is chef and culinary creative director at Junoon. Mike Price is chef-owner of Market Table. All in New York City. All three pulled random questions out of a bowl and answered it, no matter what.
Angelo Sosa
When is the last time you got home at 7 am?
I'm not going to go that way. I travel the world and take a lot of redeyes, and was just in Vegas. I got home literally at 7 a.m. a week ago. I'll keep it clean [laughs].
What were you doing in Vegas?
You'll hear more about it next week. How about that?
When you find yourself out late, what are you doing?
Working, working. I have two restaurants – we just launched Añejo nine months ago, and we are making some changes at Social Eatz. We also have something going on out West that you will hear about more next week.
Next week is the week then. Can you give us a teaser?
I just gave you a big tease [laughs]. East coast, left coast.
So next week is the big announcement?
Yes.
//
Aliya Leekong
Is there a food that you are morally against?
I probably personally steer away from foie, even though I love it. It's sort of a battle between your emotions and taste and flavor profiles. I try to stay away from it. At Junoon, we do sustainable, organic, free-range, wild cod – I prefer to stay on those lines but I wouldn't say that I am morally against anything.
So what do you just not like to use?
I don't think there's anything! I will use anything. I have tried for a long time, even when I don't like certain things, to try to use them. At the end of the day, it's not about me. It's about the diner and the end person that is eating it. I am open about it and try to change my mind about things.
//
Mike Price
The last time you failed at something in the kitchen or otherwise.
I definitely failed at making some apple pies the other day. Too many apples, too excited, I overstuffed it. The apples fell, the crust didn't and it looked like shit. It tasted good but it was ugly.